The official website of the upcoming Tonkatsu DJ Agetarou anime has announced the voice cast members for the series. The series is scheduled to air in spring 2016.
The cast consist of:
Daiki Yamashita (Sakamichi Onoda from Yowamushi Pedal) will voice Agetarou Katsumata
Agesaku Katsumata: Kouji Ishii (Garterbelt from Panty & Stocking with Garterbelt) as Agesaku Katsumata
Kenjirou Tsuda (Nicolas Brown from Gangsta.) as Shuugo Oshibori
Keiji Fujiwara (Holland Novak from Eureka Seven) as Iori Oiri (DJ Oily)
Mao Ichimichi (Hikari Yagami from Digimon Adventure tri.) as Sonoko Hattori
Takashi Matsuyama (Kan Ra from Zoids Genesis) as Gorou Mizokuro
Chafurin (Juuzou Megure from Detective Conan) as DJ Big Master Fly
The staff is as follows:
Director: Akitarou Daichi (Bokura ga Ita, Kamisama Hajimemashita, Urayasu Tekkin Kazoku)
Music: Daisuke Fujiwara
Studio: Studio Deen (Fate/stay night, Sakura Trick, Kono Subarashii Sekai ni Shukufuku wo!)
The gag manga follows Agetarou Katsumata, a stupid but honest guy whose family has run atonkatsu (breaded pork cutlet) restaurant for three generations. He's also a beginner club DJ.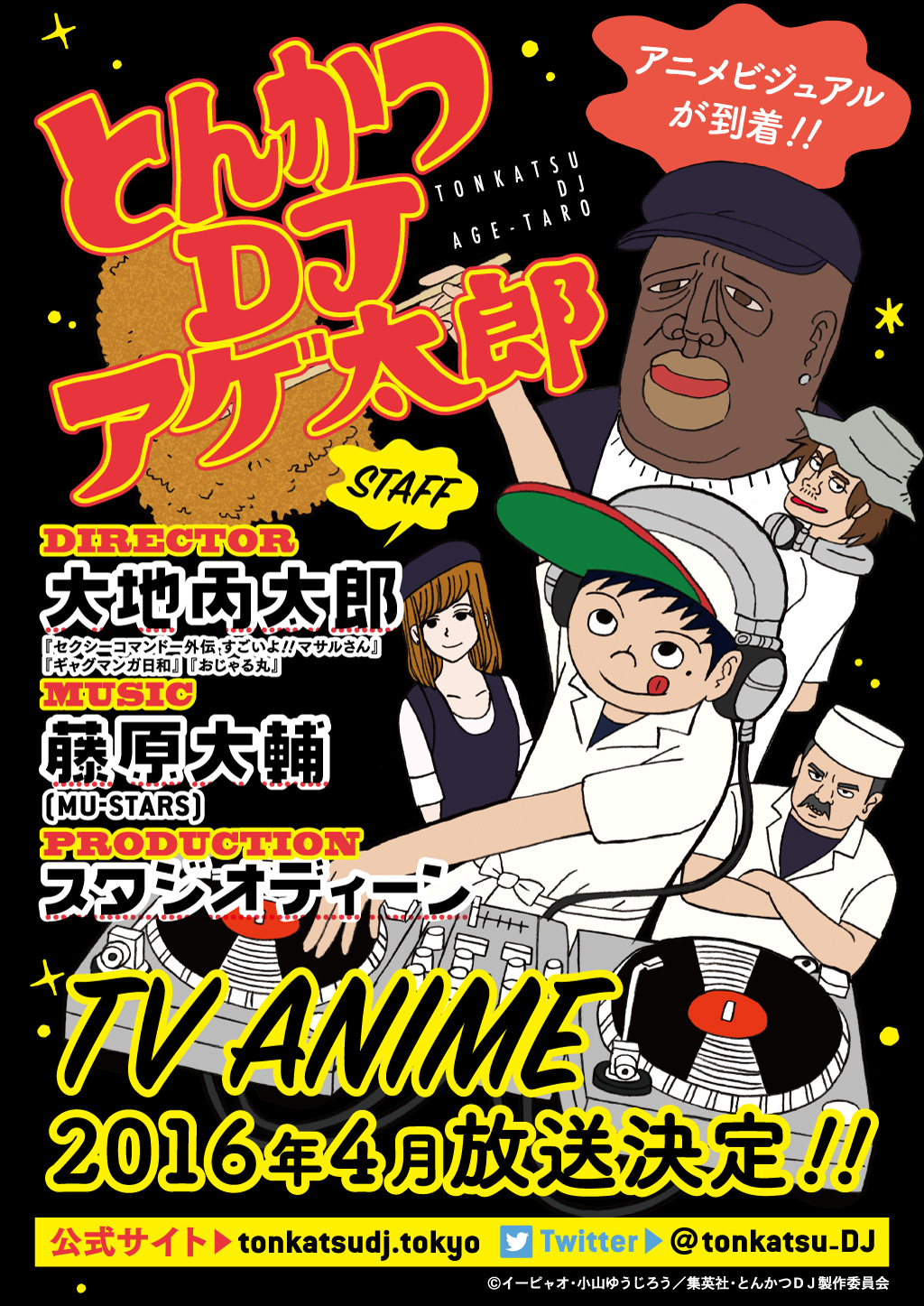 The manga series began weekly serialization in Shueisha's Shonen Jump+ app in November. Shortly after it debuted, a panel from the comic went viral. The panel, pictured below, features the main character having an epiphany that "tonkatsu cooks and DJs are the same" and makes a pun on "flyer" (for an event) and "fryer" (at a restaurant).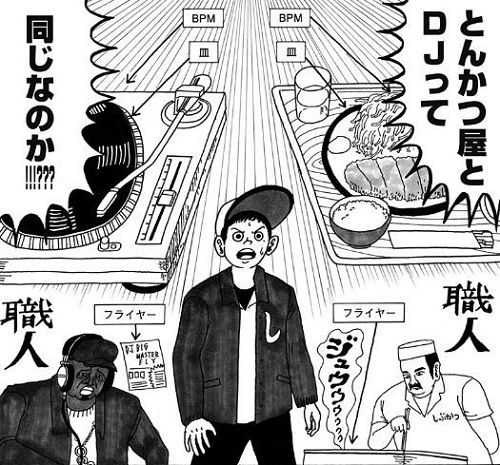 Tonkatsu DJ Agetarou synopsis from MangaHelpers:
Agetarou works at his family's tonkatsu restaurant in Shibuya, but he's not very excited by the work. One day, he takes a delivery to the staff of a night club, and the worker lets him in to enjoy the club for a while. Agetarou finds that he loves the club, with its relaxed people and cute girls, all enjoying the music supplied by the DJ. He continues going to the club, until the night comes when the guest American DJ Big Master Fly puts on a show. Agetarou is inspired by Big Master Fly, and realizes that the groove of being a DJ is very similar to the groove of being a tonkatsu chef. Now Agetarou is determined to master both disciplines, though he is most excited to become a DJ!
Source: Ota Suke