It's been a while since I posted here, so for those who don't know me, I blog over at Geekorner-Geekulture, and the upcoming post is an excerpt from my Spring 2016 season preview, of the 5 shows I'm most looking forward to in the upcoming season, that begins on April 1st, just two and a half weeks away! Hopefully, this post will help you find shows you might've overlooked, but which are worth your time. As such, the focus will not be on sequels, as fans of Teekyu don't need me to tell them the 10th spin-off is coming up. Also, unlike many other preview lists, there's less focus on premise and plot, and more focus on the people working on the show. As Asterisk War and Tale of the Worst One had recently shown us, premises are similar, but it's the people working on the shows that make the difference.
5) Kuzu no Honkai / Scum's Wish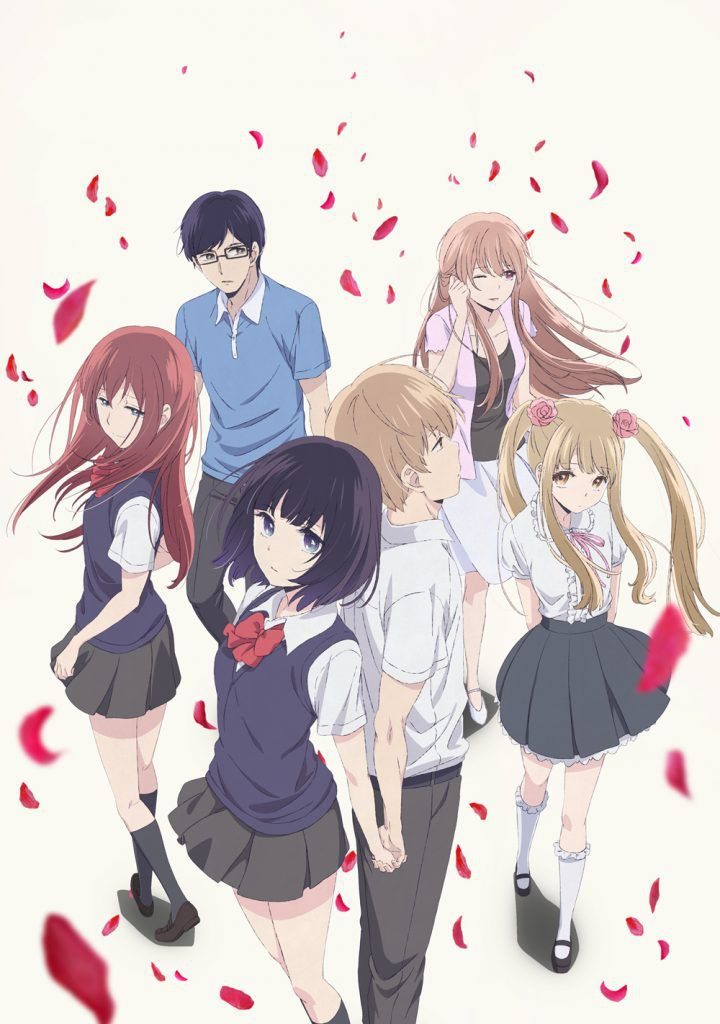 Two teenagers who are in love with other people, older teachers, and who use one another (knowingly) to hide their situation from their surrounding, also relying on physical intimacy to help deal with the loneliness. A messy situation. This is material that could easily end up imploding if too much or too little pathos is injected. Apparently the source material is well-regarded.
Director Andou Masaomi (Muv Luv Alternative: Total Eclipse, Undefeated Bahamut Chronicle, Gakkou Gurashi, and White Album 2) seems like an overall good pick, I liked White Album 2 alright, even if a "sad scene" towards its end made me burst out laughing, but Gakkou Gurashi (School Live!) was one of my favourite series of 2015 and quite well directed. Series Composer Uezu Makoto is more of an issue, while he worked on Humanity has Declined and Katanagatari, most of his work is prone to overwritten gestures, such as KonoSuba, Assassination Classroom, Akame ga Kill!, Danganronpa, and School Days. So, one has to trust the director and original material will have more sway than an uneven Series Composer. Then again,some of those shows Uezu composed were directed by Kishi "Overblown" Seiji, so let's go with that.
Briefly: Drama always is a touchy subject in anime, because melodrama and bad pacing often kill it. But these stories draw me because they're also the likelier to feel "real", and the likelier to be great, shows that are based off of novels or actually aimed at adults like me aside. Sometimes I feel too old for these shows, but then I watch one that's well-made and I'm in. And I'm usually in on the chance.
Airing Date: January 12th. Preview.
4) ACCA: 13-ku Kansatsu-ka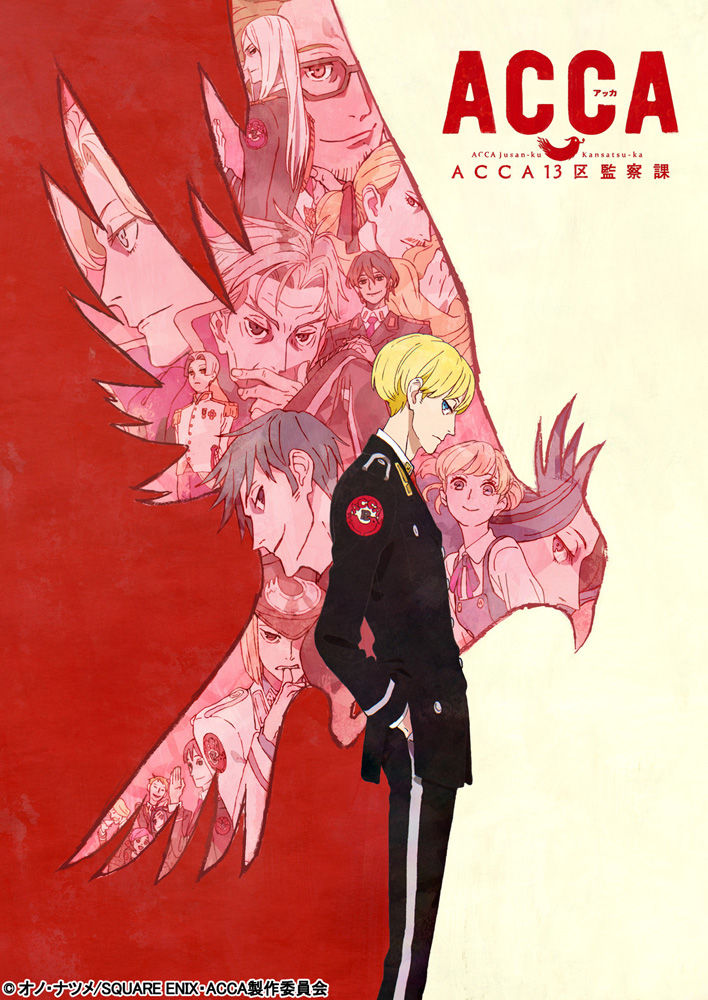 When it comes to manga adaptations, Madhouse is the studio to watch. This show follows an agency tasked with monitoring other agencies in a large kingdom. We follow its chief as he makes the rounds. The original manga was created by Ono Natsume, who created the Ristorante Paradiso and House of the Five Leaves manga series, and it is directed by Natsume Shingo, who directed One Punch Man and Space Dandy's premiere. Joining him is Series Composer Suzuki Tomohiro, who worked on One Punch Man.
Overall, there's not much to go by, but it seems like it'd be fun, or at least well done. And isn't the entire premise of this preview that the people involved matter more than the material? So it is.
Briefly: I don't really know what to expect, but I'm going to put my trust in talented people making a show that'd be well-made, at the very least.
Airing Date: January 10th. Preview 1, very stylistic, makes me think of Lupin. Preview 2, which makes me wonder what sort of show it'd be.
3) Onihei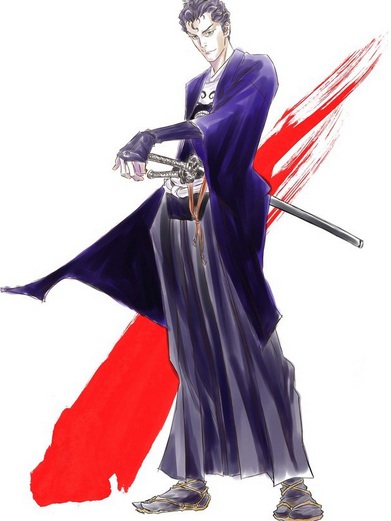 Onihei (also known as Heizou the Devil) is based off of a series of stories that began in 1967, with adaptations to movies, television, and theatres, following an Edo chief of police/detective who solves mysteries and crimes. I'm not sure this sort of episodic content is the best fit for 20 minute episodes (and would've liked seeing it receive 40 minute episodes), but hey! Psuedo-historical material with actual literature behind it, actual novels, modern classics of Japanese culture. I'll take it. It doesn't always turn pretty, but the starting point is higher.
Director Miya Shigeyuki worked on Blood Lad (which I didn't much care for) and Bokura wa Minna Kawaisou, both of which aren't too serious, so it's interesting he's been given this presumably more serious material to handle. Of note, the series is produced by Murayama Masao, who worked as producer or planner on such noteworthy shows such as Ashita no Joe, Cardcaptor Sakura, Death Note, Monster, Nana, Paprika, Summer Wars, Trigun, Vampire Hunter D, and Zankyou no Terror. So I expect this show will have quite a lot of thought put into its success. I'm not sold on the director, but this looks promising.
Briefly: The director is not the best, and I worry 20 minutes might not suffice for an episodic story of this nature, but if it worked for Joker Game (the time limit did), and Kino's Journey, then it shouldn't be too hard here either.
Airing Date: January 9th.
2) Shouwa Genroku Rakugo Shinjuu 2nd Season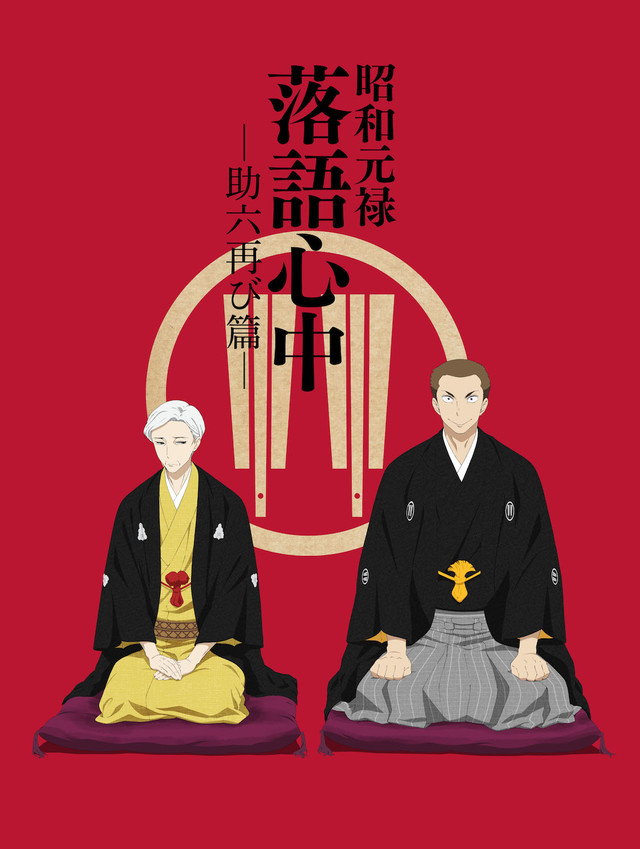 A year has passed since the 2016 winter season preview, where I discussed the first season of Rakugo Shinju before it aired. Expectations for it were exceedingly high, and the show mostly delivered. The premiere was incredible, and while the material to follow was slightly weaker, and while the characters often felt distanced, like characters in the threatre putting an act on for us, they still felt real enough, and their relationships and tragedy loomed large, larger than life, as we reached the crescendo. But then, there is still life to be lived in the present tense, full of regrets and a past that nobody can change. Rakugo Shinju might not be a masterpiece, but it's an exceedingly well-made show, full of memorable characters, and moments that can get us lost within the narratives spun about us.
You can read my write-ups on every single episode of the show here. I'll likely cover this season as well, but as it airs relatively late and episodes are very dense, do allow a day for the posts to go up.
Briefly: While Rakugo Shinju didn't rock my world, it was an incredibly filling experience, and it was full of moments of craftsmanship gold. I'm glad to see it return.
Airing Date: January 6th.
1) Little Witch Academia TV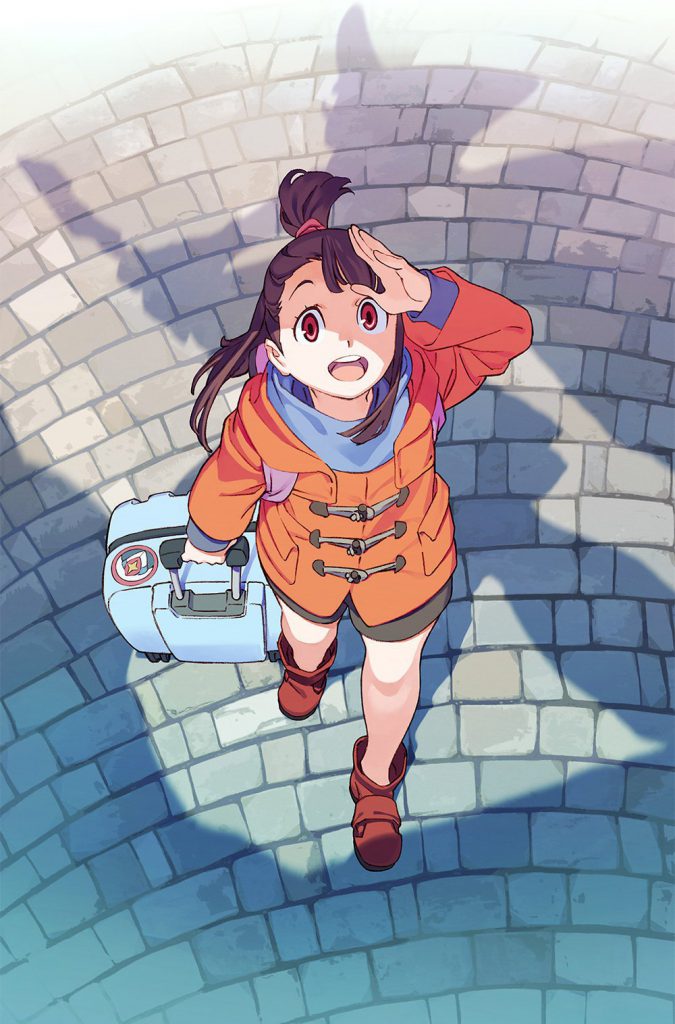 This is probably the series I'm most excited over since they announced Avatar: the Legend of Korra. For those who don't know, Little Witch Academia was a truly magical 30 minute short released in 2013, which I loved quite a lot. The second episode, a slightly longer short film, released in 2015, was disappointing to me, not because it was bad, but because it was merely good. Now, this is a full-fledged series, which has more production issues and usually less resources per minute of air-time, but hey, I'll take it. I'll take it because at the end of the day there's little I like more than the sense of wonderment. We'll get to goof around with Akko and the rest of the gang, and actually see their daily escapades as more than a 2-minute montage. I'm on board.
For those who don't know, Little Witch Academia is made by Studio Trigger, made by ex-Gainax employees, and although Gainax was mostly known for its action sequences, I'd argue this is studio Trigger's best work to date. This is Director Yoshinari You's full-series directorial debut, after directing the two Little Witch Academia shorts, as most of his experience is a Key Animator. Series Composition is handled by Shimada Michiru, who worked on Urusei Yatsura, One Piece, Rurouni Kenshin, Romeo and the Black Brothers, Shugo Chara!, Little Busters, The File of Young Kindaichi Returns, Emily of the New Moon, Gakuen Alice, and The Adventures of Peter Pan. This is actually a very interesting set of works, as what stands about them is that most of them are highly regarded, and quite old. Another thing that stands out about a few of them is that they are adaptations of children novels that border on fairy-tales, which seems like a good fit for this series.
Briefly: I don't like most "cute girls being cute" type of slice of life, but the slightly more adventurish sort, or just calming are amongst some of my favourite series to mellow in front of. The first Little Witch Academia was that sort of moment for me, so I hope this series will deliver as well.
Airing Date: January 8th. Preview.
These are only my 5 most-looked forward to shows in the upcoming season, if you'd like to see what other shows I'm interested in, or what shows I'm wary of, don't forget to check the post from which this is excerpted, which covers the vast majority of the shows this upcoming season, omitting a few shorts and sequels.
So, what are the shows you guys and gals are the most looking forward to, and what's your impression of the season as a whole? Personally, I find this Winter season to be appropriately, but also depressingly, barren. Though the drama crop is quite promising.