Earlier it was announced that Daisuke Ashihara's manga World Trigger would be receiving an anime adaptation and will be airing this October, under the Fall/Autumn 2014 anime season. Here is a sneak peak at the manga promotional video and the voice comic video.
World Trigger manga PV:
World Trigger vomic PV:
There's no indication as to whether they'll repeat the roles in the anime, but a vomic (voice comic) featured the following cast:
Yuma Kuga – Junko Minagawa (Cornelia li Britannia from Code Geass: Hangyaku no Lelouch, Ryoma Echizen/Rinko Echizen from Prince of Tennis, Ion Fortuna from Trinity Blood)
Osamu Mikumo – Ryota Osaka (Staz Charlie Blood from Blood Lad, Eijun Sawamura from Diamond no Ace, Ryouta Murakami from Gokukoku no Brynhildr)
Replica – Yuichi Iguchi (Kazunari Usa from Bokura wa Minna Kawaisou, Max Alors/Reedus Jonah from Fairy Tail, Kiyohiko from Danshi Koukousei no Nichijou)
Yuichi Jin – Toshiki Masuda (Masayoshi Hazama from Samurai Flamenco, Chikara Ennoshita from Haikyuu!!, Takashi Yura from Kimi no Iru Machi)
The cover of Shonen Jump's 28th issue featuring the manga World Trigger.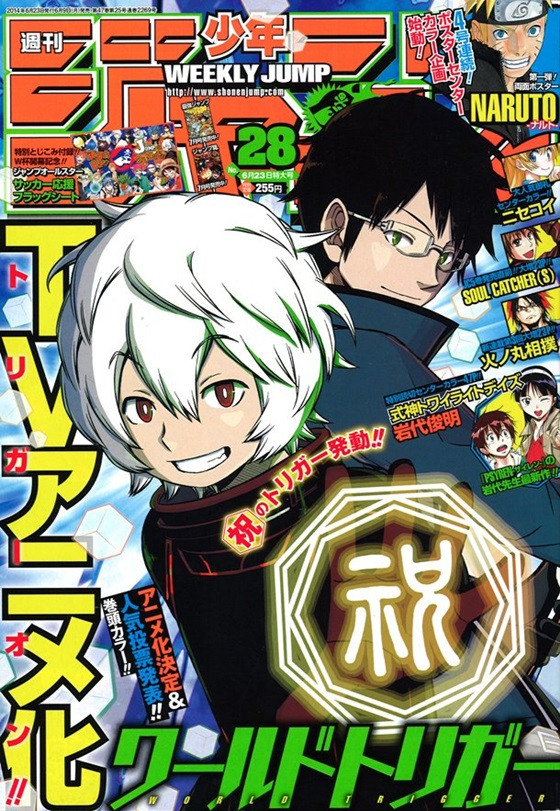 Visual: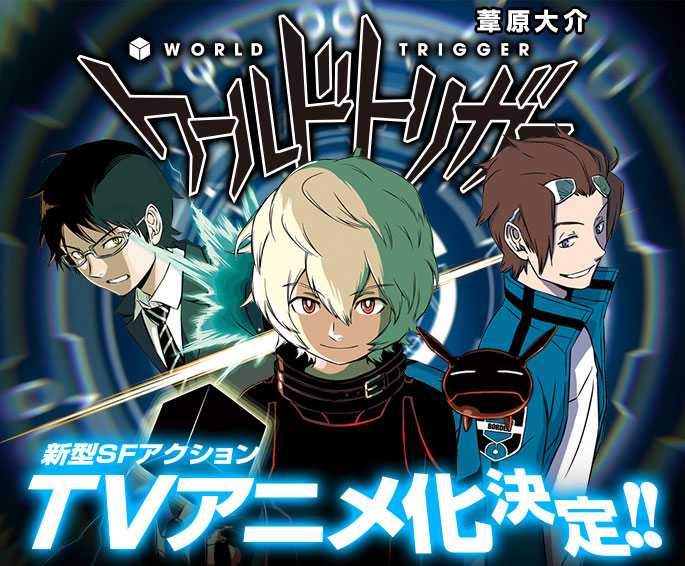 Here is a synopsis of the series from Haruhichan:
A gate to another dimension has burst open, and from it emerge gigantic invincible creatures that threaten all of humanity. Earth's only defense is a mysterious group of warriors who have co-opted the alien technology in order to fight back!
Source: Crunchyroll