The latest issue for the cover of Comic News has confirmed that Yusei Matsui's Shonen Jump hit Assassination Classroom (Ansatsu Kyoushitsu) will be getting an anime adaption. The anime is set to air on Fuji TV in 2015. The Dragon Ball Z 2014 Kai Buu Arc ends in March so it may take over that airtime slot. A live-action movie is also being developed.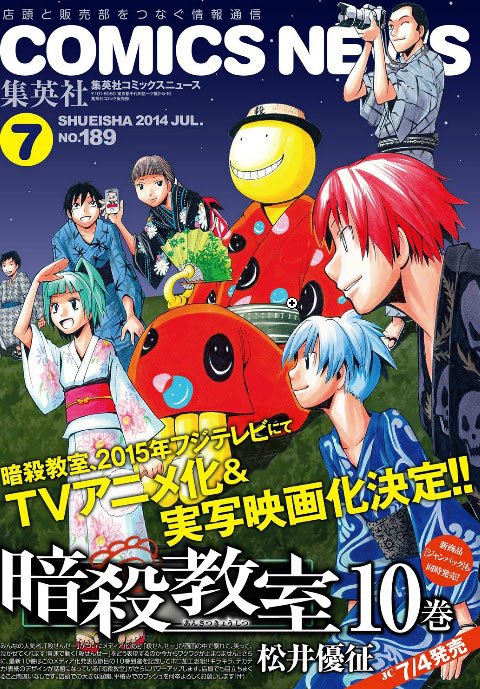 A special was also produced for last fall's Jump Super Anime Tour 2013 which aired last October.
Cast for that included:
Tomokazu Seki (Shinya Kougami from Psycho-Pass, Gilgamesh from Fate/Stay night, Suneo Honekawa from Doraemon) voices the alien teacher Korosensei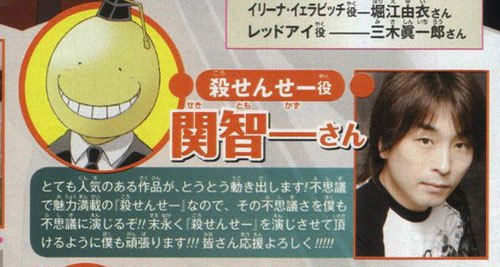 Nao Touyama (Chitoge Kirisaki from Nisekoi, Karen Kujou from Kiniro Mosaic, Yui Yuigahama from Yahari Ore no Seishun Love Comedy wa Machigatteiru.) will voice Nagisa Shiota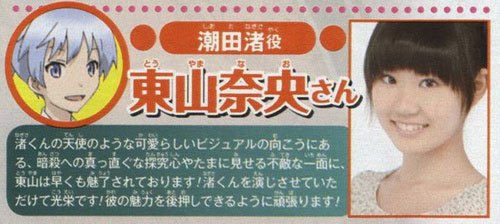 Ayana Taketatsu (Kotori Itsuka from Date A Live, Azusa Nakano from K-ON!, Koneko Toujou from High School DxD) voicing Kaede Kayano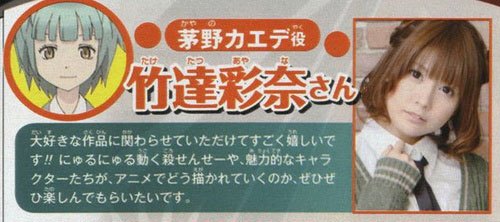 Nobuhiko Okamoto (Accelerator from Toaru Majutsu no Index/Toaru Kagaku no Railgun series, Rin Okumura from Ao no Exorcist, Eiji Niizuma from Bakuman) as Karma Akabane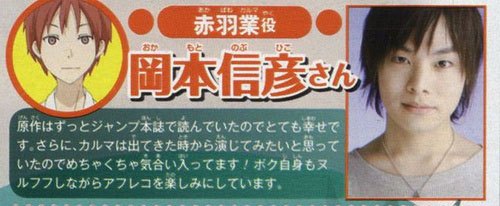 with the additional cast members of:
Yuutaro Honjou (Kenji Seki from Nerawareta Gakuen, Ao Fukai in Eureka Seven AO, Ren Karas from Element Hunters) as Tomohito Sugino
Rina Satou (Kaoru Tanamachi from Amagami SS, Mikoto Misaka from Toaru Majutsu no Index/Toaru Kagaku no Railgun series, Haruka Minami from Minami-ke) as Yukiko Kanzaki
Junichi Suwabe (Archer from Fate/stay night, Takashi Komuro from Highschool of the Dead, Daiki Aomine from Kuroko no Basket) as Tadaomi Karasuma
Yui Horie (Tsubasa Hanekawa from Bakemonogatari, Kisara Tendou from Black Bullet, Charlés from Fairy Tail) as Elena Jelavić
Shinichiro Miki (Kisuke Urahara from Bleach, Takumi Fujiwara in Initial D, Aikurou Mikisugi from Kill la Kill) as Red Eye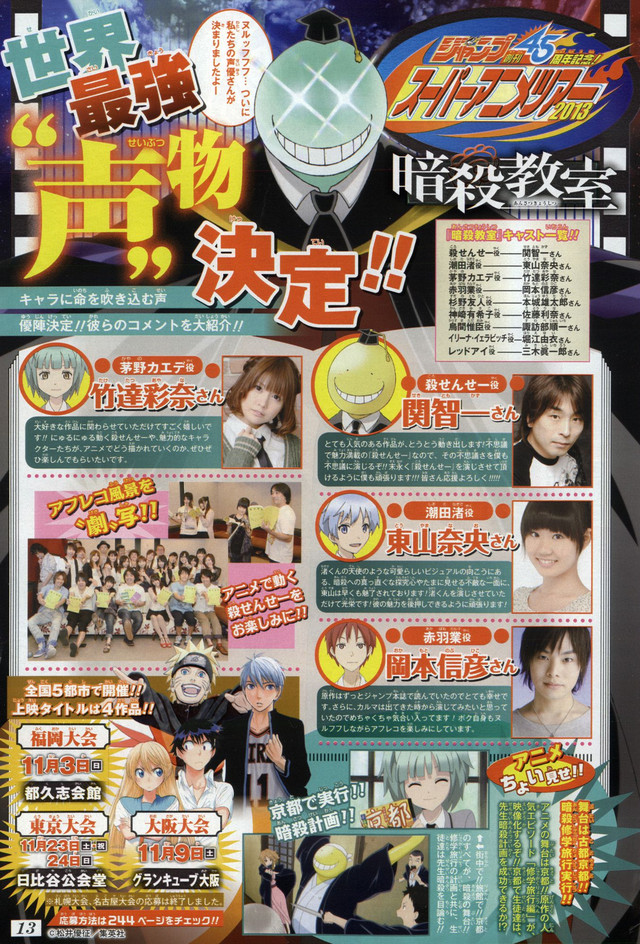 Earlier Vomic: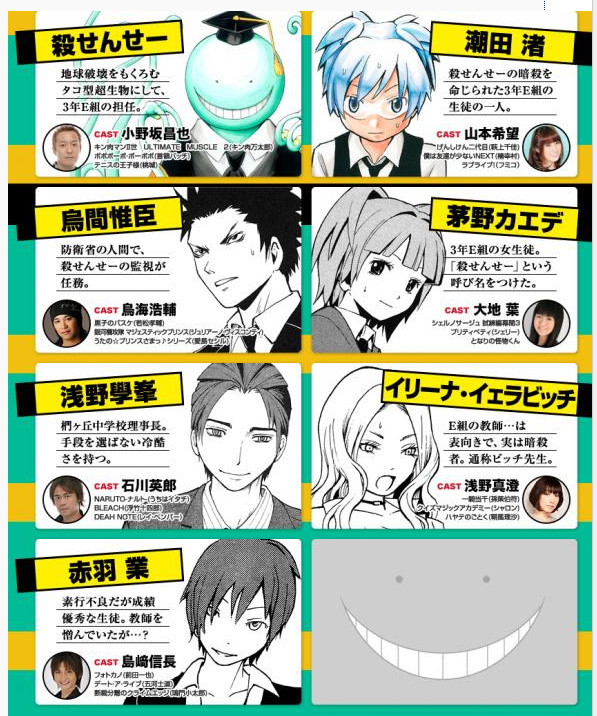 Assassination Classroom (Ansatsu Kyoushitsu) synopsis from Haruhichan.
The students of class 3-E have a mission: kill their teacher before graduation. He has already destroyed the moon, and has promised to destroy the Earth if he can not be killed within a year. But how can this class of misfits kill a tentacled monster, capable of reaching Mach 20 speed, who may be the best teacher any of them have ever had?
Source: Crunchyroll, OtakuTale