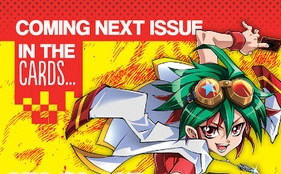 The newest issue of Viz's Weekly Shonen Jump Magazine that was released yesterday and revealed that the upcoming manga adaptation of Yu-Gi-Oh! Arc-V will be added to the magazine line-up starting August 24. The manga will debut in Japan under Shueisha's V Jump magazine on August 21. A one-shot has been published under the same title on May 21, 2014 and was also published in English in the magazine. The current issue also featured two monthly chapters: Kazue Katou's (Robo to Usakichi) Ao no Exorcist and Owari no Seraph by Takaya Kagami (Densetsu no Yuusha no Densetsu) and Yamato Yamamoto (Kure-nai).
The Yu-Gi-Oh! Arc-V anime began since April 6, 2014 and is still airing. The anime was produced by Studio Gallop (Touch, Eyeshield 21).
Synopsis of the anime from Haruhichan:
Yu-Gi-Oh! ARC-V centers around Yuya Sakaki, as he tries to escape from harsh reality by smiling. But one Duel leads him to make a determination to confront the difficulties and he will get the power of infinite possibilities. The show's main theme is "Take a step forward with courage!!"

Yuya is a student at a preparatory school, learning to become an "entertainment Duelist," a type of professional Duelist.

The story is set in Miami City on the coast of Japan. Leo Corporation is run by its president Reiji Akaba. Thanks to the spread of the company's "Solid Vision with mass," "Action Duels" are born in Miami City and has reached worldwide popularity. Children look up to star-level Pro Duelists, and they learn Summoning and Duel styles at various large and small cram schools, including the You Show Duel School that Yuya attends and the largest of such schools, Leo Duel School (LDS).
Source: ANN
sevenpocky | Anime and Manga Enthusiast. Slice-of-life and Sports genre fanatic. Shoujo manga lover.
Oh, and I'm short and I love writing manga news.