After selecting the best out of 160 contestants, Tokyo Otaku Mode have announced on their official page the 12 finalists for the annual Manga Translation Battle. The deadline for voting the best translated piece will end on January 25, 2015 (Japan Time).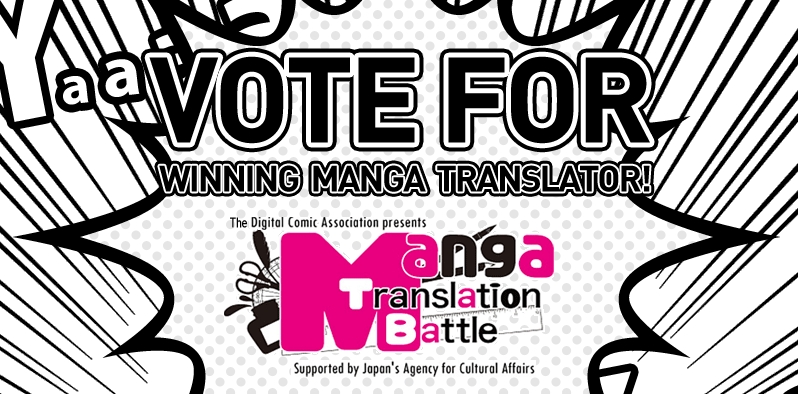 The deadline for the translated entry was on November 7, 2014. After the application process, it goes to initial screening in which the translated entries will be reviewed by professional translators. The selected finalists then go to the final reviewing process (which is currently ongoing) where viewers and the judging committee will vote for the best translation.
It's time to vote! the 12 finalists for the Manga Translation Battle are posted & waiting for your votes https://t.co/I2FOsVKzIy

— Deb Aoki (@debaoki) December 31, 2014
The four featured manga that are translated by the finalists in English are:

1) Kamakura Monogatari
2) Museum
4) Ibara no Kanmuri
The finalists will be judged by the four members of the Judging Committee:
Deb Aoki
William Flanagan
Matt Alt
Matt Thorn
In late January, the winners for the contest will be announced on the website. The prize for the winners will be as follows:
Runner-ups: They will get tablet computers.
First Prize winner: They will get a job offer to translate the manga that they have translated.
Grand Prize winner: They will get a trip to Japan and a job offer to translate the manga that they have translated.
Last year, the featured manga were Koi towa Yobenai, Fuan no Tane Plus, Acchi Kocchi and Saya Saya to. Sarah Kim Perry from Japan won the Grand Prize by translating Yuuri Eda and Hatoko Machiya's yaoi manga, Koi towa Yobenai.
To view more details about the winners, click here.
The Manga Translation Battle was established on 2012. Powered by an online retailer, Tokyo Otaku Mode, the contest is under the management of MANGAPOLO, a Japanese motion manga publisher, with the full support of Japan's Agency for Cultural Affairs and is presented by the Digital Comic Association.
To vote for the battle, click here.
Source – Tokyo Otaku Mode