Kadokawa Shoten's Young Ace magazine's February 2015 issue announced last Monday that Kazuki Nakashima (Yamikagishi, Tengen Toppa Gurren Lagann) and Ryou Akizuki's (Asura Cryin', Uchuu no Stellvia) Kill la Kill manga will end on its 17th chapter on February 4, 2015.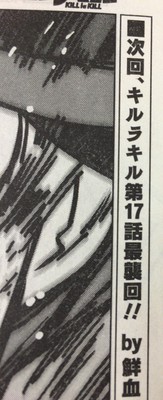 Nakashima wrote the story for the manga and is the original creator, scriptwriter and series composer for the anime series while Akizuki serves as the illustrator. The manga began publishing on October 4, 2013 and has complied two manga volumes. The first compiled manga volume was released on December 4, 2013 while the second volume was released on March 10, 2014.
The series has an anime adaptation that was aired on October 3, 2013 to March 27, 2014 with 24 episodes. It has also received an unaired 25th episode special titled Kill la Kill Special. The anime was produced by Studio Trigger (Little Witch Academia, Inou-Battle wa Nichijou-kei no Naka de).
Anime Staff:
Original Creation: TRIGGER (Inferno Cop, Little Witch Academia), Nakashima Kazuki (Oh! Edo Rocket)
Director: Hiroyuki Imaishi (Tengen Toppa Gurren Lagann)
Series configuration and screenplay: Nakashima Kazuki (Tengen Toppa Gurren Lagann)
Character design and chief animation director: Sushio (Tengen Toppa Gurren Lagann)
Art Director: Shigeto Koyama
Set design: Yoshinari You
Creative Officer: Hiromi Wakabayashi
Art Director: Yuuji Kaneko (Little Witch Academia)
Color design: Yukiko Kakita (Panty & Stocking with Garterbelt)
Director of photography: Yamada Toyonori (Black Rock Shooter (TV))
Editing: Junichi Uematsu (Bleach)
Sound Director: Iwanami Yoshikazu (Magic Kaito 1412)
Music: Sawano Hiroyuki (Shingeki no Kyojin, Aldnoah.Zero)
Producer:

Eiichi Kamagata (Lucent Pictures Entertainment)
Kozue Kananiwa (MOVIC)
Ryu Hashimoto (MBS)
Souichi Tsuji (Kadokawa)
Tetsuya Endo (Dentsu)
Yoshio Manabe (Ultra Super Pictures)
Yosuke Toba (Aniplex)

Animation producer – Masahiko Otsuka , Masumoto Kazuya
Animation studio – TRIGGER
Production – Aniplex, ULTRA SUPER PICTURES, Dentsu, Kadokawa, Movic, Lucent Pictures Entertainment, MBS
Anime Cast:
Ami Koshimizu (Kallen Stadtfeld from Code Geass) as Ryuuko Matoi
Ryoka Yuzuki (Mari Katsuragi from Kami nomi zo Shiru Sekai) as Satsuki Kiryuuin
Aya Suzaki (Kana Tachibana from Gokukoku no Brynhildr) as Mako Mankanshoku
Hiroyuki Yoshino (Allelujah Haptism from Mobile Suit Gundam 00) as Houka Inumuta
Katsuyuki Konishi (Haji from Blood+) as Tsumugu Kinagase
Mayumi Shintani (Haruko Haruhara from FLCL) as Nonon Jakuzure
Nobuyuki Hiyama (Hiei from Yu Yu Hakusho) as Uzu Sanageyama
Romi Park (Hange Zoë from Shingeki no Kyojin) as Ragyo Kiryuuin
Shinichiro Miki (Toshizou Hijikata from Hakuouki) as Aikurou Mikisugi
Tetsu Inada (Ioryogi from Kobato.) as Ira Gamagoori
Toshihiko Seki (Kousaku Matsuda from Yawara!) as Senketsu
Yukari Tamura (Remon Yamano from Ano Natsu de Matteru) as Nui Harime
Anime CM:
Anime Visual: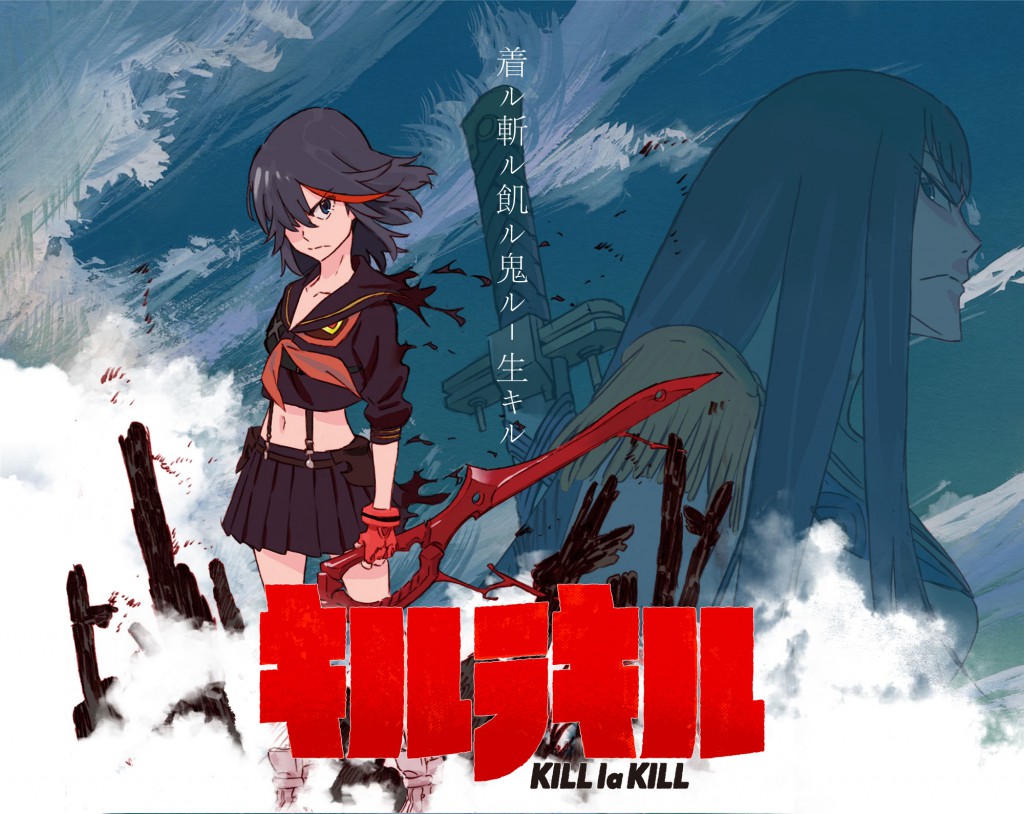 Synopsis of Kill la Kill from Haruhichan:
Ryuuko Matoi is a vagrant school girl traveling from place to place searching for clues to the truth behind her father's death—the "woman with the scissor blade." The journey has led Ryuuko to Honnouji Academy.

Honnouji Academy—where an elite group of students is granted superhuman power by their special uniforms called the "Goku uniform." With the power of the uniform, the student body president, Satsuki Kiryuin rules the students with unquestioned power and fear.

Satsuki holds the secret to the "scissor blade" and Ryuuko confronts Satsuki to gain information but… Was their encounter a mere coincidence or fate? The clash between the two will soon consume the whole academy!
Visit Kill la Kill's official Japanese anime website here or Aniplex's English anime website here.
Source – ANN