The official website for the upcoming original anime series Active Raid: Kidou Kyoushuushitsu Dai Hakkei by Production IMS and 3D animation studio Orange has revealed more cast members for the series.
The additional cast includes:
Tooru Ookawa (Toshio Ozaki from Shiki) will voice Yasuharu Funasaka
Saori Oonishi (Eriri Spencer Sawamura from Saenai Heroine no Sodatekata) as Madoka Amano
Kousuke Toriumi (Shunsuke Imaizumi from Yowamushi Pedal) as Kyoukai-san
Hikaru Midorikawa (Keiichi Iwase from Ame-iro Cocoa) as Koutarou Inagi
Sayaka Ohara (Karen El from Blade & Soul) as Eriko Kominato
Daiki Yamashita (Arashi Mikami from Triage X) as Doc
The previous announced cast is as follows:
Nobunaga Shimazaki (Kaito Kirishima from Ano Natsu de Matteru) from Takeru Koroki
Takahiro Sakurai (Atsumu Matsuyuki from AnoHana) as Soichiro Sena
Ari Ozawa (Mizuki Sera from Classroom Crisis) as Asami Kazari
Haruka Hoshimiya (Kiriko Kiyuna from Kenzen Robo Daimidaler) as Shizuka Ishigami
Masayo Kurata (Karinka from Steel Angel Kurumi) as Rin Yamabuki
Taishi Murata (Eiichirou Maruo from Baby Steps) as Tomoki Hachijou
Yuuka Aisaka (Aika Tsube as Ore, Twintails ni Narimasu.) as Hinata Yamabuki
Natsuki Hanae (Inaho Kaizuka from Aldnoah.Zero) as Mythos
The staff includes:
Series Director: Gorou Taniguchi (Code Geass, Gun x Sword, Junketsu no Maria)
Director: Noriaki Akitaya (Bakuman., Bonjour♪Koiaji Pâtisserie, Joukamachi no Dandelion)
Original Character Designer: Shun Saeki (Menkui!, Shokugeki no Souma)
Animation Character Designer: Asako Nishida (Denpa Onna to Seishun Otoko, Love Live! School Idol Project, Mouryou no Hako)
Series Composition: Naruhisa Arakawa (Dakara Boku wa, H ga Dekinai., Kingdom, Ore, Twintails ni Narimasu.)
Music: Kotaro Nakagawa (Gosick, Prison School, Code Geass)
3D CG Production: Orange
Animation Production: Production IMS (Date A Live II, Joukamachi no Dandelion, Shinmai Maou no Testament)
The first promotional video was also revealed:
The first episode will be previewed on December 25 at Human Trust Cinema Shibuya in Tokyo. Ticketing details for that event will be announced on December 10 on the official website.
A new visual was also revealed: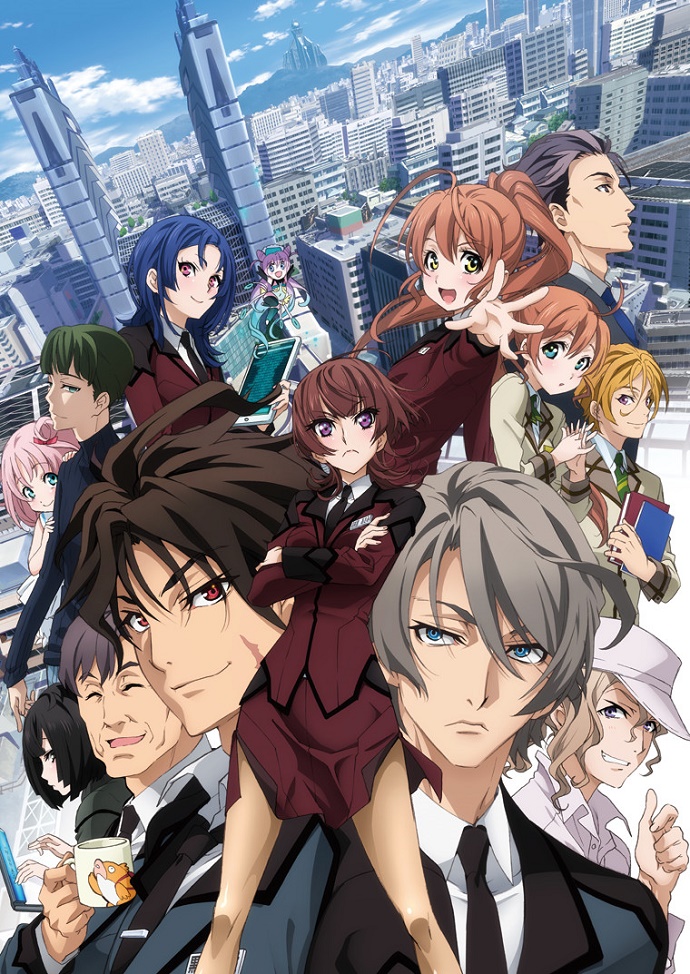 Active Raid synopsis from Haruhichan:
Set in a part of Tokyo that has descended into a quagmire, the story follows Unit 8 of the 5th Special Public Security Section's 3rd Mobile Assault Division, popularly called "The Eighth," who don powered armor "Willwear" exoskeletons to counter the rise in crime.
Active Raid: Kidou Kyoushuushitsu Dai Hakkei is a Japanese anime television series produced by Production IMS and Orange is producing the 3D CG, with Gorou Taniguchi as chief director. It is scheduled to air from January 2016.
Source: Akiba Souken