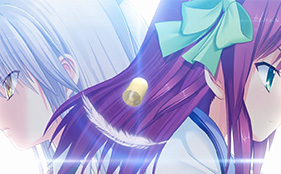 The official full opening video for the new visual novel Angel Beats! -1st Beat-, slated for May 29th, has been uploaded on YouTube.
The first volume of the visual novel Angel Beats! -1st Beat- will cover three character arcs and reportedly reaches up to the 10th episode of the anime. The three said routes will be Iwasawa's, Matsushita's and Yui's. In the visual novel, you will play as Yuzuru Otonashi, the main character from the anime. The same voice actors and voice actresses as in the anime will be featured.
A few CG screenshots of the game were also revealed in December:
Synopsis of Angel Beats! from Haruhichan:
Otonashi awakens only to learn he is dead. A rifle-toting girl named Yuri explains that they are in the afterlife, and Otonashi realizes the only thing he can remember about himself is his name. Yuri tells him that she leads the Shinda Sekai Sensen (Afterlife Battlefront) and wages war against a girl named Tenshi. Unable to believe Yuri's claims that Tenshi is evil, Otonashi attempts to speak with her, but the encounter doesn't go as he intended.

Otonashi decides to join the SSS and battle Tenshi, but he finds himself oddly drawn to her. While trying to regain his memories and understand Tenshi, he gradually unravels the mysteries of the afterlife.
Angel Beats official website: http://www.angelbeats.jp/
The game's official website: http://key.visualarts.gr.jp/angelbeats/
The official Twitter account: @AngelBeats_SSS