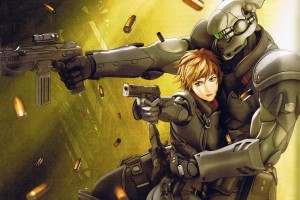 The IGN website reported on Tuesday that Sony Pictures Worldwide Acquisitions and the Japanese studio Lucent Pictures Entertainment are producing Appleseed Alpha, a new CG-animated film of Masamune Shirow's science-fiction manga Appleseed, this summer. Shinki Aramaki will be returning to direct this new project after working on two previous CG Appleseed films. This is the second installment in the franchise not including the OVA.

Appleseed tells the futuristic story about post World War 3 when the General Management Control Office built an experimental city known as Olympus inhabited by humans, cyborgs and bioriods. Bioriods are a genetically engineered being created to serve for humanity. They run all administration of Olympus, which was meant to be a utopian society but for some it is less of a utopia and more of a cage. Calon Mautholos, an Olympus city police officer, is one of these people. Calon secretly conspires with a terrorist, A. J. Sebastian, to destroy Gaia, a super computer that runs Olympus. Out to stop them are Olympus city police SWAT team members Deunan Knute and Briareos Hecatonchires. Deunan and Briareos are determined to stop the terrorist plot by any means necessary.
What do you think of this upcoming film. Will you be seeing it? Tell us in the comments below!