The official website of the anime adaptation of Hajime Isayama's Attack on Titan (Shingeki no Kyojin) manga has revealed that the upcoming second season will air in Spring 2017. The first visual was revealed, alongside the announcement that the cast and staff will return – however a new director will take charge.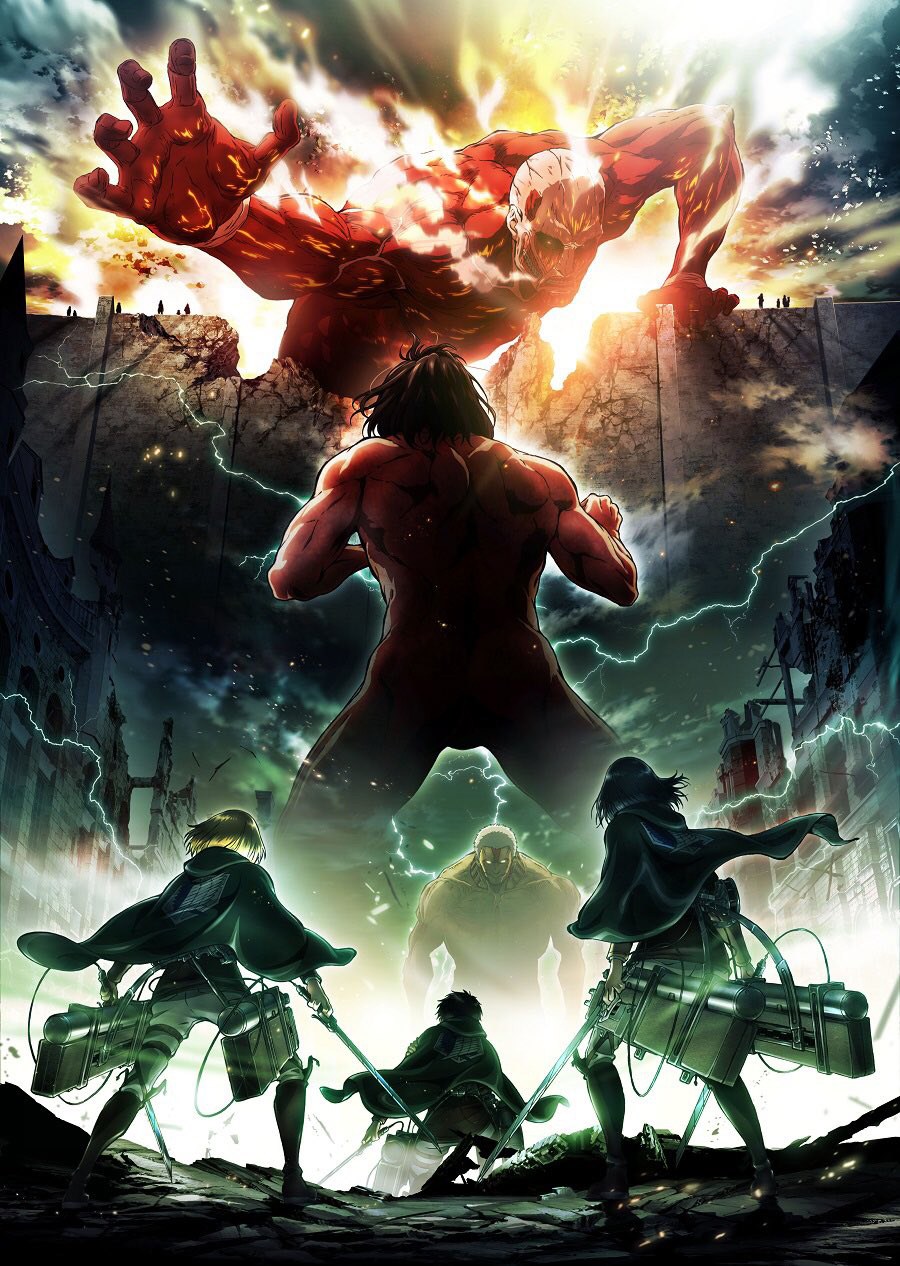 The Spring 2017 anime season will begin in April next year. It was earlier reported that the anime has been delayed to 2017, despite having a 2016 expected broadcast when it was first announced.
The site has revealed that the main cast of the first season and the spin-off will return for the second season:
Yuuki Kaiji (Issei Hyoudou from High School DxD) returning to voice Eren Yeager
Yui Ishikawa (Hinaki Shinjou in Hinaki Shinjou) as Mikasa Ackerman
Marina Inoue (Tooka Yatogami in Date A Live) voicing as Armin Arlert
Hiroshi Kaminya (Izaya Orihara from Durarara!!) who will voice Levi
Kishou Taniyama (Natsuki Shinomiya from Uta no☆Prince-sama♪ Maji Love) will voice Jean Kirstein
Yuu Shimamura (Haruka Haruno from Go! Princess Precure) as Annie Leonhart
Yuu Kobayashi (Katsuragi in Senran Kagura) voicing as Sasha Blouse
Shiori Mikami (Akari Akaza from YuruYuri) returns to voice Krista Lenz
Tomohisa Hashizume (Delico in Gangsta.) voices Bertolt Hoover
Yoshimasa Hosoya (Junpei Hyuuga in Kuroko's Basketball) returning as Reiner Braun
Saki Fujita (Ao Nanami from Yozakura Quartet) voicing the role of Ymir
Daisuke Ono (Sebastian Michaelis in Black Butler) as Erwin Smith
Romi Park (Edward Elric in Fullmetal Alchemist) back as Hanji Zoe
Hiro Shimono (Keima Katsuragi in The World God Only Knows) who will voice Connie Springer
The majority of the production staff from the first season will also return. However, a new director will be leading the series in their debut role. Though the director of the first season will return in a different role.
Director: Koizuka Masashi (Attack on Titan and Attack on Titan: No Regrets Episode Director)
Chief Director: Tetsuro Araki (Attack on Titan, Death Note)
Series Composer: Yasuko Kobayashi (Attack on Titan, JoJo's Bizarre Adventure)
Anime Character Designer and Chief Animation Director: Kyoji Asano (Attack on Titan, Psycho-Pass)
Art Director: Shunichiro Yoshihara (Attack on Titan, Rolling Girls)
Sound Director: Masafumi Mima (Attack on Titan, Fullmetal Alchemist: Brotherhood)
Music Composer: Hiroyuki Sawano (Attack on Titan, Guilty Crown)
Animation Studio: Wit Studio (Attack on Titan, Rolling Girls)
Here is the preview video for the second season that was revealed at the conclusion of the second compilation anime film:
The first visual has been released for the upcoming second season of Attack on Titan (Shingeki no Kyojin) anime, based on Hajime Isayama's manga of the same name, revealed in the previous issue of Gigazine and Animate TV's Anime Guide.
The second season of the anime was first revealed at the premiere of the Attack on Titan: Crimson Bow and Arrow (Shingeki no Kyojin Movie 1: Guren no Yumiya) compilation film last November. The premiere also revealed the release date for the second compilation film, Attack on Titan Part II: Wings of Freedom (Shingeki no Kyojin Movie 2: Jiyuu no Tsubasa) which aired in Japanese theatres on June 27th this year.
The Shingeki no Kyojin (Attack on Titan) series was created by Hajime Isayama. It started off as a manga in 2009 and is published in Kodansha's monthly Bessatsu Shounen Magazine. To date there has been 14 compiled volumes of the manga. A prequel light novel adaptation started in 2011, and two spin-off manga started serialization in 2012: Shingeki no Kyojin: Before the Fall and Shingeki! Kyojin Chuugakkou. In April 2013 the series was picked up for an anime adaptation. The anime series was produced by the newly formed Wit Studios. The series has grown in popularity since the anime's debut, with the manga selling over 36 million copies as of April this year. Two live action film adaptations will be releasing in Japan this year. The first images for the live-action 2015 Attack on Titan film were also earlier released.
Here is a synopsis of the anime from Haruhichan:
Several hundred years ago, humans were nearly exterminated by titans. Titans are typically several stories tall, seem to have no intelligence, devour human beings and, worst of all, seem to do it for the pleasure rather than as a food source. A small percentage of humanity survived by walling themselves in a city protected by extremely high walls, even taller than the biggest of titans.

Flash forward to the present and the city has not seen a titan in over 100 years. Teenage boy Eren and his foster sister Mikasa witness something horrific as the city walls are destroyed by a colossal titan that appears out of thin air. As the smaller titans flood the city, the two kids watch in horror as their mother is eaten alive. Eren vows that he will murder every single titan and take revenge for all of mankind.
You can visit the anime's official website here: http://shingeki.tv/
And follow their Twitter for more information: @anime_shingeki