With the upcoming TV anime adaptation of Nakaba Suzuki's manga The Seven Deadly Sins on the way, the "Chijoha Hatsu Kokai Shingeki no Kyojin Tokubetsu-hen & Nanatsu no Taizai Saishin Tokuho" television program has revealed the Attack on Titan (Shingeki no Kyojin) x The Seven Deadly Sins (Nanatsu no Taizai) crossover key visual on Sunday which will be displayed at Shinjuku Station in Japan.
The image inserts The Seven Deadly Sins characters Diana, Meliodas and Hawk into a key visual for the Attack on Titan anime. Instead of the Colossal Titan, Diane peers over the wall. Meliodas and Hawk take Eren's place in front of the wall. The collaboration developed because Kodansha's Shonen Magazine serializes both manga, and Yuuki Kaji voices the main characters in both anime adaptations.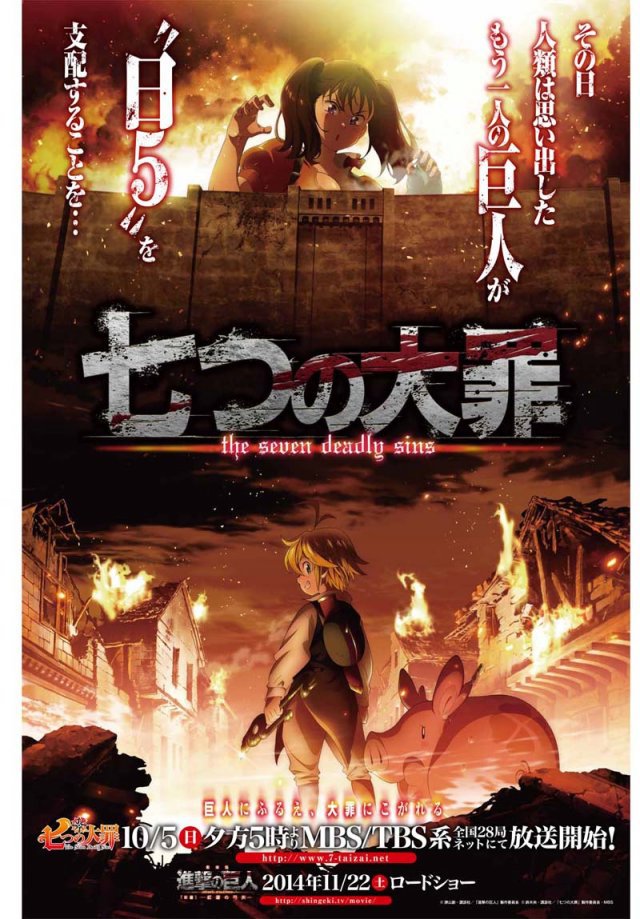 A 7.4-meter (about 24-foot) tall version of the key visual crossover image will hang near the east entrance of Shinjuku Station from October 3 to 6. Diane will appear almost life-size in the display. The crossover art will also appear in the November issue of Kodansha's Bessatsu Shonen Magazine on October 9. The issue will include comments from Attack on Titan manga creator Hajime Isayama and The Seven Deadly Sins manga creator Nakaba Suzuki.
The Seven Deadly Sins anime series will debut this October 5 and air throughout the fall 2014 anime season.
The Seven Deadly Sins synopsis from Haruhichan:
The "Seven Deadly Sins," a group of evil knights who conspired to overthrow the kingdom of Britannia, were said to have been eradicated by the Holy Knights, although some claim that they still live. Ten years later, the Holy Knights have staged a Coup d'état and assassinated the king, becoming the new, tyrannical rulers of the kingdom. Elizabeth, the king's only daughter, sets out on a journey to find the "Seven Deadly Sins," and to enlist their help in taking back the kingdom.
Source: ANN