The first trailer for the upcoming TV anime adaptation of Nakaba Suzuki's manga The Seven Deadly Sins was streamed on Sunday. The anime series will debut this October and air throughout the fall 2014 anime season. You can watch the past eight commercials here.
The trailer features the ending theme "7 -seven-" which is performed by FLOW x GRANRODEO and the opening theme "Netsujou no Spectrum (熱情のスペクトラム)" by Ikimono-gakari.
https://www.dailymotion.com/video/x26sghc
Man: They were slaughtered… And in a single instant. Only by seven people…
Elizabeth: The kingdom's most evil knight brigade, with each soldier having the symbol of an animal engraved on their skin.
Gilthunder: So they truly were alive…
Elizabeth: If there is a single hope to stopping the Holy Knights, it's The Seven Deadly Sins!
Text: The destiny of the kingdom
Text: Was thrown into chaos by them.
Soldier: That… Legendary…!
Meliodas: Sin of Wrath. Dragon Sin. Meliodas!
Diane: I'm the Serpent Sin, Diane! I'll lend you my power!
Elizabeth: This is the power of the Seven Sins…!
Gilthunder: The trecherous knight brigade… The Seven Deadly Sins…
Gilthunder: Disappear.
Text: The justice of sin will be tested.
Meliodas: I have things that I must do.
Narrator: Nanatsu no Taizai.
The cast is as follows:
Meliodas will be voiced by Kaji Yuki (Rentarou Satomi from Black Bullet!)
Elizabeth Liones will be voiced by Amamiya Sora (Akame from Akame ga Kill!)
Hawk will be voiced by Kuno Misaki (Kate Hoshimiya from Sekai Seifuku: Bouryaku no Zvezda)
Diane will be voiced by Aoi Yuuki (Varel Jin from Blade and Soul)
King will be voiced by Fukuyama Jun (Yukio Okumura from Ao no Exorcist)
Ban will be voiced by Tatsuhisa Suzuki (Shinsaku Takasugi from Bakumatsu Rock)
Production crew:
Director: Okamura Tensai (Ao no Exorcist, Darker than Black: Kuro no Keiyakusha, Medabots)
Series Composition: Suga Shoutarou (Darker than Black: Kuro no Keiyakusha, Isshuukan Friends., Rinne no Lagrange)
Character Design and Animation Director: Sasaki Keigo (Ao no Exorcist, Kimi ni Todoke, Sekai Seifuku: Bouryaku no Zvezda)
Music: Sawano Hiroyuki (Aldnoah.Zero, Kill la Kill, Shingeki no Kyojin)
Animation Studio: A-1 Pictures (Ao no Exorcist, THE [email protected], Shinsekai yori)
Key Visual: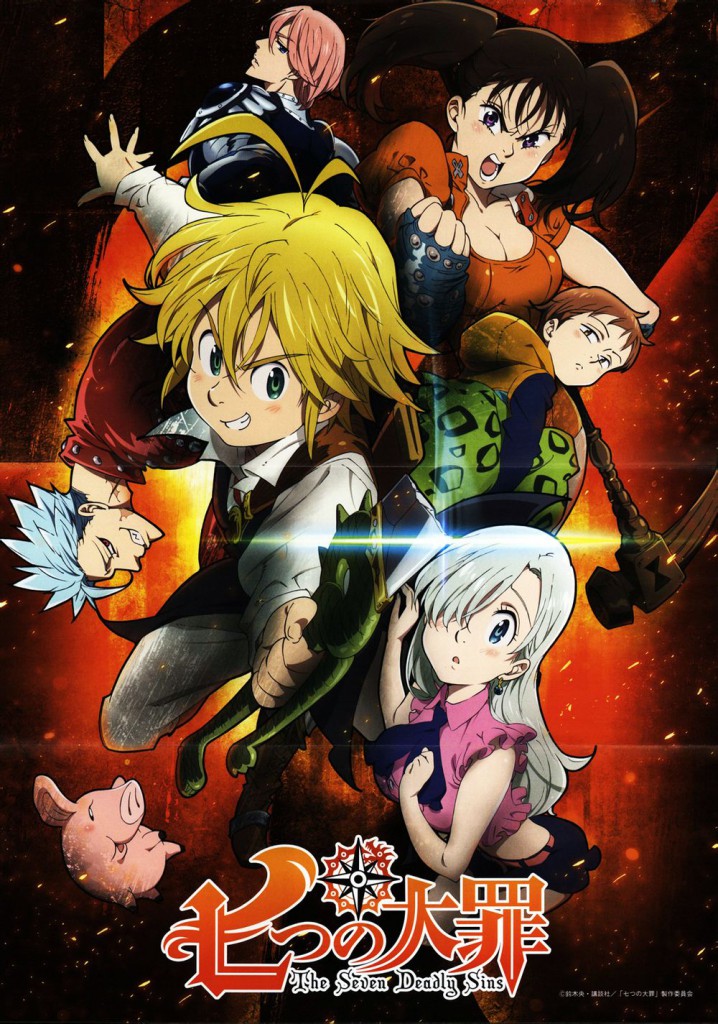 The Seven Deadly Sins (Nanatsu no Taizai) is a Japanese manga series written and illustrated by Nakaba Suzuki. It has been serialized in Kodansha's Weekly Shounen Magazine since October 2012, with the chapters collected into ten tankobon volumes as of June 17, 2014. The manga features a setting similar to the European Middle Ages, with its titular group of knights representing the seven deadly sins.
As of August 2014, The Seven Deadly Sins had over 5 million copies in circulation. It is currently being adapted into a television anime by A-1 Pictures that will debut on October 5, 2014. The manga has been licensed by Kodansha Comics USA for English publication in North America, while the chapters are released digitally by Crunchyroll in over 170 countries as they are published in Japan. The Seven Deadly Sin anime will debut this October, during the 2014 Fall/Autumn anime season.
The Seven Deadly Sins synopsis from Haruhichan:
The "Seven Deadly Sins," a group of evil knights who conspired to overthrow the kingdom of Britannia, were said to have been eradicated by the Holy Knights, although some claim that they still live. Ten years later, the Holy Knights have staged a Coup d'état and assassinated the king, becoming the new, tyrannical rulers of the kingdom. Elizabeth, the king's only daughter, sets out on a journey to find the "Seven Deadly Sins," and to enlist their help in taking back the kingdom.
Source: ANN