This year's ninth issue of Shueisha's Weekly Shonen Jump magazine will be announcing on Monday that Marina Inoue will voice Momo Yaoyorozu, and Yoshimasa Hosoya will voice Fumikage Tokoyami in the upcoming anime adaptation of Kouhei Horikoshi's Boku no Hero Academia (My Hero Academia) manga. The magazine also revealed the character designs for both characters in both their school uniforms and hero costumes.
Marina Inoue (Yozora Mikazuki from Boku wa Tomodachi ga Sukunai) will voice Momo Yaoyorozu
Yoshimasa Hosoya (Sousuke Yamazaki from Free!: Eternal Summer) as Fumikage Tokoyami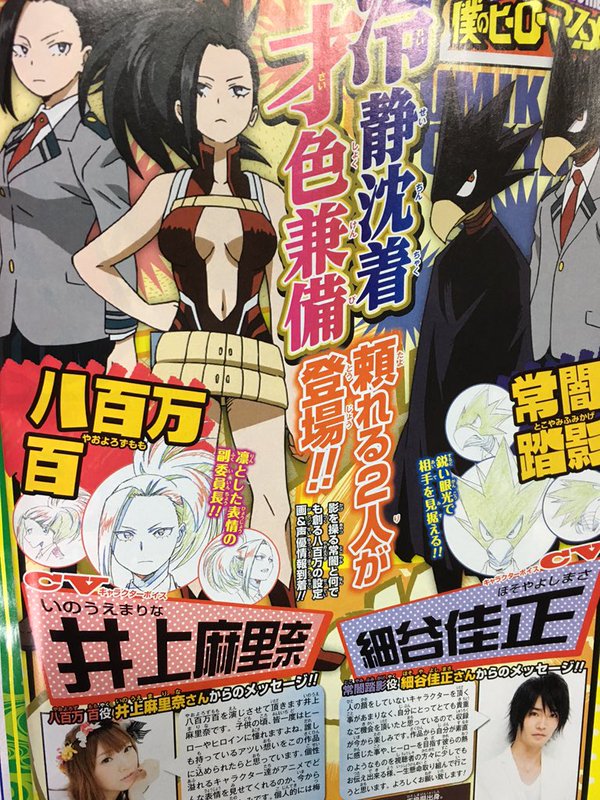 In addition to this, a new visual was recently revealed:
Here is the second new visual showcasing their hero designs:
The cast includes:
Nobuhiko Okamoto (Rin Okumura in Ao no Exorcist) will voice Katsuki Bakugou
Daiki Yamashita (Sakamichi Onoda from Yowamushi Pedal) who will voice Izuku Midoriya
Additional members of the anime's staff were also revealed in the issue:
Here is the anime's first promotional video:
Boku no Hero Academia (My Hero Academia) is an action adventure manga series written and illustrated by Kouhei Horikoshi. The series began in July 2014 under Shueisha's Weekly Shonen Jump magazine, where a total of 6 volumes have been compiled. The series has had good reception selling over 200,000 copies in 4 months, with the first volume selling out in short time. An anime adaptation of the series was announced in the November 2nd issue of Shueisha's Weekly Shonen Jump magazine.
Here is the series synopsis from Haruhichan:
People are not born equal, a realization that 4-year-old Midoriya Izuku faced when bullied by his classmates who had unique special powers. Izuku was one of the rare cases where he was born with absolutely no unique powers. This did not stop Izuku from pursuing his dream, a dream of becoming a great hero like the legendary All-Might. To become the great hero he hopelessly wants to become, he now will join the ranks of one of the highest rated "Hero Academies" in the country: Yueiko. With the help of his idol All-Might, will he be able to claim the ranks and become a true hero?
A TV anime adaptation of Boku no Hero Academia will be broadcasting on Sundays at 5pm JST on MBS/TBS during April, during the Spring 2016 anime season. Further information about the series will be revealed in the upcoming weeks.
You can visit the anime's website here: http://heroaca.com/
And follow their Twitter: @heroaca_anime
Source: Yaraon