Boyfriend (Beta), a smartphone game that is the male counterpart of Girlfriend (Beta), announced that they have collaborated with a sweets company, Kanro, to bring a special new product for the Valentines and White Day celebration in Japan. The candies supposedly taste like a kiss from the selected boys of Boyfriend (Beta)!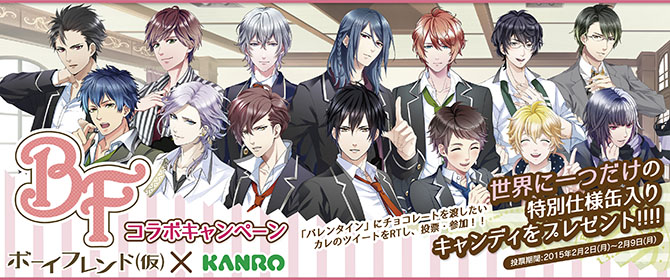 The candies will be sold on March 14, 2015 for 2,000 yen (excluding tax and shipping costs; around US$17). Each set will have 3 cans and has 3 different designs. The candies could be bought on Kanro's Online Shop when released.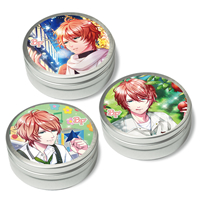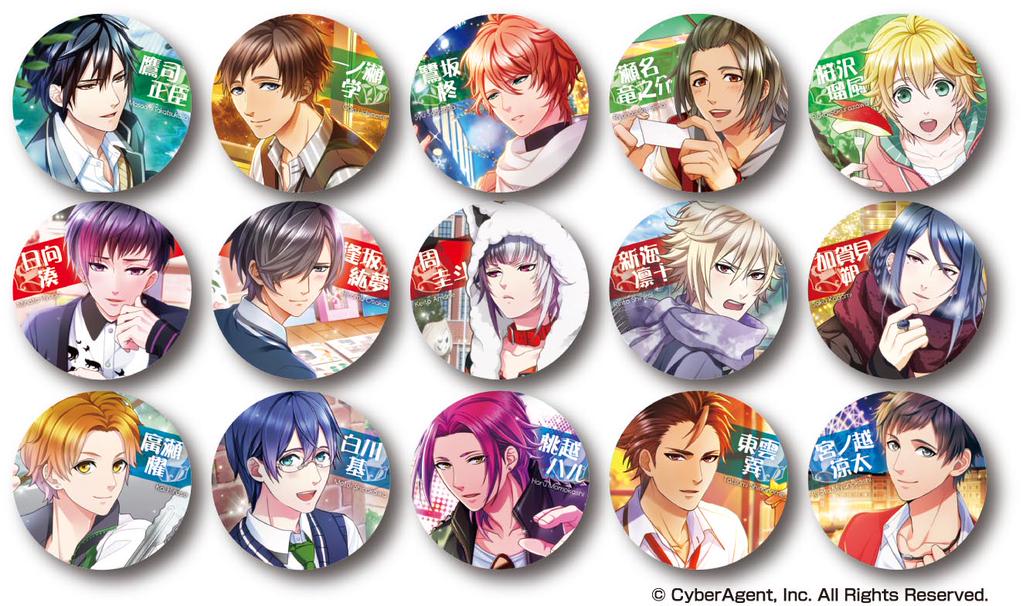 There is also an ongoing Twitter campaign, beginning February 2 to February 9, 2015, asking the fans to vote for a character whom they would love to receive a Valentines Day chocolates from by retweeting. The top six men will be the featured characters as the kiss-flavored candies. And one retweeted for each of the six men will receive a one-of-a-kind candy gift.
Boyfriend (Beta) was launched on December 2013 by Ameba Games. It is a basic free-to-play system. It could be played by browser (Google Chrome; they do not support Mozilla Firefox due to some game banners not being visible) or by smartphone (downloading via Google Play or App Store).
PVs:
One-year anniversary special movie:
Characters:
Saionji Ren (Fukuyama Jun: Code Geass' Lelouch Lamperouge, Kuroshitsuji's Grell Sutcliff)

Momokoshi Haru (Suzumura Kenichi: Brothers Conflict's Tsubaki Asahina, Kuroko no Basket's Atsushi Murasakibara)

Sumeragi Alan (Takanashi Kengo: Shirobako's Yoshiki Sakura, Cyclops Shoujo Saipuu's Hikaru Saitou)

Wakasa Ikuto (Toriumi Kousuke: Diabolik Lovers' Shu Sakamaki, Uta no Prince-sama's Cecil Aijima)

Amane Keito (Tachibana Shinnosuke: Gundam Build Fighters' Nils Nielsen, Kamisama Hajimemashita's Tomoe)

Asuma Momota (Mizushima Takahiro: Romeo x Juliet's Romeo, Love Lab's Satoshi Nagino)

Amamiya Kuon (Takeuchi Ken: Brothers Conflict's Louis Asahina, Kiss x Sis' Keita Suminoe)

Kisaragi Toma (Nishida Masakazu: Gundam Build Fighters Try's Shimon Izuna, Log Horizon's Eins)

Sagisaka Shuu (Sakurai Takahiro: Diamond no Ace's Kazuya Miyuki, Ookami Shoujo to Kuro Ouji's Kyouya Sata)

Shirakawa Motoi (Sugiyama Noriaki: Naruto's Sasuke Uchiha, Kamigami no Asobi's Thor Megingjord)

Narumi Masato (Yokoyama Jun: Free!: Eternal Summer's Shouta Nakagawa)

Hyuga Minato (Takahashi Kouji: Akame ga Kill's Ieyasu, Seikoku no Dragonar's Ash Blake)

Moribe Kuniharu (Kaji Yuki: Ao Haru Ride's Kou Mabuchi, Diabolik Lovers' Kanato Sakamaki)

Yoshiya Naokage (Hanae Natsuki: Diamond no Ace's Haruichi Kominato, Nagi no Asukara's Hikari Sakishima)
Hirose Kai (Hoshi Soichiro: Vampire Knight's Senri Shiki, Starry☆Sky's Homare Kanakubo)
Fuwa Keishi (Maeno Tomoaki: Akatsuki no Yona's Hak, Brothers Conflict's Natsume Asahina)
Hodaka Natsuki (Takeuchi Eiji: Diamond no Ace's Ichirou Sakai, Akame ga Kill's Me)
Kitashiro Takeru (Ono Daisuke: Durarara!!'s Shizuo Heiwajima, Gugure! Kokkuri-san's Kokkuri-san)
Kujo Kishin (Yusa Kouji: Yowamushi Pedal's Akira Midousuji, Kuroshitsuji's Lau)
Kuwakado Aoi (Hino Satoshi: Amnesia's Toma, Bakuman's Akito Takagi)
Sakurazawa Ruka (Yonaga Tsubasa: Free's Nagisa Hazuki, Love Stage!!'s Izumi Sena)
Shinonome Tatsumi (Seki Tomokazu: Fate/stay night's Gilgamesh, Psycho-Pass' Shinya Kougami)
Shinkai Rinto (Ono Yuuki: Kuroko no Basket's Taiga Kagami, Gekkan Shoujo Nozaki-kun's Masayuki Hori)
Sena Ryunosuke (Abe Atsushi: Toaru Majutsu no Index's Touma Kamijou, Shugo Chara!'s Kukai Souma)
Ichinose Gaku (Hirakawa Daisuke: Diabolik Lovers' Laito Sakamaki, Free!'s Rei Ryuugazaki)
Osaka Hiromu (Terashima Takuma: Log Horizon's Shiroe, Tonari no Kaibutsu-kun's Kenji Yamaguchi)
Kagami Saku (Miyano Mamoru: Chihayafuru's Taichi Mashima, Free!'s Rin Matsuoka)
Serizawa Yuri (Namikawa Daisuke: Fairy Tail's Jellal Fernandes, Hunter x Hunter's Hisoka)
Takatsukasa Masaomi (Taniyama Kishou: Special A's Yahiro Saiga, Shingeki no Kyojin's Jean Kirstein)
Tsukuyomi Rikyo (Ishida Akira: Gintama's Kotaro Katsura, Naruto's Gaara)
Tsutsumi Seishiro (Suwabe Junichi: Kuroko no Basket's Aomine Daiki, Uta no Prince-sama's Ren Jinguuji)
Toma Keiji (Kuroda Takaya: Shakugan no Shana's Sabrac, Finder no Hyouteki's Ryuichi Asami)
Mayama Koichiro (Morikawa Tomoyuki: Bakumatsu Rock's Toshizou Hijikata, Berserk's Griffith)
Miyanokoshi Ryota (Murata Taishi: Baby Steps' Eiichirou Maruo, Aldnoah.Zero's Calm Craftman)
Myojin Kengo (Sugita Tomokazu: Gintama's Gintoki Sakata, Hachimitsu to Clover's Takumi Mayama)
Mukai Kazuki (Kawahara Yoshihisa: Tamako Market's Tomio Shimizu, Orenchi no Furo Jijou's Narrator)
Source – Ameblo Blog