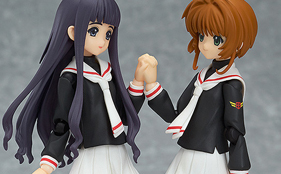 Following the heroine Sakura Kinomoto's gorgeous figma earlier in June is Tomoyo Daidouji of the world famous magical girl anime, Cardcaptor Sakura, is receiving her very own adorable figma following the main heroine Sakura Kinomoto's figma that was released in June.
The confident, eloquent, and poseable Tomoyo figma will be made and released by Max Factory and distributed by Good Smile Company in June 2016 and is now available for pre-order priced at 5,370 Yen (about 44 USD).
Source: Crunchyroll
Somewhat of an aspiring journalist.
110% weeb.