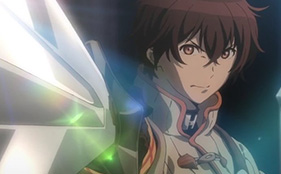 The official website of the TV anime adaptation of Sega's Chain Chronicle has revealed that the series will now air next year, being delayed from its initial 2015 broadcast.
In addition to the news, the first promotional video was also revealed.
The cast and crew for the anime was previously announced. The anime's cast was revealed but the characters they will be voicing was not. They are:
The production crew working on the anime includes:
Here's the promotional video for the game which was released last Summer:
Chain Chronicle is a Tower Defense Role Playing Game developed and published by Sega for all Smartphone platforms in Japan. It was released in Japan on July 26, 2013 for iOs, August 1, 2013 for Android and on July 16, 2014 for the PlayStation Vita. The game is licensed in Asia by SNDA in China, MobiMon for both Taiwan and Macau, Actoz Soft for South Korea and Gumi Asia for both Southeast Asia and North American release.
The series spawned an Original Video Animation series directed by Takeshi Mori, animated by Juumonji and Sotsu. It was released on December 18, 2014.
Chain Chronicle synopsis from Haruhichan:
An anime adaptation of the game for mobile devices Chain Chronicle.
The Chain Chronicle TV anime adaptation will air in 2016. More information about the anime will release in the upcoming months.
You can visit the anime's website here: http://chronicle-anime.sega-net.com/