On Tuesday, the 21st issue of Shonengahosha's Young King magazine is announcing an anime adaptation for Yuu Yuuki's (Change H, Otona no 1 Page Shinrigaku) manga, Manga de Wakaru Shinryou Naika (Comical Psychosomatic Medicine/Understand Psychosomatic Medicine Through Manga). Yuuki also announced it on his website .
The manga creator is a psychiatrist who irregularly publish his works on Yuu Mental Clinics' website since 2009. Sou (artist on Yuuki's another manga, Otona no 1 Page Shinrigaku), illustrates the manga. On 2010, Young King began publishing the series and at the same time, released the first compiled volume of the manga. The 11th compiled volume was released on June and has reached a total of 3 million copies in print.
Comical Psychosomatic Medicine has also a Drama CD bundled on the seventh volume. It stars Ai Kayano (Captain Earth's Hana Mutou, No Game No Life's Shiro) as Asuna and Wataru Hatano (Fairy Tail's Redfox Gajeel, Mikakunin de Shinkoukei's Mitsumine Hakuya) as Ryou. Listen to the Drama CD:
The first visual/announcement of Comical Psychosomatic Medicine: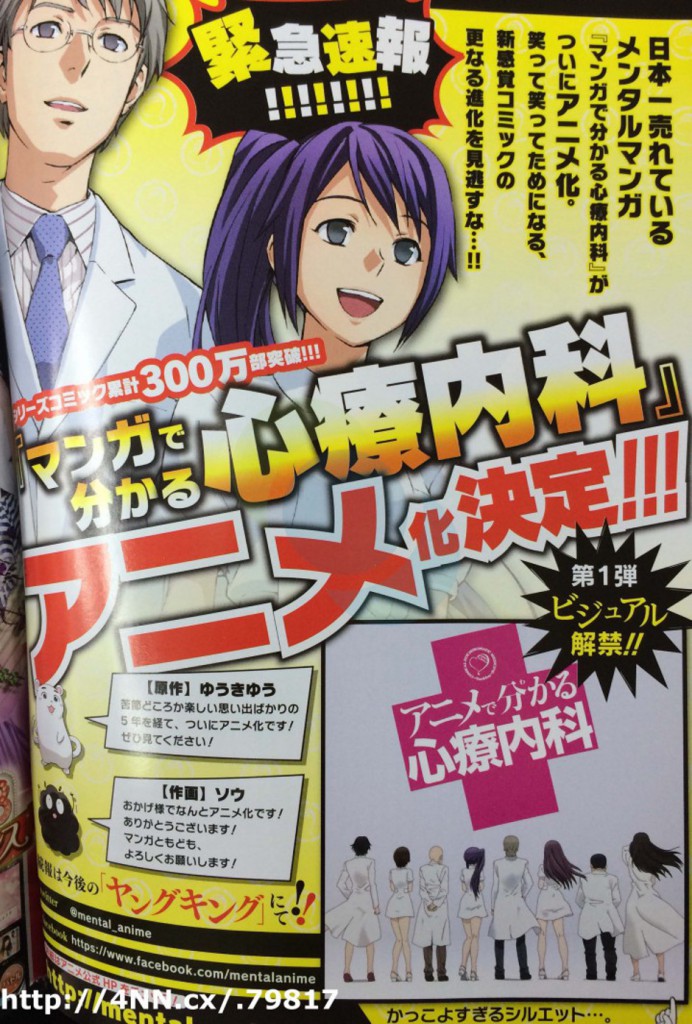 Volume 11 of Comical Psychosomatic Medicine: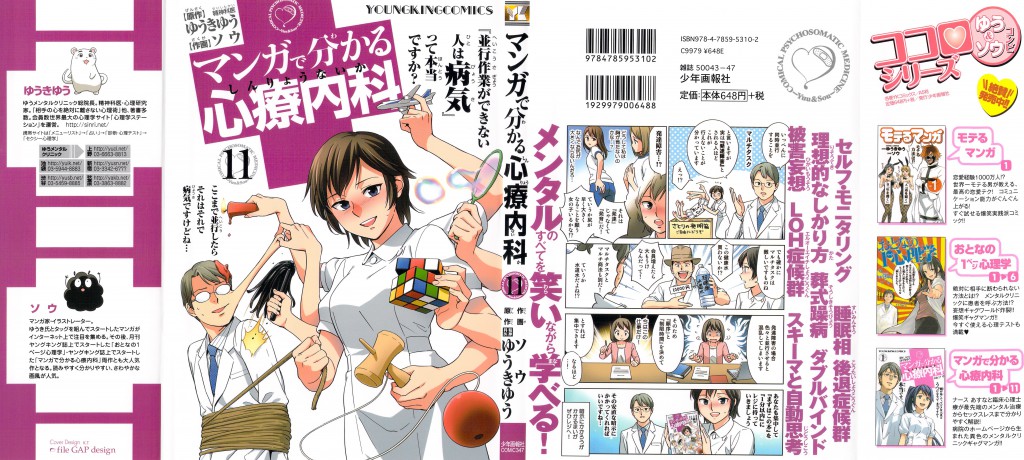 Few illustrations of the manga in celebration of 2014:
Synopsis of Comical Psychosomatic Medicine from MAL:
The psychologist Ryou and his cheerful nurse Asuna explain many aspects of mental illness to the reader. They cover topics such as the validity, prevalence, and origins of mental disorders, in addition to addressing specific disorders. The information is imparted in a cheerful and comic manner, with various jokes, puns, and pop culture references.