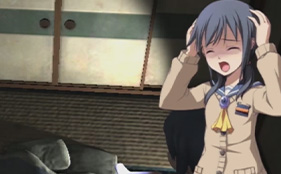 To whet the western's bloody appetite of Corpse Party: Blood Drive an 18 minutes gameplay PV has been released to help build palyer anticipation with for Corpse Party classic visual novel content.
Corpse Party will fear us again on the PS Vita starting with its release on October 13th. Here's the promotional video for the game:
Corpse Party is a Video Game series originally created by Makoto Kedoin and developed by Team GrisGris. The series first began in 1996 developed on the RPG Maker software and to date has total of 7 games over numerous platforms.  The series has spanned several manga works, an anime OVA series, drama CDs, theme park attractions and a 2015 live action film.
Corpse Party synopsis from Haruhichan:
The story is set in Heavenly Host Elementary School, an elementary school that was torn down following the murders and disappearances of several of its staff and students. By the start of the story, another school called Kisaragi Academy has been built over the elementary school site. One night, a group of students from Kisaragi are telling ghost stories when a sudden earthquake transports them to another dimension where Heavenly Host Elementary still exists and is haunted by the ghosts of the school's murdered children. The students of Kisaragi Academy students try to find their way home and survive the other mysterious forces that haunt the school.
Source: Sankakucomplex