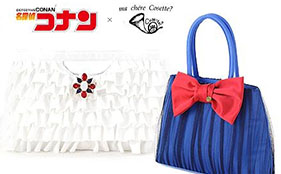 Super Groupies, a Japanese fashion brand has recently introduced some new products which feature Conan Edogawa and Kaitou Kid from Gosho Aoyama's hit Mystery / Shounen series Detective Conan. These stylish handbags which are inspired by the two characters will definitely help you solve cases.
The Conan Edogawa handbag features the detective's own style with the special bowtie gadget Professor Agasa made. It will cost 6,800 yen plus tax.
The Kaitou Kid handbag is inspired from The Magician Under the Moonlight, and like Conan's signature bow tie, this bag features Kaitou Kid's signature brooch. The bag can also be turned into a clutch bag and it costs 9,800 yen plus tax.
The Conan Edogawa pumps also resemble his outfit with the signature bow tie which can be removed and placed in different parts of the shoe. They will cost 16,800 yen plus tax.
Conan Edogawa's mysterious rival, Kaitou Kid, gets his own pair of booties which features his signature white and blue color scheme with a bit of a metallic coloration. They will cost 19,800 yen plus tax.
Both bags and pairs of shoes are scheduled to ship by the end of October and are now available for sale on the Super Groupies website.