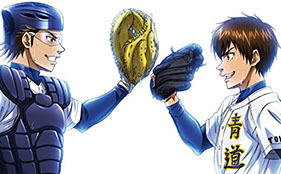 Pony Canyon have posted the TV Spot which features Diamond no Ace's sixth ending theme song, FINAL VICTORY by Seidou High Baseball Club (Ryota Ohsaka, Nobunaga Shimazaki, Natsuki Hanae). The new ending theme started being used in the anime series from episode 64.
The single is scheduled for release on January 28th.
In addition to this, it has been revealed that the third OVA will be centered towards the reverse ace pitcher of Seidou Highschool, Kawakami Norifumi. The cast was also announced, which are four of the second-year students. The story is an original, thus it wasn't taken place in the manga. The limited edition set will be released on March 17, 2015.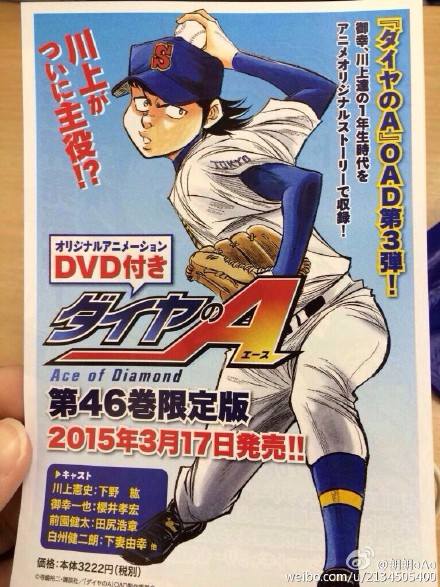 Announced Cast:
The manga, Diamond no Ace, was published by Kodansha and was serialized by Weekly Shounen Magazine since 2006. There are will be 45 compiled manga volumes as of tomorrow. An anime adaptation was premiered on October 6, 2013 and is still airing. It was announced that it will end on March 2015. The anime was produced by a collaboration of Madhouse (Hajime no Ippo, Chihayafuru) and Production I.G (Kuroko no Basuke, Haikyuu!!).
Synopsis of Diamond no Ace from Haruhichan:
The story follows Eijun Sawamura, a pitcher who joins an elite school with a brilliant catcher named Kazuya Miyuki. Together with the rest of the team, they strive for Japan's storied Koushien championships through hard work and determination.
Source: Crunchyroll