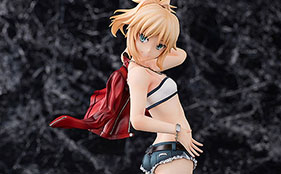 Saber's daughter, Saber of Red or Mordred, the Knight of Treachery from the light novel, Fate/Apocrypha, has received a wonderful 1/7 scale figure. Mordred resembles Saber as her daughter (or "Son," who is actually female) with Morgan le Fey, who appears in the popular light novel based on Fate/Stay Night.
She is wearing her signature white top and short shorts while carrying her red jacket. She is shown with a confident smile, ready for any challenge coming.
Fate/Apocrypha – Saber of Red -Mordred- 1/7 Figure – Pre-orders are currently available on JList and is scheduled to be released in May 2015.