With today's Durarara!!x2 Ten broadcast slot taken over by the episode 12.5 OVA, a November 14th screening of new Durarara!!x2 episode 13.5 OVA has been revealed. Titled "Journey of Love," the episode will take place between episodes 13 and 14 of the currently on-going Durarara!!x2 series. It will be released on Blu-ray and DVD on January 27, 2016.  Toshiyuki Toyonaga's "91cm" will be featured as the ending theme song.
http://www.dailymotion.com/video/x357tct
A new visual was also revealed: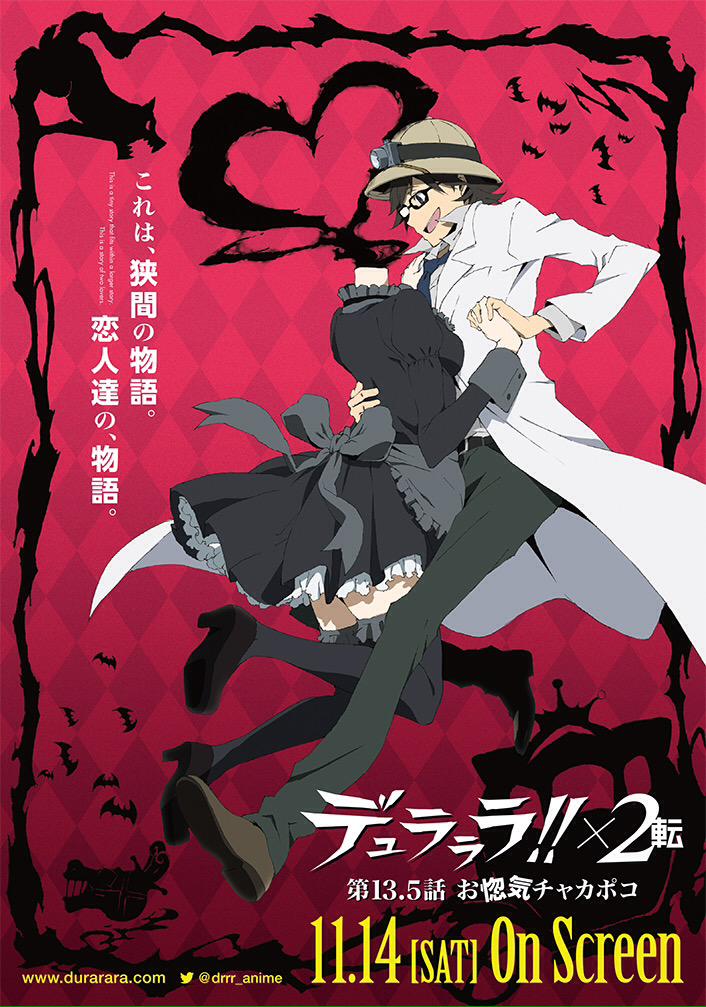 Tickets are being offered with a Izaya and Shizuo Ikebukuro Ghost Story CD and kimono post card.
さらに!第13.5話「お惚気チャカポコ」CD付きの限定前売券は只今より、アニプレックス+にて予約受付開始!臨也と静雄の池袋怪談CD付きです!詳細はこちら!http://t.co/IiZM89h1aT pic.twitter.com/6PkH4Ut4mw

— TVアニメ「デュラララ!!×2」 (@drrr_anime) September 5, 2015
公開劇場詳細や最新トレーラーなどを公式サイトに掲載!http://t.co/FOHDVI3fjn 通常前売券は9/12より上映劇場にて発売開始!特典は臨也と静雄の着物姿のポストカードです!ANX #drrr_anime pic.twitter.com/OLFmvM25JG

— TVアニメ「デュラララ!!×2」 (@drrr_anime) September 5, 2015
また第13.5話のEDテーマが、豊永利行「91cm」に決定!「転」のOPテーマ「Day you laugh」のカップリング曲として、好評発売中です!是非聴いて下さい!ANX #drrr_anime pic.twitter.com/nSl6YwlJuj

— TVアニメ「デュラララ!!×2」 (@drrr_anime) September 5, 2015
Durarara!!x2 Ten anime visual: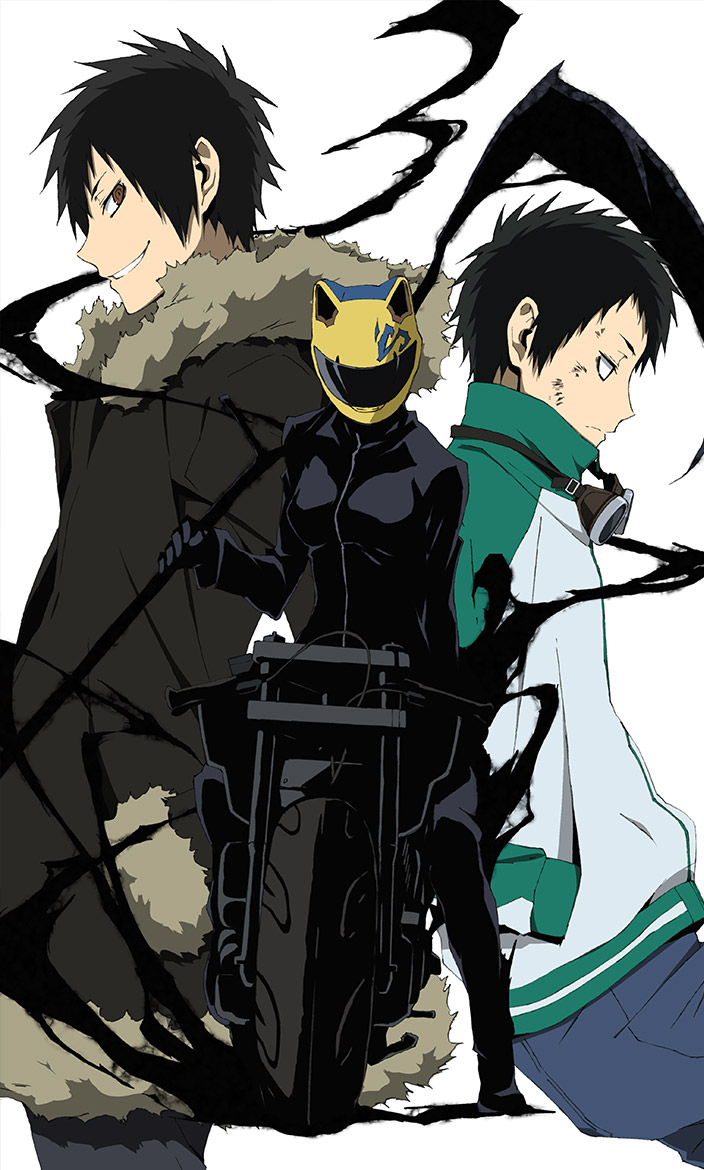 Durarara!!x2 is part of the 10th anniversary celebration of the Durarara!! series, created and written by Ryohgo Narita featuring art from Suzuhito Yasuda. The light novel series began in 2004 published by ASCII Media Works' Dengeki Bunko. The original light novels ended in January 2013 for a total of 13 volumes, but Narita has started a new series of light novels titled Durarara!! SH set two years after the original's conclusion. The third issue released this year on January 10th. The light novels received an anime adaptation in 2010 from animation studio Brain's Base with a second season airing throughout this year. In addition, two manga adaptations and a few visual novels were also released.
Durarara!!x2 Ten will start airing from July 4th at 11:30pm JST on Tokyo MX during the Summer 2015 anime season. Further information about the anime will be revealed within the next week.
Durarara!!x2 Ten synopsis from Haruhichan:
Second cours of the second Durarara!! season.
Source: Durarara!! official twitter