The official website for the TV anime adaptation of Durarara!! has released preview images and the synopsis for the first episode of Durarara!!x2 Shou, the first episode of Durarara!!x2 Shou airs on Saturday at 11:30pm JST on Tokyo MX, GTV, BS11 and Tochigi TV.
Episode 1 preview images:
Episode 1 will be titled "Seeing is Believing" and here's a synopsis from the official website:
6 months have passed since the struggle between the Dollars and Yellow Scarves. The hustle and bustle of the Ikebukuro continues like usual. The high school students continue to live their glorious lives for the underground doctor and the information broker, whereas the urban legend of The Headless Rider continues to ride. But a mysterious outsider has made it in. A new killer on the loose, known as Hollywood. In the city that continues to quietly hustle will eventually have a new smoldering change.
The second and first promotional video for the second season was revealed earlier:
http://www.dailymotion.com/video/x29rmpl
http://www.dailymotion.com/video/x27wr9j_%E3%83%87%E3%83%A5%E3%83%A9%E3%83%A9%E3%83%A9-x%EF%BC%92-pv01_creation
Two countdown commercials were also released during last week:
http://www.dailymotion.com/video/x2ebqu2_durarara-x2-shou-countdown-cm2-celty-ver_tv
http://www.dailymotion.com/video/x2e96d8_durarara-x2-shou-countdown-cm_news
This new anime is part of the 10th anniversary celebration of the Durarara!! series, which began as a light novel series in 2004 published by ASCII Media Works' Dengeki Bunko. The original light novels ended in January this year, but the creator of the series Ryohgo Narita, has stated that he will be begin a new series of light novels titled Durarara!! SH, set two years after the original's conclusion. The first issue will release on April 10th. The light novels received an anime adaptation in 2010 from animation studio Brains Base. In addition, two manga adaptations were also released and a few visual novels. To date the light novels has a total of 13 volumes. and are illustrated by Suzuhito Yasuda.
A manga adaptation by Akiyo Satorigi started serialization in the shounen manga magazine Monthly GFantasy on April 18, 2009. An anime adaptation began airing in Japan in January 2010. Two games based on the series for the PlayStation Portable were released, and a game for PlayStation Vita was released on June 19, 2014 in Japan.
Visual: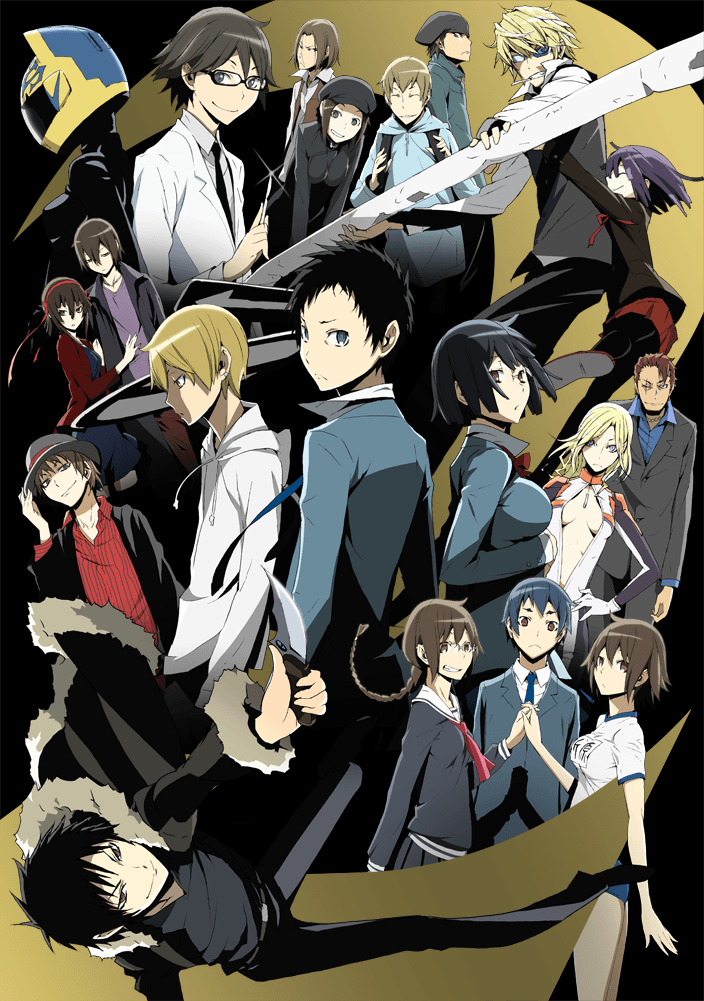 Here is a synopsis of the first season from Haruhichan:
In Tokyo's downtown district of Ikebukuro, amidst many strange rumors and warnings of anonymous gangs and dangerous occupants, one urban legend stands out above the rest—the existence of a headless "Black Rider" who is said to be seen driving a jet-black motorcycle through the city streets.

Ryuugamine Mikado has always longed for the excitement of the city life, and an invitation from a childhood friend convinces him to move to Tokyo. Witnessing the Black Rider on his first day in the city, his wishes already seem to have been granted. But as supernatural events begin to occur, ordinary citizens like himself, along with Ikebukuro's most colorful inhabitants, are mixed up in the commotion breaking out in their city.
Source: Durarara!! official website, OtakuTale