The September issue of Kodansha's Afternoon magazine will be announcing on Saturday that Fairy Tail's author, Hiro Mashima, will draw a one-shot based on Hitoshi Iwaaki's Parasyte manga for the magazine's October issue, which Kodansha will publish on August 25. The magazine teases the one-shot:
A parasite approaches the peaceful guild?!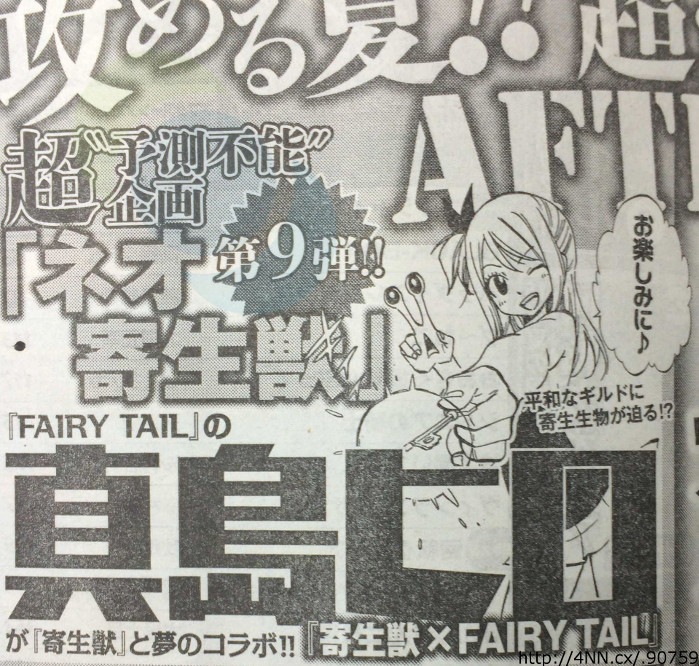 The one-shot is the 9th in a series of original "Neo Kiseijuu" (Neo Parasyte) stories by different creators. The project is promoting the Parasyte television anime, which ended in March. Akira Hiramoto (Me and the Devil Blues), Riichi Ueshiba (Mysterious Girlfriend X), and Ryoji Minagawa (Peacemaker) previously wrote one-shots for the series.
Anime visuals:
Fairy Tail is a Japanese manga series written and illustrated by Hiro Mashima. It has been published in Weekly Shonen Magazine since August 2, 2006, and has been published by Kodansha in 50 tankobon volumes; the individual chapters are being published in tankobon volumes by Kodansha, with the first released on December 15, 2006, and the 50th volume released on July 17, 2015. Fairy Tail follows the adventures of Lucy Heartfilia, a teenage wizard, who joins the popular wizards' guild and teams up with fellow guild member Natsu Dragneel as he searches for the dragon Igneel.
The chapters have been adapted into an anime series produced by A-1 Pictures and Satelight, which began broadcasting in Japan in 2009. Additionally, A-1 Pictures and Satelight have developed six original video animations and an animated feature film, Fairy Tail the Movie: Phoenix Priestess. The series ended on March 30, 2013. However, on March 4, Mashima announced on his Twitter account that the anime would not end yet, and that reruns of the anime will begin airing on TV Tokyo under the title Fairy Tail Best! on April 4, 2013. On July 11, Mashima announced the green lighting of a sequel series of the anime. The new series premiered on TV Tokyo on April 5, 2014.
Parasyte is a science fiction horror manga series written and illustrated by Hitoshi Iwaaki, and published in Kodansha's Afternoon magazine from 1988 to 1995. The manga was published in North America by first Tokyopop, then Del Rey, and finally Kodansha Comics USA. The manga is being adapted into two live-action films in Japan in 2014 and 2015. An anime television series adaptation by Madhouse, titled Parasyte -the maxim-, aired in Japan between October 2014 and March 2015.
Source: ANN