Today we're checking out a sweet ninja girl from the Ori Team's Elegance line of figures. Here's the quick and dirty story about this sexy shinobi: Wen Rou.
After a long break, our ORI Team decided to bring a new member to Elegance! Meet the latest martial art master — Wen Rou. As one of the Ten Great Assassins, she is highly agile and a veteran in infiltration and assassination. Her Shuriken is also well-known in the world of rogues. With the contract on Qiao Yin, you can totally expect some fierce battles between her, Fei Yan and Jian Xue.
The design of Wen Rou had followed most of the Elegance girls. While she had ninja-like abilities, you can also see traces of Japanese elements from her. As an infiltration expert, her costume was simplified; yet she can fit in the series as well as it can goes.
Qiao Yin and Wai Fung had gone through so many ordeals since the start of their journey. Are they going to survive the hit from Wen Rou?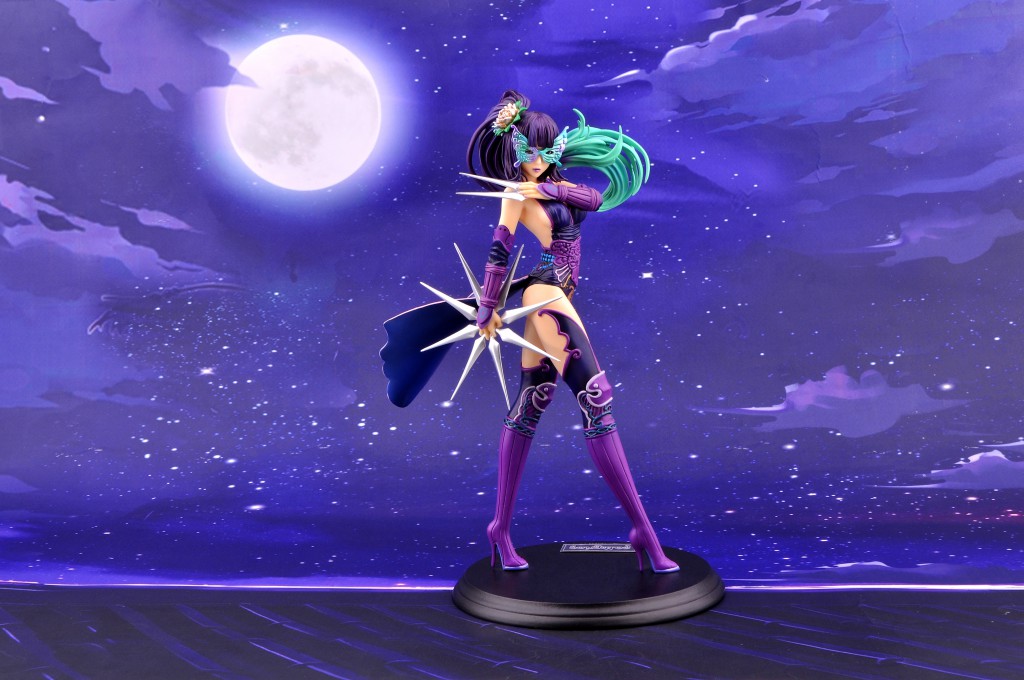 The Elegance figures are completely OC, so they have no basis on an anime or anything like that. They're made just to be pretty and look neat on your shelf! In this aspect, Wen Rou does not disappoint! The butterfly mask (papillon) is removable, as you can see from other pictures below.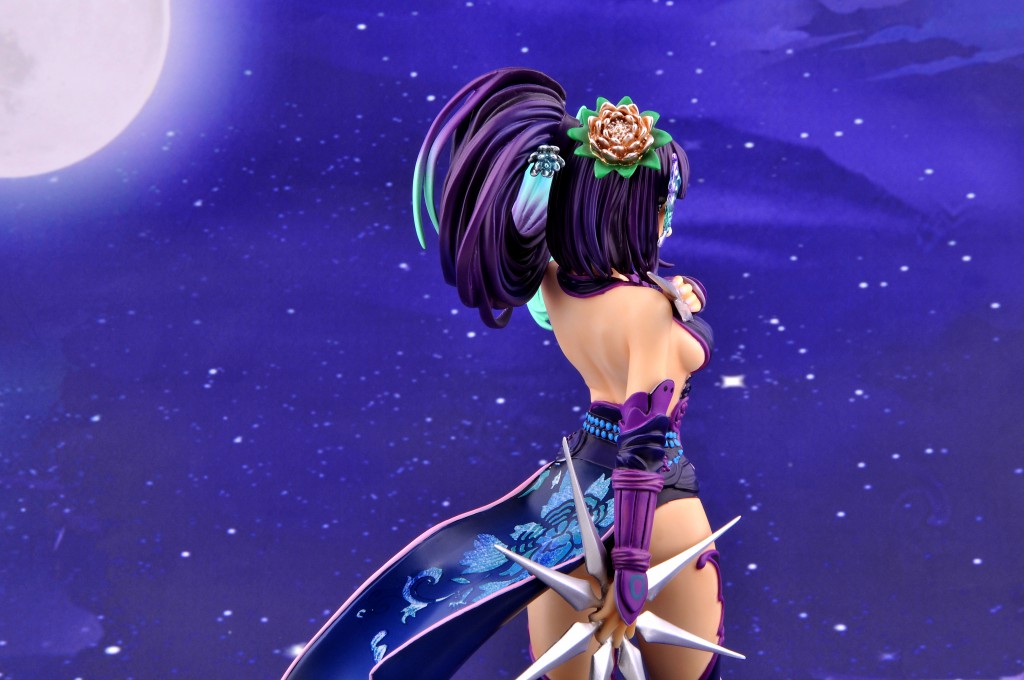 You can see the detail work on the back of her small amount of clothing here. You can also catch a glimpse of some tasteful sideboob!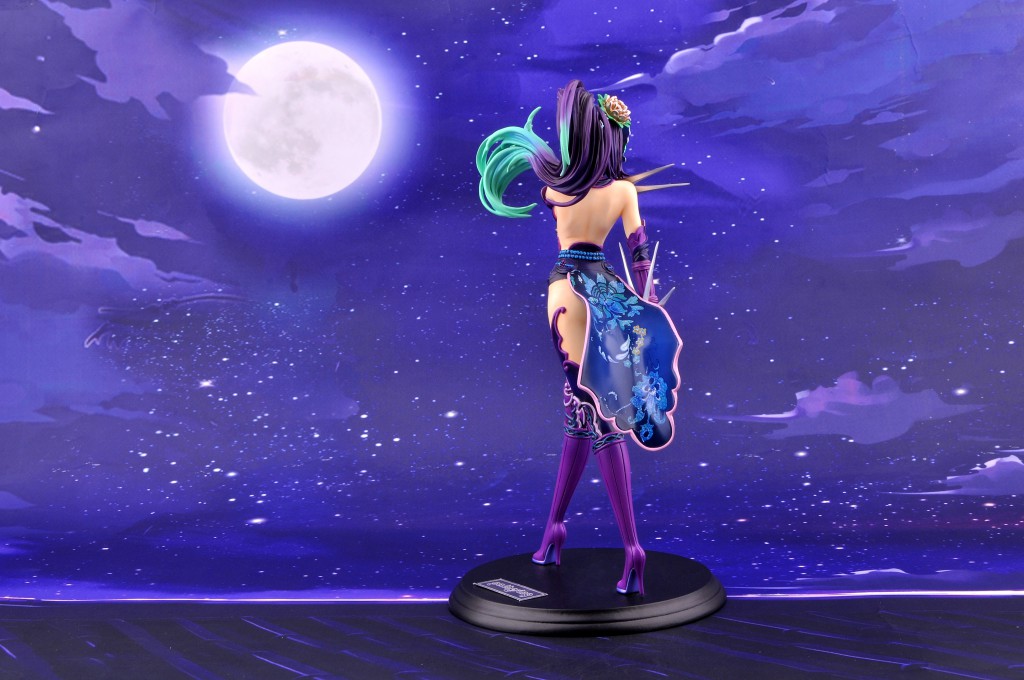 A better shot of the back of her skirt. The design on there is very well done and it's really a shame it's on the back of the figure. I guess the dust bunnies and the back of a shelf needs something to look at as well. You can also see the transition of her hair, from the purple to green. I personally don't like the looks of it.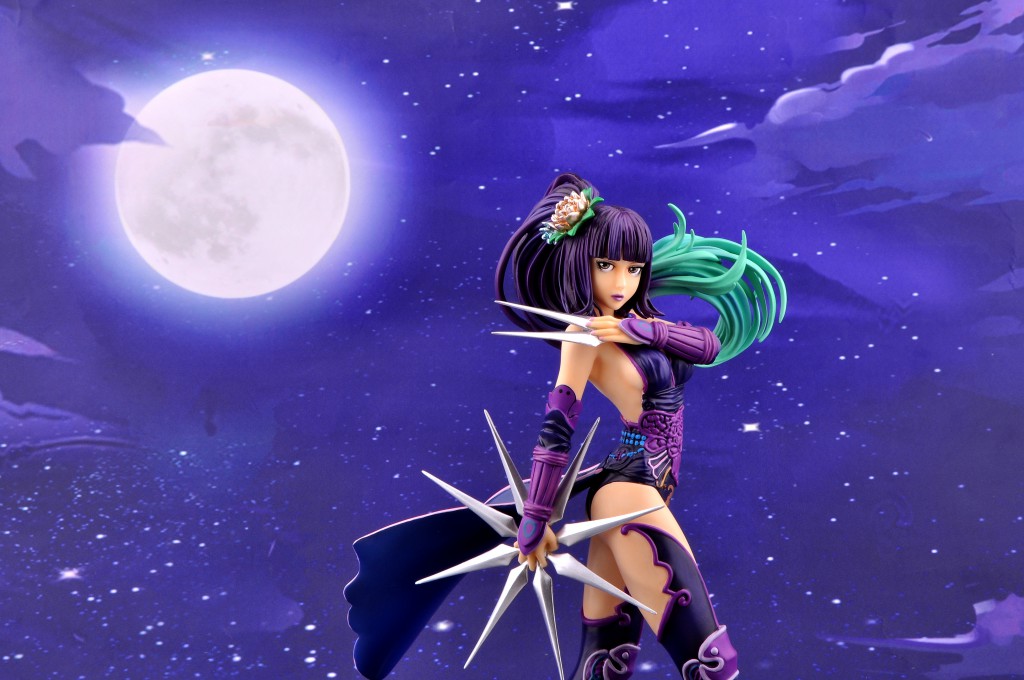 Here you can see her nonchalant face without the mask. I would prefer no mask myself. Her expression is very bland and non-exciting. I guess that's what a cold blooded ninja assassin would look like though. Make sense!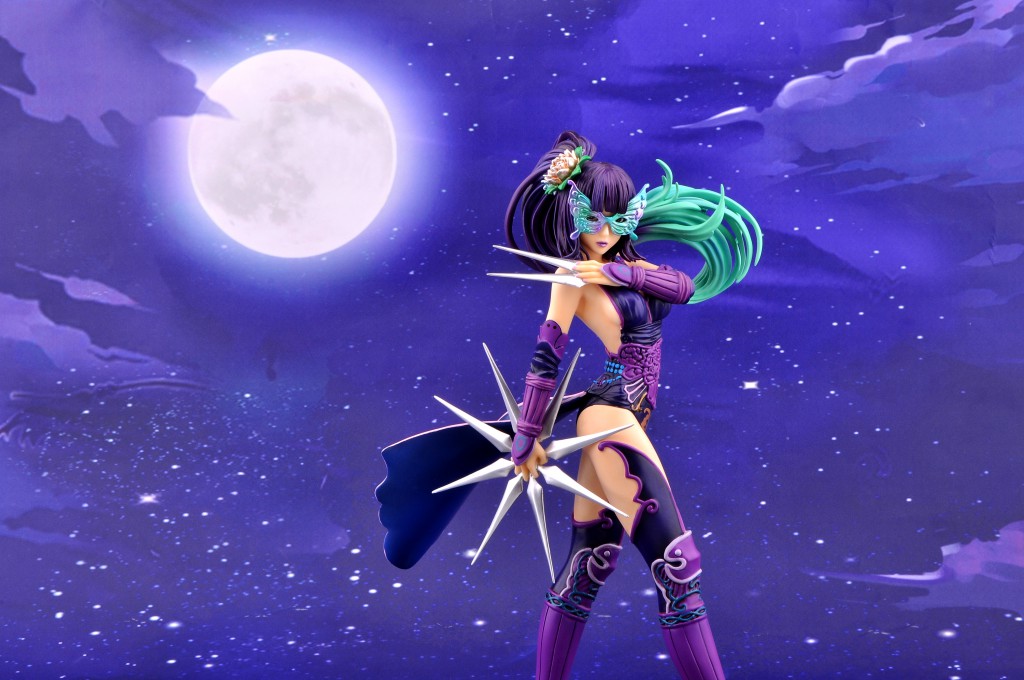 Her weapons look fairly good painted as well. When you look at her stomach area, you can see the intricate 'bead' work done there. All I know the GK version would be pretty dang hard to get it to look like this.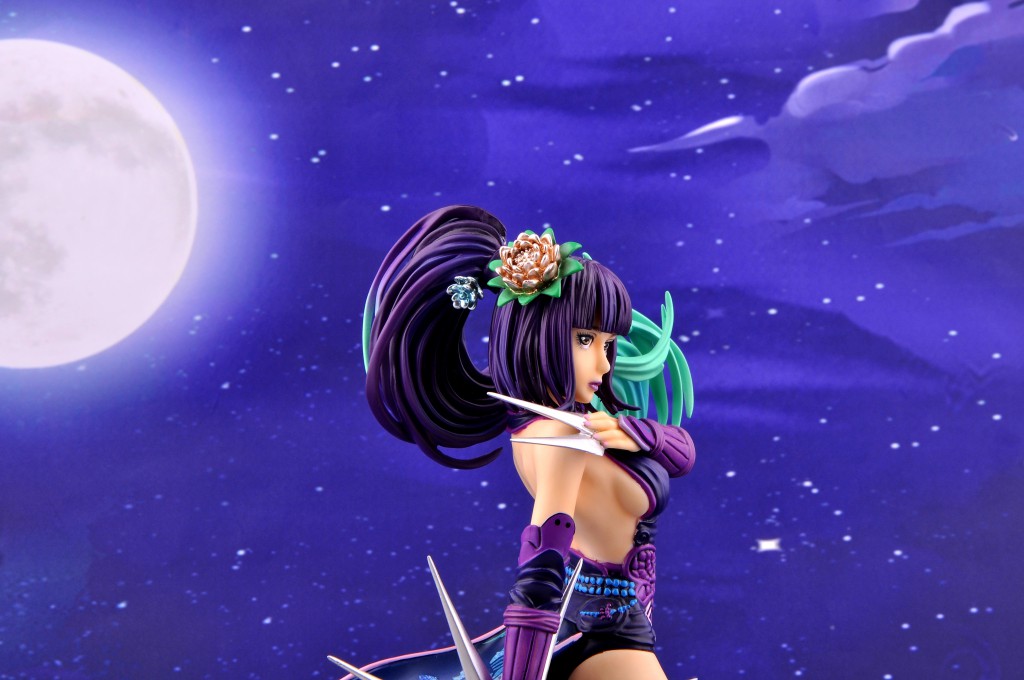 Well there you have it! Our first review of one of the Elegance girls, Wen Rou. She's a good intro model for the series if you like the ninja girl thing. All-in-all, this is a fantastic figure. My only gripe with it would be the way the hair goes from purple to some bright green.. I mean, why would a ninja have bright looking hair?
Height with Stand: 28cm ( 11.02 in)
Height without Stand:  25 cm ( 9.84 in)
Weight: 1.2 kg ( 2.64 lbs)
Prepainted Price: $149.99 USD
Garage Kit Price: $42.74 USD
Prepainted Price per cm/in (without stand): $5.99 per cm, $13.61 per inch
Garage Kit Price per cm/in (without stand):  $1.70 per cm,  $4.34 per inch
Oddly enough, Wen Rou is one of the top selling figures/garage kits on e2046. Currently she's ranked at #1 in GK's and #1 in Gathering(preorders). So if you want to get aboard the hype train, go ahead and pick up a Wen Rou while you can.
Thanks for reading!