It has been announced that an anime adaptation of the manga series Gangsta. has been green-lit. The announcement was made through the wrap-around band on the sixth compiled volume of the manga.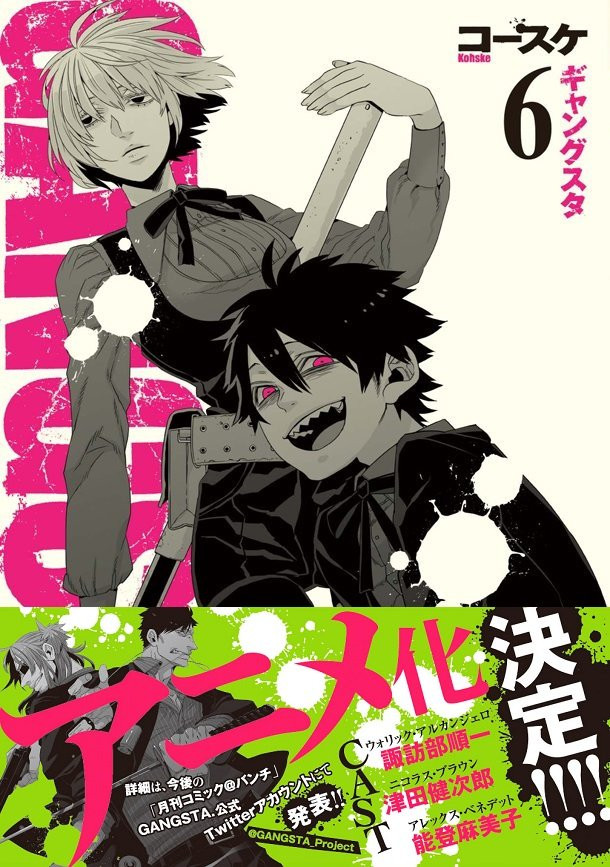 The manga by Kohske (Freelance illustrator and author of two published short manga stories. Her first ongoing serial, GANGSTA., began in 2011. Her second ongoing serial, DOODLE, began in 2013. She currently resides in Hokkaido and owns a pet Java Sparrow named Fumi.) follows Worick Arcangelo and Nicolas Brown, a pair of freelancers in a town that's chock-full of trouble.
Cast:
Worick Arcangelo: Junichi Suwabe (Shinta Fukuda from the Bakuman series, Yamato Houtsuin from Devil Survivor 2 The Animation, Dandy from Space Dandy)
Nicolas Brown: Kenjirou Tsuda (Bacchus Groh from Fairy Tail, Seijuurou Mikoshiba from Free!: Eternal Summer, Mikoto Suou from K)
Alex Benedetto: Mamiko Noto (Mavis Vermillion from Fairy Tail, Satellizer el Bridget from Freezing, Sawako Kuronuma from Kimi ni Todoke)
Gangsta. synopsis from Haruhichan:
In the city of Ergastulum, a shady ville filled with made men and petty thieves, whores on the make and cops on the take, there are some deeds too dirty for even its jaded inhabitants to touch. Enter the "Handymen," Nic and Worick, who take care of the jobs no one else will handle. Until the day when a cop they know on the force requests their help in taking down a new gang muscling in on the territory of a top Mafia family. It seems like business (and mayhem) as usual, but the Handymen are about to find that this job is a lot more than they bargained for.
Source: MAL