The official website for the upcoming TV anime adaptation of Yanai Tagami's light novel series Gate: Jieitai Kanochi nite, Kaku Tatakaeri (Gate: The Self-Defense Forces Fight Like This in Another Land) has announced that the anime will air from July 4th. Additionally, a brand new visual was also revealed.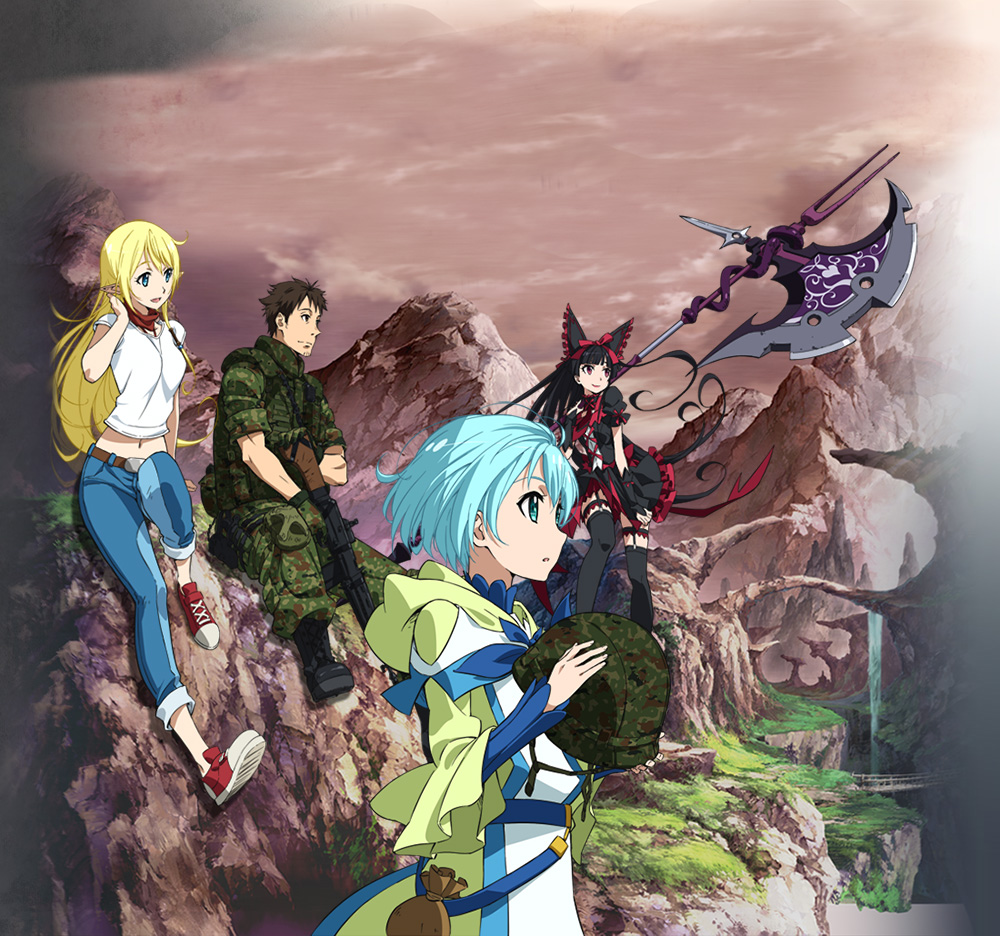 The Gate anime will premiere on Tokyo MX on Saturday, July 4th at 12:30am JST. The series will then air on MBS on the 8th at 2:30am JST, on TV Aichi an hour later at 3:35am JST, on the 11th at 12:30am JST on BS11, and on AT-X on the 12th at 12:30am JST. The anime will also be available online via Amazon Japan's video services, Google Play, Niconico, PlayStation Video and more.
The first commercial of the anime was also revealed:
The main cast of the anime includes:
Junichi Suwabe (Archer in Fate/stay night: Unlimited Blade Works) will voice Youji Itami, an Otaku human who is also the leader of the Self-Defense Force troops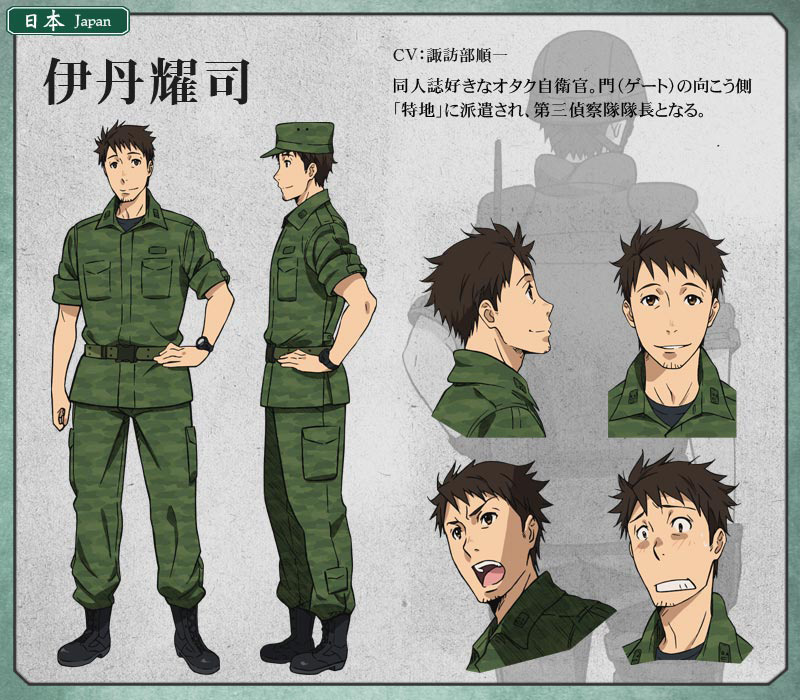 Hisako Kanemoto (Ami Mizuno/Sailor Mercury in Sailor Moon Crystal) as Tuka Luna Marso, a female Elf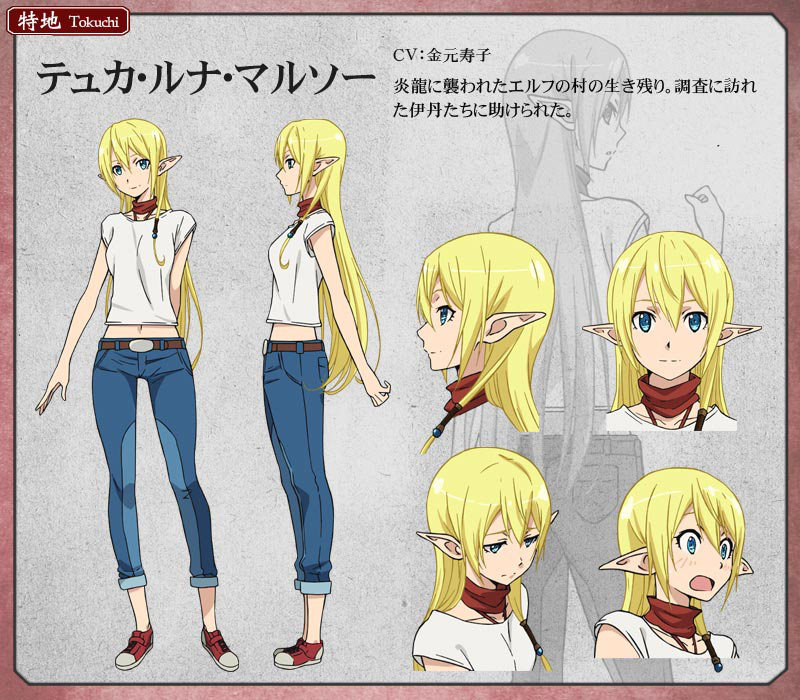 Nao Touyama (Chitoge Kirisaki from Nisekoi) as Lelei la Lelena, a human mage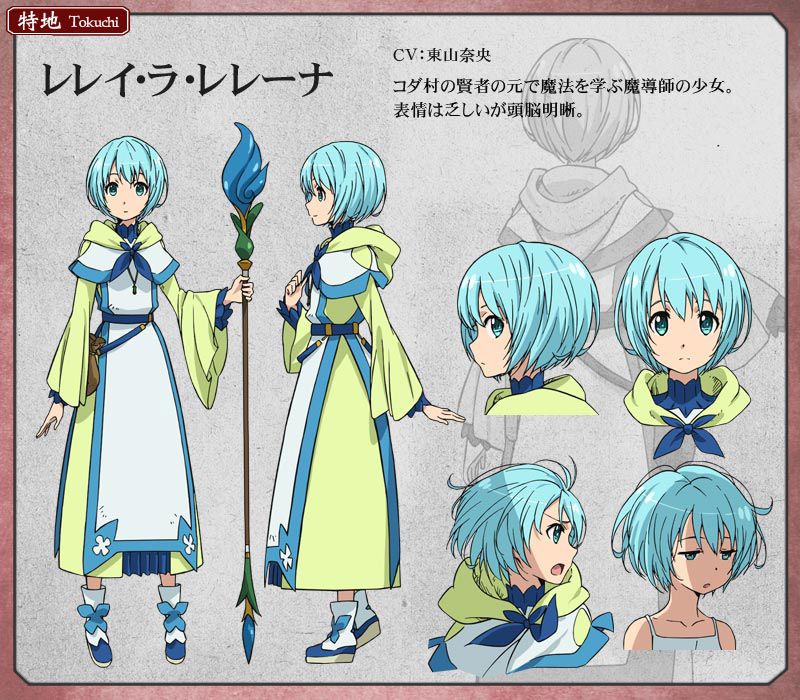 Risa Taneda (Mirai Kuriyama from Kyoukai no Kanata) as Rory Mercury, a demigod serving Emroy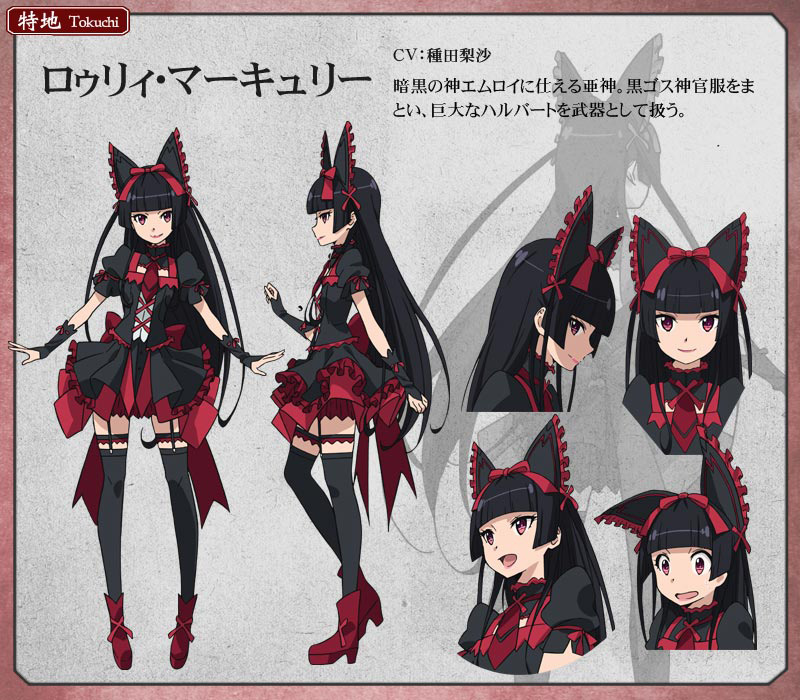 The first members of the anime's staff were also revealed and consists of:
Director: Takahiko Kyougoku (Love Live! School Idol Project Season 1 and Season 2)
Series Composer: Tatsuhiko Urahata (Kyoukaisenjou no Horizon, Black Bullet)
Anime Character Designer: Jun Nakai (Silver Spoon, Tokyo Majin Gakuen Kenpucho: Tou)
Sound Director: Yukio Nagasaki (Love Live! School Idol Project, Ao Haru Ride)
Music Composer: Yoshiaki Fujisawa (Love Live! School Idol Project, Akuma no Riddle)
Animation Studio: A-1 Pictures (Sword Art Online, Aldnoah.Zero)
The main theme songs of the anime were also revealed. The Opening theme will be Gate ~Sore wa Akatsuki no Yō ni~, performed by Kishida Kyoudan and the Akeboshi Rockets. The Ending theme will be Prism Communicate sung by voice by voice actresses Risa Taneda and Nao Touyama.
Visual: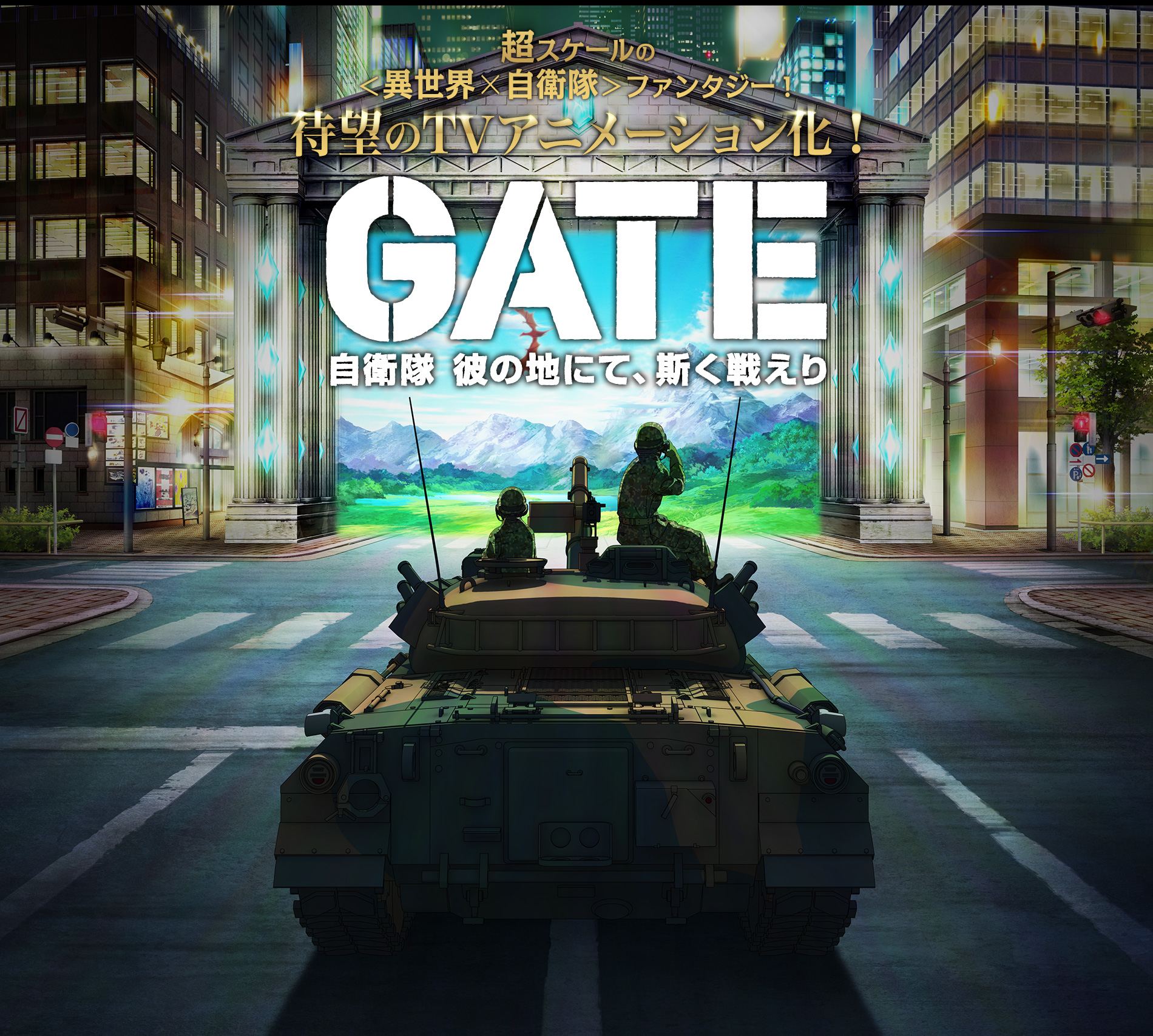 Gate: Jieitai Kanochi nite, Kaku Tatakaeri (Gate: The Self-Defense Forces Fight Like This in Another Land) is a Japanese light novel series written by Takumi Yanai and originally illustrated by Daisuke Izuka. AlphaPolis published five volumes and three side-story collections from April 2010 to April 2014. AlphaPolis began publishing an expanded edition of the main series with illustrations by Kuroshishi in December 2012. A manga adaptation illustrated by Satoru Sao began in July 2011. An anime television series has been announced.
Gate: Jieitai Kanochi nite, Kaku Tatakaeri synopsis from Haruhichan:
In August of 20XX, a portal to a parallel world, known as the "Gate," suddenly appeared in Ginza, Tokyo. Monsters and troops poured out of the portal, turning the shopping district into a bloody inferno.

The Japan Ground-Self Defence Force immediately took action and pushed the fantasy creatures back to the "Gate." To facilitate negotiations and prepare for future fights, the JGSDF dispatched the Third Reconnaissance Team to the "Special Region" at the other side of the Gate.

Youji Itami, a JSDF officer as well as a 33-year-old otaku, was appointed as the leader of the Team. Amid attacks from enemy troops the team visited a variety of places and learnt a lot about the local culture and geography.

Thanks to their efforts in humanitarian relief, although with some difficulties they were gradually able to reach out to the locals. They even had a cute elf, a sorceress and a demigoddess in their circle of new friends. On the other hand, the major powers outside the Gate such as the United States,China and Russia were extremely interested in the abundant resources available in the Special Region. They began to exert diplomatic pressure over Japan.

A suddenly appearing portal to an unknown world—to the major powers it may be no more than a mere asset for toppling the international order. But to our protagonists it is an invaluable opportunity to broaden knowledge, friendship, and ultimately their perspective towards the world.
Source: Gate Anime Website