The official website of the anime adaptation of Haruichi Furudate's Haikyuu!! manga has revealed that the upcoming third season will air this October. with the return of the production staff Additionally, a teaser video has been revealed.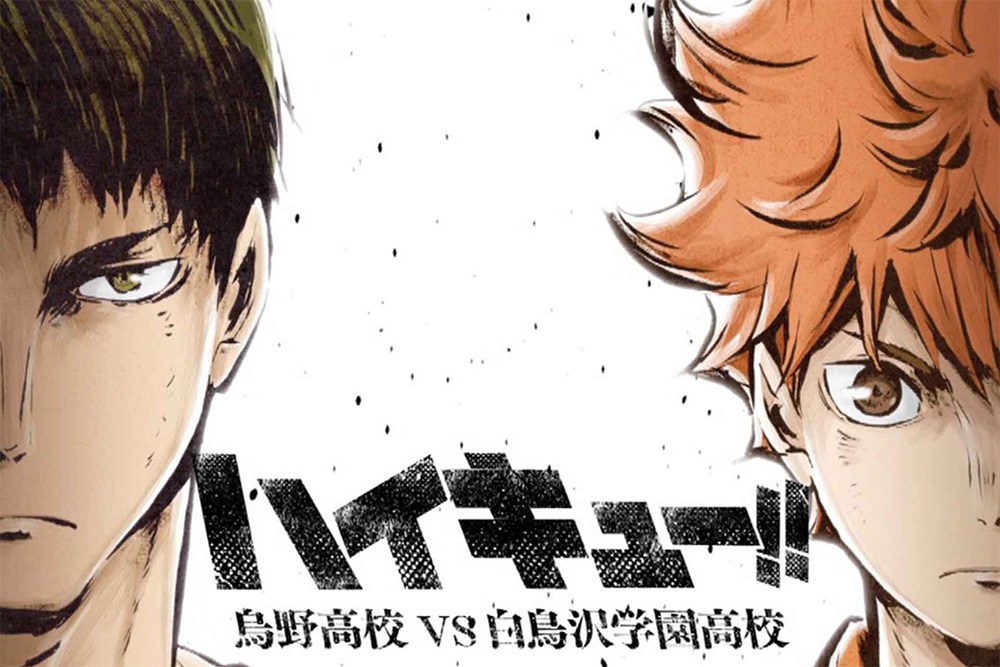 The third season of the anime will be titled Haikyuu!!: Karasuno Koukou VS Shiratorizawa Gakuen Koukou (Haikyuu!! Karasuno High vs Shiratorizawa Academy). The new season will begin from where the second season left off, following the match between Karasuno High and Aobajousai High.
The leading members of the production staff from the previous seasons will return for season 3:
Director: Susumu Mitsunaka (Cuticle Tantei Inaba)
Assistant Director: Mariko Ishikawa (Haikyuu!! and Suisei no Gargantia Episode Director)
Series Composer: Taku Kishimoto (Magi: The Labyrinth of Magic, Silver Spoon)
Chief Animation Directors: Yuuko Yahiro (Kore wa Zombie Desu ka?, Diabolik Lovers) and Takahiro Chiba (Psycho-Pass, Silver Spoon)
Anime Character Designer: Takahiro Kishida (Durarara!!, Mahou Shoujo Madoka Magica)
Music Composers: Yuuki Hayashi (Gundam Build Fighters, Death Parade) and Asami Tachibana (Robotics;Notes, Owari no Seraph)
Animation Studio: Production I.G. (Kuroko no Basket, Ghost in the Shell)
The first teaser video for the upcoming anime has also been released:
Here is the latest PV for the second season:
It was also recently revealed that the second season will have a total of 25 episodes across nine Blu-ray/DVD volumes. Amazon Japan is also listing the nine volumes for pre-order.
Haikyuu!! is a volleyball sports manga written and illustrated by Haruichi Furudate. The Haikyuu!! debuted as a one shot manga that was released in Winter 2011 in Shueisha's Shonen Jump Next! magazine and another one shot in Shueisha's Weekly Shonen Jump magazine. After that the manga became a weekly series in the same magazine where to date a total of 13 compiled volumes have been released, with the 14th volume releasing on the 27th. A crossover chapter with Naoshi Komi's Nisekoi manga was produced in July last year. An anime adaptation of Haikyuu!! was produced this August in theSummer 2014 anime season that ran for a total of 26 episodes. The series was directed by Susumu Mitsunaka (Cuticle Tantei Inaba) and produced by Production I.G (Ghost in the Shell, Kuroko's Basketball).
Here is a synopsis from Haruhichan:
A chance event triggered Shouyou Hinata's love for volleyball. His club had no members, but somehow persevered and finally made it into its very first and final regular match of middle school, where it was steamrolled by Tobio Kageyama, a superstar player known as "King of the Court." Vowing revenge, Hinata applied to the Karasuno High School volleyball club… only to come face-to-face with his hated rival, Kageyama!

A tale of hot-blooded youth and volleyball from the pen of Haruichi Furudate!!
You can visit the anime's website here: http://www.j-haikyu.com/anime/
And follow their Twitter: @animehaikyu_com