The official website for the anime adaptation of Ayano Takeda and Nikki Asada's Hibike! Euphonium (Sound! Euphonium) has revealed that the second season will air in October 2016.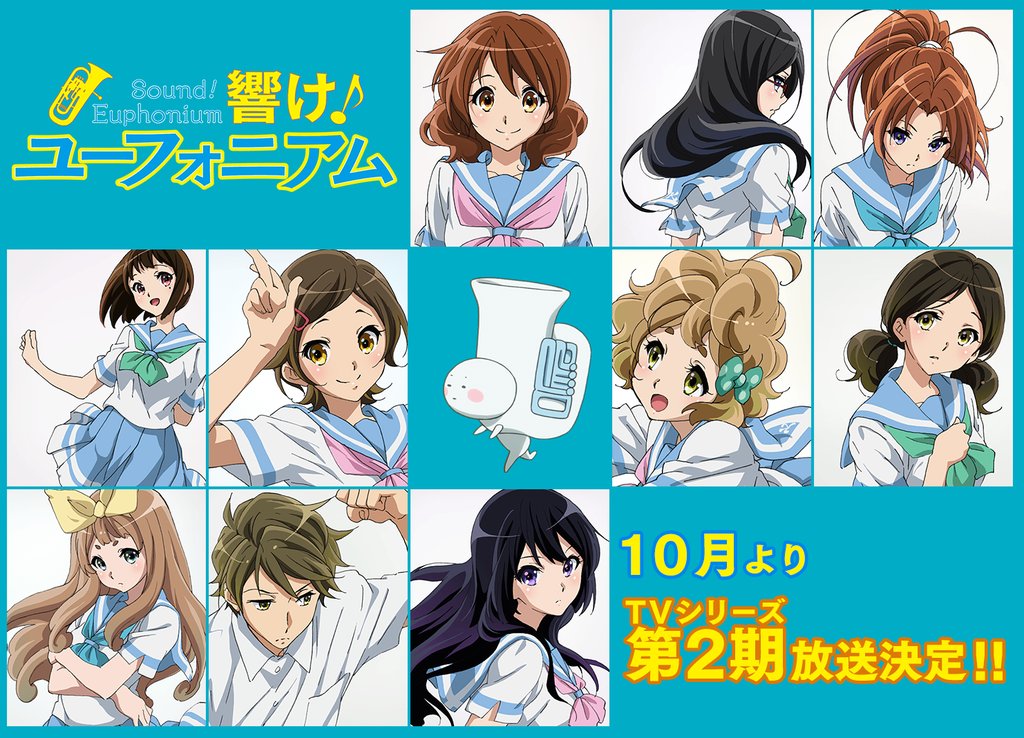 Here is the latest trailer for the movie, which also reveals the release date of April 23:
Latest visual for the upcoming movie:
The anime's cast consist of:
The main production staff of the anime includes:
Hibike! Euphonium: Kitauji Koukou Suisougaku-bu e Youkoso (Sound! Euphonium) is a music novel series written by Ayano Takeda and illustrated by Nikki Asada. The series began in December 2013 being published by Takarajimasha. To date a total of 4 volumes have been published. A manga adaptation of the series was launched in November last year, by Ayano Takeda and Hami that is being published in Takarajimasha's Kono Manga ga Sugoi! Web magazine. An anime adaptation of the series was produced for the Spring 2015 anime season by Kyoto Animation (Hyouka, Amagi Brilliant Park) with Tatsuya Ishihara (Clannad, Chuunibyou demo Koi ga Shitai!) directing. The anime ran for a total of 13 episodes.
Sound! Euphonium synopsis from Haruhichan:
Hibike! Euphonium begins when Kumiko Oumae, a girl who was in the brass band club in junior high school, visits her high school's brass band club as a first year. Kumiko's classmates Hazuki and Sapphire decide to join the club, but Kumiko sees her old classmate Reina there and hesitates. She remembers an incident she had with Reina at a brass band club contest in junior high school.
You can visit the anime's website here: http://anime-eupho.com/
And follow their Twitter: @anime_eupho