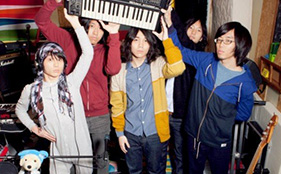 Japanese rock band Galileo Galilei from Hokkaido, Japan, has revealed on their official website on Monday that the band will break up after their spring tour from March to April.
The band posted the following message on the site:
After the release of our fourth album Sea and The Darkness, and our spring tour starting in March, Galileo Galilei will disband.
Almost 10 years ago, the three of us got together in a small garage in Wakkanai in Hokkaido and started playing music like it was just a game you play with friends. That "game" made us into Galileo Galilei, and brought us this far. Our sudden success caught us off guard, and as we tried to figure out what music we should play, our aimless lives became something with meaning. We grew up in those fantastic years, and before we knew it, our music that we just started playing for kicks became something irreplaceable that we put our life into bettering.

Looking back, the band Galileo Galilei is maybe like the toy carts you rode when you were a kid. But those toy carts could never go beyond the walls of the lawn. We want to follow the rugged concrete road beyond the wall. As we've grown, we've decided to leave behind the toy cart.

As everyone knows, we're not so great at communicating with words. We've put all our thoughts into our last album, Sea and The Darkness. If we can make anyone feel anything with that album, it'd be great.

Nothing's been decided after this, but I believe it'll be good news. We look forward to seeing you at the concerts.
The band will release their fourth and final album, Sea and The Darkness, on Wednesday. The band will go on their "Sea and The Darkness Tour" around Japan from March until April. The tour will consist of 19 concerts.
The three-person rock band formed in Hokkaido in 2007, and made their debut on a major label in February 2010 with the mini album Hamanasu no Hana. They previously contributed to the soundtracks of AnoHana (as well as its live-action TV special adaptation), Mobile Suit Gundam AGE, Big Windup! Season 2, and Taifuu no Noruda. Most recently, the band performed the song "Climber" as the Haikyu!! Second Season anime's ending theme. Band member Yuki Ozaki also contributed to Hamatora's opening theme song "Flat" by Livetune. Ozaki is also collaborating with guitarist Kotaro Oshio to perform the theme song for the Doukyuusei anime film. The band launched a series of anime shorts in 2010.