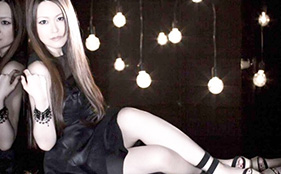 During the second day of LisAni! Live 2016 on Sunday, singer Mami Kawada revealed that she will retire from singing activities this year and hold her "final" live concert on May 21. The "Mami Kawada Final Fan Festival 'F'" at the Tokyo Dome City Hall will feature musical acts KOTOKO, fripSide, and Maon Kurosaki as guests.
Kawada's 16th CD single "Contrail ~Kiseki~" will go on sale on January 27. It is the opening theme song for the ongoing television anime Ao no Kanata no Four Rhythm. She also contributed songs to the original Ao no Kanata no Four Rhythm: Beyond the sky, into the firmament game.
Singer Eiko Shimamiya first discovered Kawada's vocal talents in 2001 and invited her to join the musical production group I've sound, to which Shimamiya belonged at the time. Later that year, Kawada debuted with the song "Kaze to Kimi wo Daite," which is used as the theme song of the visual novel Miss You.
Kawada contributed numerous game and anime tie-in songs for Toaru Majutsu no Index, Baldr Force Exe, Hayate the Combat Butler, Jormungand, Please Teacher! and Please Twins, Shakugan no Shana, Starship Operators, To Love-Ru -Trouble- Darkness 2nd, and Tokyo Ravens. She also wrote lyrics for songs in A Lull in the Sea and other anime and game titles.
Source: ANN, Music Natalie