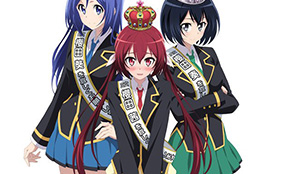 One of this season's bright, summer anime is Joukamachi no Dandelion, a slice of life comedy with a vibrant, diverse cast of characters with varied personalities and character designs. Being a relatively light hearted slice of life, the OP does just that. "Ring Ring Rainbow!!" by YuiKaori sets a pleasant tone for the anime, as the animation sequence shows the characters, giving a brief idea of their personalities too.
It is a rather heartwarming introduction, and the show is sure to incite many a laugh out of audiences when they watch it. Click below to check it out!
http://www.dailymotion.com/video/x2wd7yc
Following up with a delightful ED called "Honey♥Come!!" by Yui Ogura, just as the name suggests, this is another sweet track, coming with its own unique cutesy animation sequence. An enjoyable way to cap off a show and leave one smiling – perhaps even humming the tune! The video with animation and track both is posted below!
http://www.dailymotion.com/video/x2wd8a5
Anime visual:
Joukamachi no Dandelion (Castle Town Dandelion) is a comedy, slice of life 4Koma manga written and illustrated by Ayumu Kasuga. The series began in 2012 being published in Houbunsha's Manga Time Kirara Miracle! magazine where a total of 2 volumes have been published to date. The latest volume released in June last year.
Here is a synopsis of the series from Haruhichan:
The Sakurada family is a pretty ordinary family of eleven people living in a solitary house. Except that their father is the king, and each of the children has special powers. Also, to ensure their safety and to help citizens decide the next king, the house is observed by more than 200 security cameras.