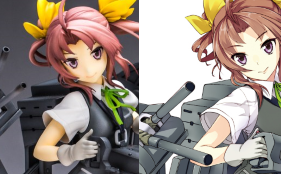 If you love spats and WWII battleships in addition to collecting PVC then manufacturer Pulchra has some good news for you: now up for pre-order is the spats-and-twin-ribbon-wearing destroyer from Kancolle, Kagerou!
The figure seems to be an nearly unedited translation of her design from 2D into PVC, complete with uniform, spats, and armaments. The prototype figure also features a rather stylish compass base for her in her action pose to rest on.
Coming in at 215 mm (around 8.2 inches), this 1/7 scale figure is now up for pre-order at a variety of sites with a starting retail price of 10,000 yen (around 83.50 USD). Expect her to come into your port sometime in January of 2016.
 (Source: Ameblo)
snakes88 is an anime and PVC enthusiast . Have feedback on the article? Feel free to get in touch on Twitter to talk about all things anime and PVC.