The official website for the upcoming anime film based on the Kantai Collection franchise has launched a new visual. The visual was previously spotted at Kokusai-Tenjijo Station railway station ahead of December 29-31's Comiket 89.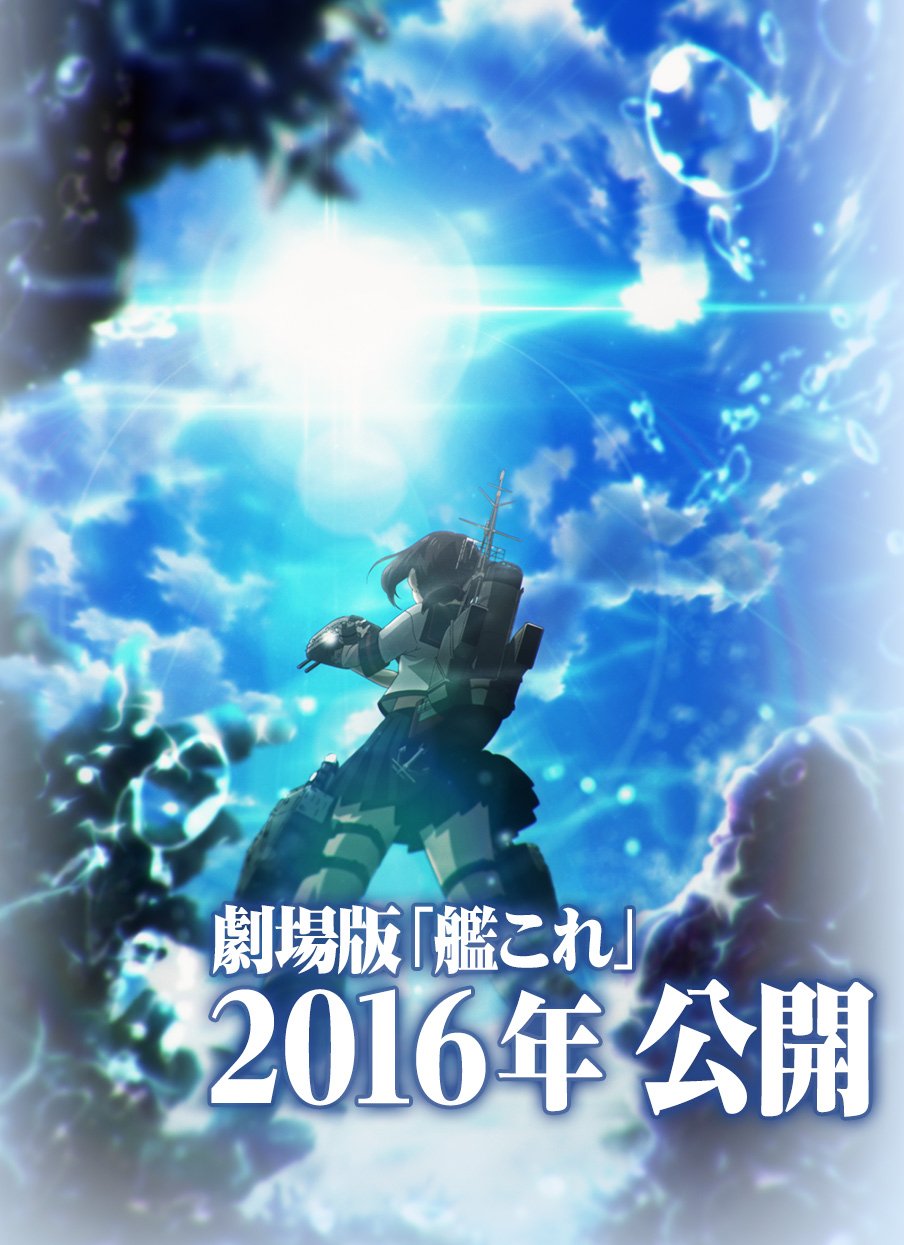 At the recent Summer Kan Colle Naval event, it was announced that an anime film based on the Kantai Collection franchise is currently in production and is scheduled to release in 2016. The first main image of the film was also released. The event screened footage that features the Kan-musume characters Fubuki, Mutsuki, Yuudachi, Akagi and Kaga, Hiryuu Kaini and Souryuu Kaini, the four Kongou sisters (Kaini), Kitakami and Ooi, Chokai Kaini, Yubari, Mutsu and Nagato, Kako Kaini and Furutaka Kaini, Zuikaku and Shoukaku, Shimakaze, Kuma, and Ooyodo.
Last March it was revealed at the ending scene of the final episode of the TV anime Kantai Collection that the series will get a sequel. The announcement was made at the end of episode 12 on Tokyo MX with the text indicating "Sequel production confirmed!!".
The Twitter account of Kantai Collection: Kan Colle has revealed that the 2016 anime film is not the previously announced second season, so there will be both a film and second season out next year.
Anime visual:
Kantai Collection is an online, card battle, browser game that is developed by Dmm.com that launched in April last year. The game currently has more than 2 million registered players and was 2013's top Twitter trend in Japan. The game centers around naval card battles, where naval ships are represented by "Fleet Girls". Players battle against other online in an attempt to gain more cards and levels. The game has been increasing with popularity since its release, with a slew of merchandising being released after the game's release; from tabletop games to manga, and light novels to this anime and the PlayStation Vita game Kan Colle Kai. An anime adaptation of the series was produced for the Winter 2014/2015 anime season, directed by Keizo Kusakawa (Akuma no Riddle, Dog Days) and animated by Diomedea (Shinryaku! Ika Musume, Akuma no Riddle).
Kantai Collection anime synopsis from Haruhichan:
Set in a world where humanity has lost control of the oceans to the "deep sea fleet," the only hope to counter this threat are the Kanmusu, a group of girls who possess the spirit of Japanese warships. The story revolves around Fubuki, a destroyer who comes to the Chinjufu base to train with other Kanmusu. Watch as their stories unfold!
Visit anime's website: http://kancolle-anime.jp/
And on follow their official Twitter: @anime_KanColle