Prepare your ships, the long-awaited anime adaptation of free-to-play online card game that features naval battleships (ship daughters!) that participated in World War II was finally announced at this weekend's Yokohama Naval Review Dry Run event. Keizo Kusakawa (Akuma no Riddle, Magical Girl Lyrical Nanoha, Sekirei) is slated to direct the Kantai Collection TV animation production with Jukki Hanada (Chuunibyou demo Koi ga Shitai!, Kyoukai no Kanata, Steins;Gate) writing the series composition.
Kantai Collection will air during the 2015 winter anime season.
Confirmed casts:
Kuchikukan Fubuki "Fubuki-Class Destroyer" voiced by Sumire Uesaka (Sanae Dekomori from Chuunibyou demo Koi ga Shitai!, Tamaki Kannazuki from GJ-bu, Yachiyo Inugami from Inugami-san to Nekoyama-san)
Seiki Kuubo Akagi "Akagi-Class Aircraft Carrier" voiced by Saki Fujita (Ai Server from Ai Mai! Moe Can Change!, Rin Eba from Kimi no Iru Machi, Ayano Sugiura from Yuru Yuri)
Seiki Kuubo Kaga "Kaga-Class Aircraft Carrier" voiced by Yuka Iguchi (Tsukihi Araragi from Bakemonogatari / Nisemonogatari / Nekomonogatari: Kuro / Monogatari Series: Second Season, Maria Takayama from Boku wa Tomodachi ga Sukunai, Mako Reizei from Girls und Panzer)
Production credits include:
Planning: Takeshi Yasuda (Steins Gate Movie, Strike Witches The Movie, Tokyo ESP)
Story concept: Kensuke Tanaka
Producer: Shinichiro Inoue (Another)
Character Designer & Chief Animation Director: Naomi Ide (Akuma no Riddle, Gingitsune, Mondaiji-tachi ga Isekai kara Kuru Sou Desu yo?), Mayuko Matsumoto (Arakawa Under the Bridge, Astarotte no Omocha!, Senhime Zesshou Symphogear)
Character Designs assistance: Yoshinori Shizuma, Shibafu, Konishi
Mechanical Design: Tsutomu Miyazawa (Mahou Shoujo Lyrical Nanoha StrikerS, Zone of the Enders: Dolores, I, Zone of the Enders: Idolo) , Kōta Morishi
Creature Design: Tsubasa Shimizu
Effects Director: Takashi Hashimoto
Art Director: Maho Takahashi (Amagami SS/Amagami SS+ Plus, Nobunagun, Seto no Hanayome)
Color Design: Shuji Kameimura
CG Director: Eiji Inomoto (Accel World, Black Lagoon, Infinite Stratos)
CG Modeling Director: Hideki Kawabata
CG Production: Orange
Director of Photography: Yasuyuki Itou (Black Rock Shooter (TV), NouCome, Akuma no Riddle)
Editing: Yuuji Oka (Campione!, Fairy Tail, Grenadier)
Sound Director: Toshiki Kameyama (Baka to Test to Shoukanjuu / Baka to Test to Shoukanjuu Ni!, Denpa Onna to Seishun Otoko, Kokoro Connect)
Sound Production: Glovision (Another, Blood-C, Date A Live)
Music: Kameoka Natsumi (Inazuma Eleven Go vs Danball Senki W Movie, Inazuma Eleven Go: Chrono Stone)
Music Production: Flying Dog (Inari, Konkon, Koi Iroha., Date A Live, Space Dandy)
Kantai Collection anime character designs:
Kuchikukan Shimakaze "Shimakaze-Class Destroyer"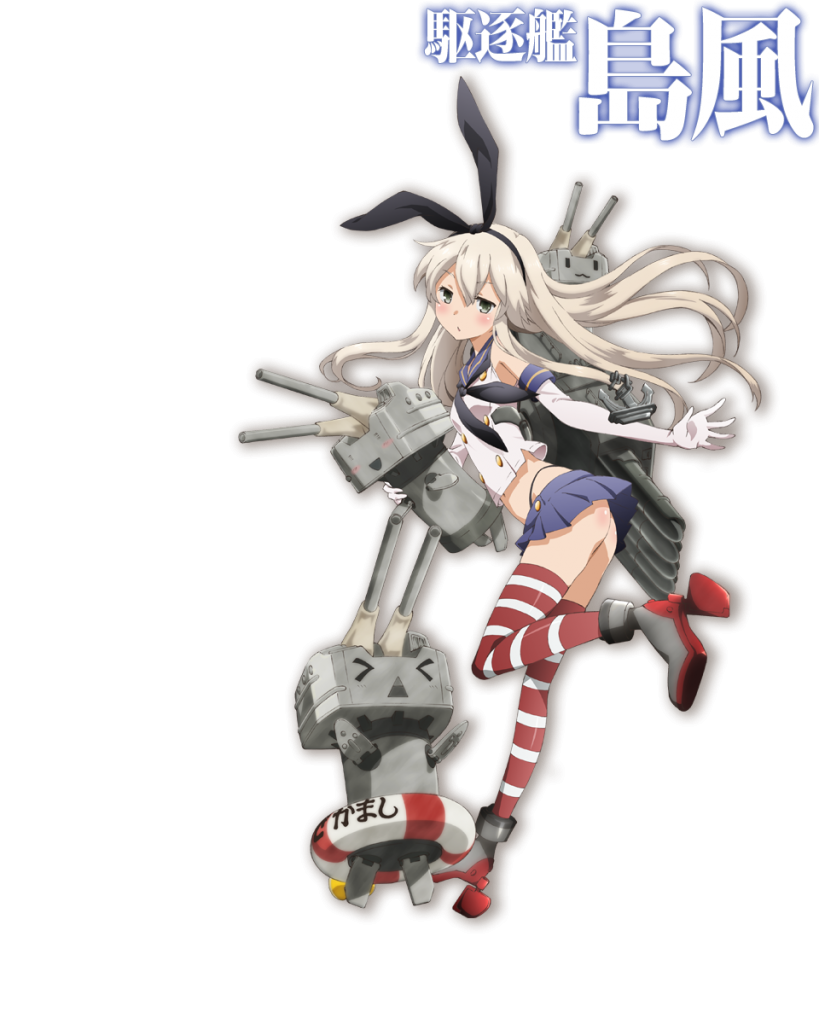 "I'm Destroyer Shimakaze. I won't lose to anyone in speed. Swiftly like the island breeze. " – Shimakaze

"I am Shimakaze, the Shimakaze-class ship that was developed as the pinnacle of destroyers, fast and armed with heavy torpedos. After all, I can go faster than 40 knots. However, we were not suited for mass production so I was the only one built." – Shimakaze

Shimakaze has long blonde hair and a flat chest. She is typically seen wearing an outfit with a sailor collar & striped thighhighs. She is often accompanied by Rensouhou-chan, familiar-like turrets which originated from Shimakaze's three twin 12.7 cm/50 naval gun turrets.
Seiki Kuubo Kaga "Kaga-Class Aircraft Carrier"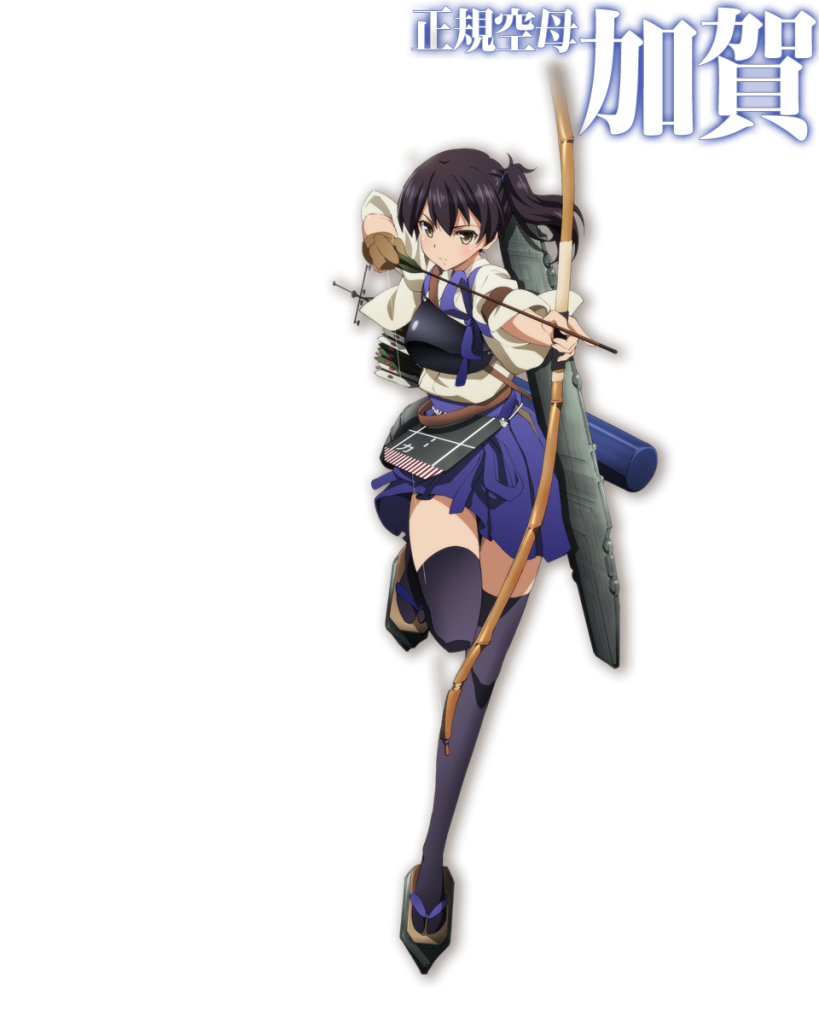 Kaga has long brown hair, usually done in a side ponytail. She is typically seen wearing a muneate over white and blue clothes along with a bow and arrow. Usually depicted as constantly serious.

Kaga is portrayed as emotionless and serious, to contrast with Akagi's playful "spoiled brat" persona.
Senkan Yamato "Yamato-Class Battleship"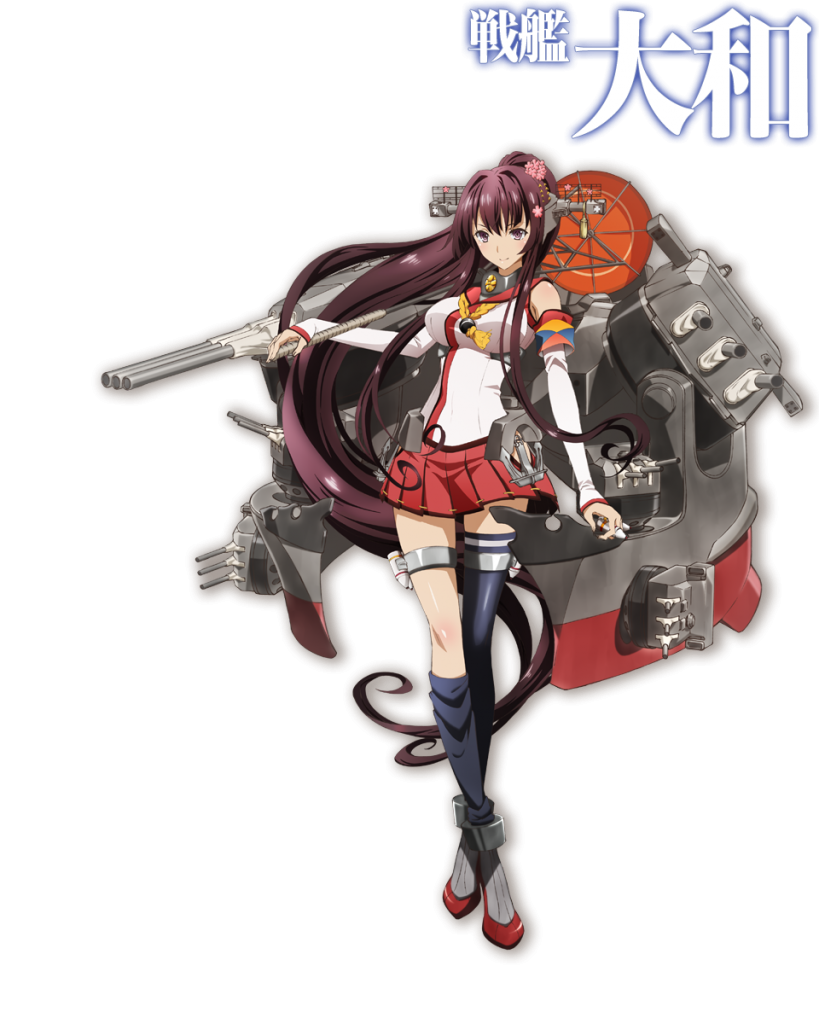 1st of the Yamato-class battleships, Yamato.

The armada's trump card, I was made in utmost secrecy at the Kure Naval Yard. With the most up-to-date and sophisticated technology concentrated in my body, along with the 2nd ship, Musashi, I will do my best as the centre of the combined fleet!
Choudokyuu Senkan Kongou "Kongou-Class Fast Battleship"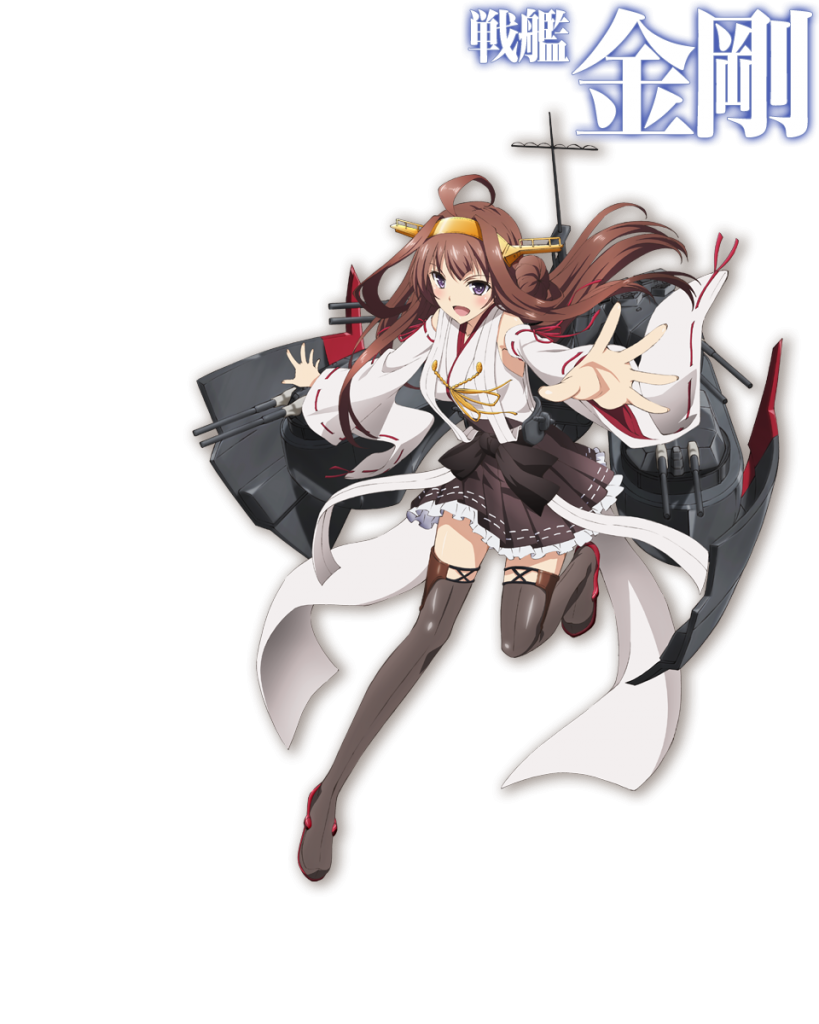 "Burning… Love!" – Kongou

"The super-dreadnought fitted with Western technology at Vickers in England, Kongou has arrived! Even in the Pacific Theatre, I'll use the power of my speed to be of great use! Look forward to it!" -Kongou

Kongou has long brown hair tied into buns on either side of her head. She and her sister ships are typically seen wearing a modified shrine maiden outfit with thigh high boots. Since she was built in England and shipped to Japan, she tends to speak in broken English and loves drinking tea. She is very affectionate towards the admiral and is always trying to win his heart.
Kuchikukan Fubuki "Fubuki-Class Destroyer"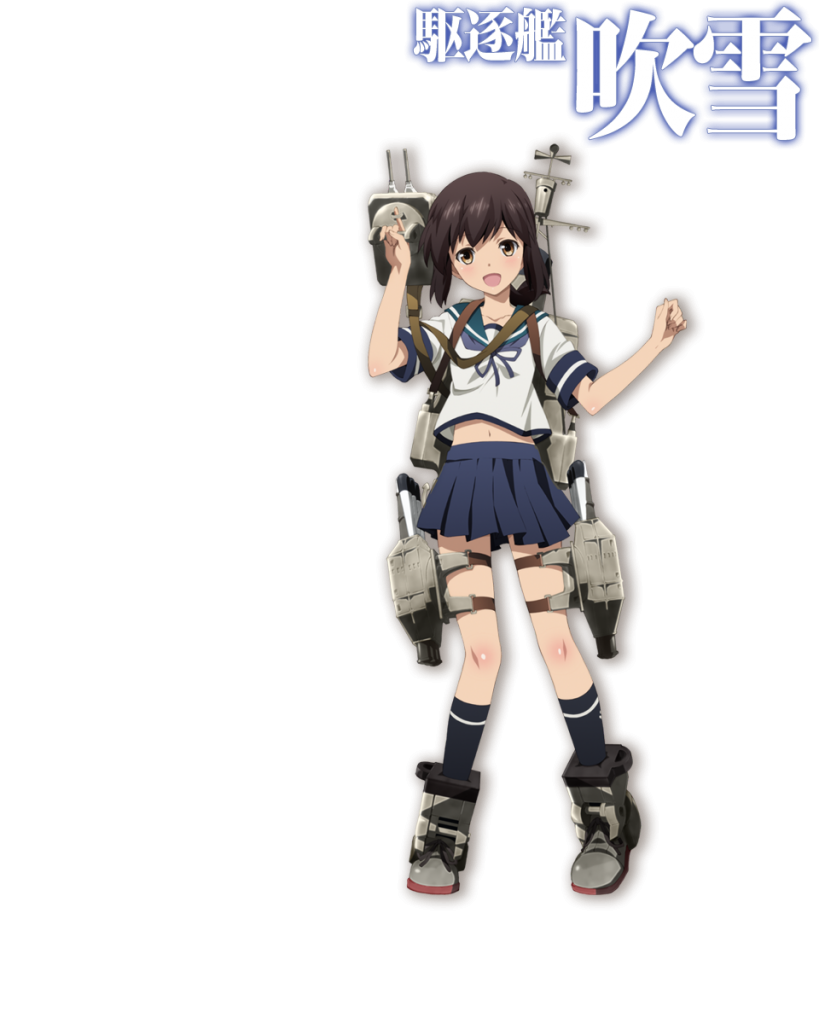 I am Fubuki, the first ship of world amazing special type destroyers that were beyond existing ship classification, designed under regulations of Washington Naval Treaty. Based on our design, a lot of following fleet type destroyers were built. Yes sir, I'll do my best!
Seiki Kuubo Akagi "Akagi-Class Aircraft Carrier"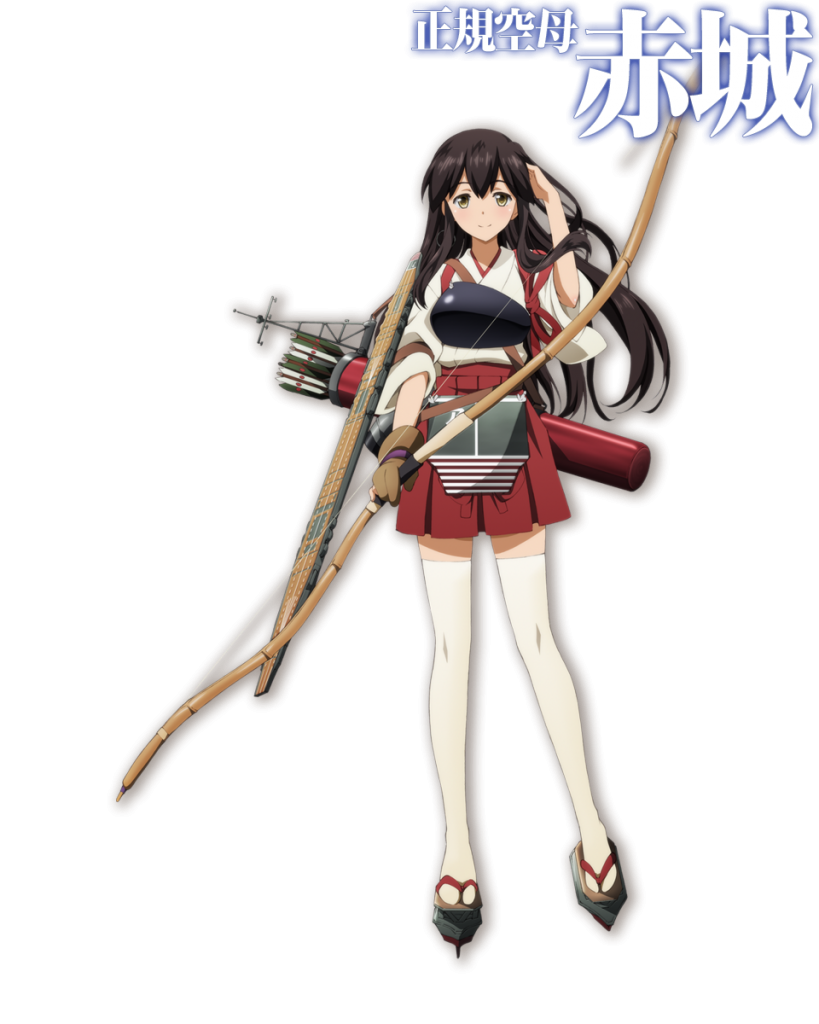 Akagi has long brown hair, which she leaves straight. She is typically seen wearing a chest protector (muneate) over white and red clothes along with a bow and arrow. Usually depicted as a foil to Kaga. Sometimes, she is depicted eating something (usually rice or bauxite).
Visual: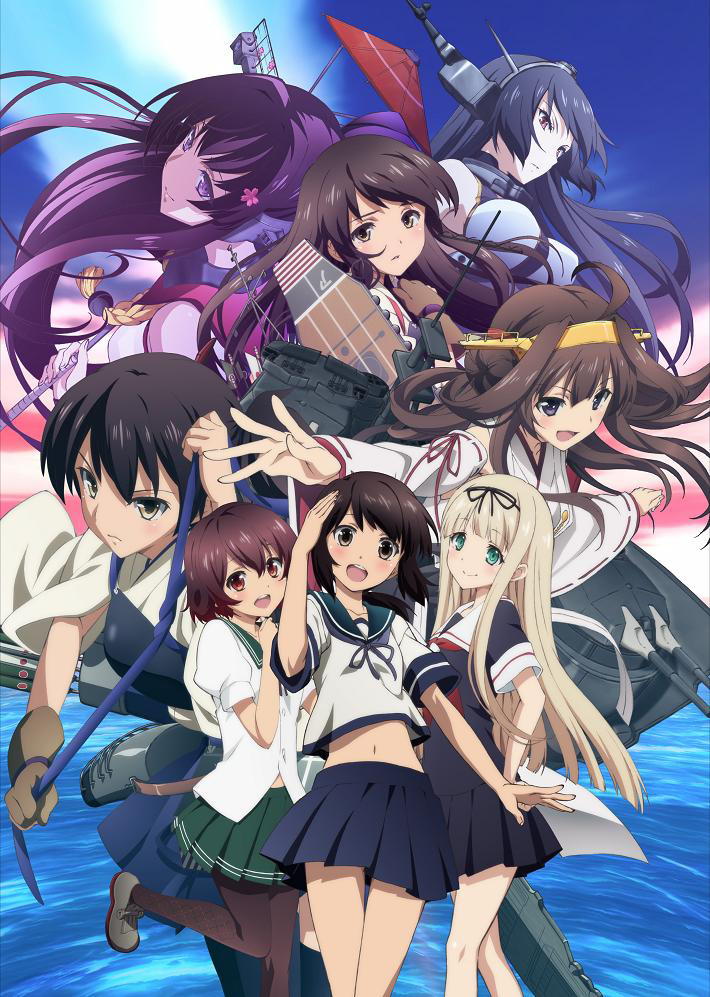 Kantai Collection: Kan Colle is an anime adaptation of the popular online, card browser game Kantai Collection. The game launched in April last year and currently has more than 1.7 million players. The game centers around naval card battles, where naval ships are represented by "Fleet Girls". The battles are automated for the most part, where the main meat of the game being the strategy, card collecting and grinding. The game is very popular, with a slew of merchandising being released after the game's release; from table top games to manga, and light novels to this anime adaptation. A PlayStation Vita title is currently in production.
Kantai Collection: Kan Colle synopsis from Haruhichan:
TV adaptation of the online browser card battle game.
Source: Crunchyroll