It was announced that the comedy blood type anime, Ketsuekigata-kun!, will receive a sequel set to premiere on January 8, 2015. The previous cast of the first season will still reprise their roles in the second season. The show will air on TOKYO MX, KBS Kyoto and on Japanese video-sharing website, Nico Nico Douga. Also, more female characters will appear in the second season. The voice actors of the characters are chosen with the same blood type as their role.
Cast:
Jun Fukuyama (Code Geass's Lelouch Lamperouge, Nanatsu no Taizai's King) voices A-Gata
Yuuichi Nakamura (Gekkan Shoujo Nozaki-kun's Nozaki Umetarou, Donten ni Warau's Tenka Kumou) as B-Gata
Akira Ishida (Naruto's Gaara, Terra Formars' Joseph Gustav Newton) voicing O-Gata
Tetsuya Kakihara (Fairy Tail's Natsu Dragneel, Yowamushi Pedal's Jinpachi Toudou) as AB-Gata
Staff:
Original Creator: "Real Crazy Man"
Director: Yoshihisa Ooyama (Detroit Metal City)
Series Composition: Kenichi Yamashita (Minna Atsumare! Falcom Gakuen, Ishida and Asakura)
Studio: Assez Finaud Fabric. and Studio Feel (Futsuu no Joshikousei ga [Locodol] Yatte Mita., Minami-ke Tadaima)
Second season visual: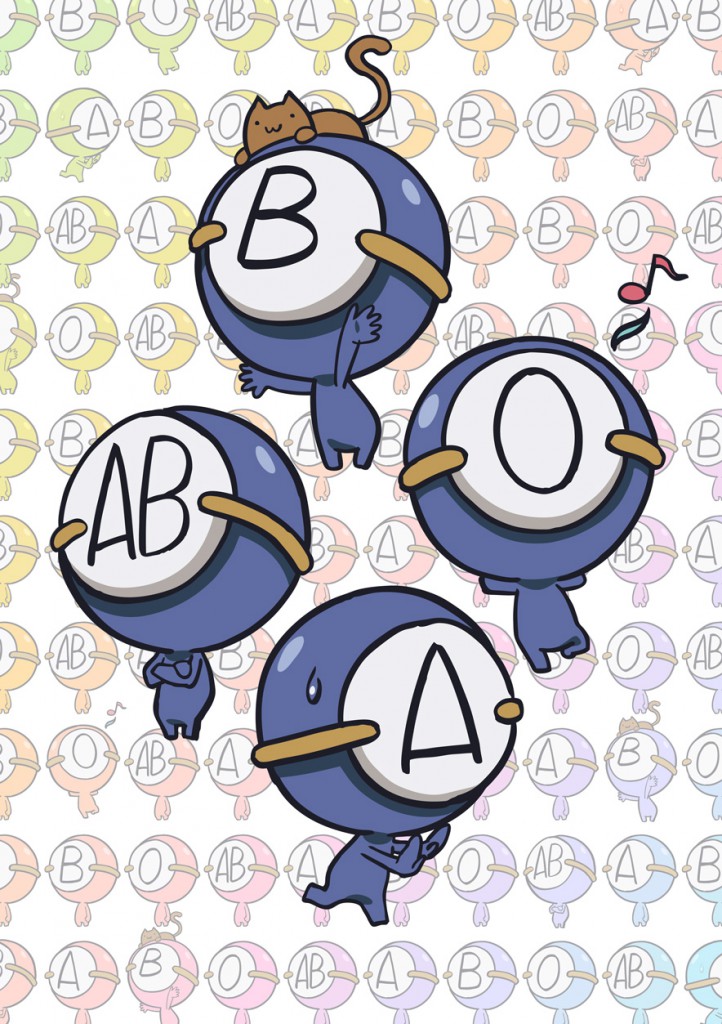 Watch the whole series in English subtitles:
Visit their official Twitter page, their official Facebook page and their Nico Nico Douga channel.
The first season was aired last April 7, 2013 – June 23, 2013 and it comprises 12 2-5 minute short episodes. It also has a short special that advertises the series and Teekyuu!'s DVD release that was aired a week after episode 12. The anime is about four different blood types who interact with each other in their stereotypical blood type attitude.
Synopsis of Ketsuekigata-kun! from Haruhichan:
The anime adapted from the manga remake version of the Korean webtoon "A Simple Thinking about Bloodtypes" involving the faceless and nameless characters of four different blood types to discuss about popular anthropomorphized blood types (the stereotypes about the blood types) in Japan and Korea.
Source – Official Site of Ketsuekigata-kun!