Last May it was announced that Shounen Jump's 27th weekly magazine issue would reveal that the production of a third season of the Kuroko's Basketball television anime has been green-lit.
This year's 32nd issue of Shueisha's Weekly Shonen Jump magazine is revealing the 2015 release date and a new illustration for the third Kuroko's Basketball television anime season on Monday. There will be a Kurobas Festival event to celebrate the new season with exhibits, original goods, original drinks and food, and other points of interest.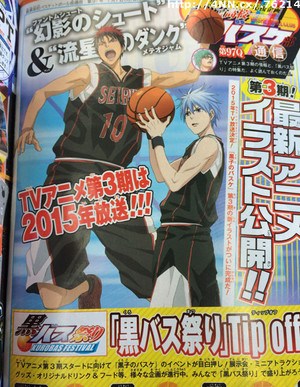 Kuroko no Basket is based on Tadatoshi Fujimaki's manga. The first anime season titled "Kuroko no Basket" aired from April 8, 2012 to September 22, 2012. The second season titled "Kuroko no Basket 2" premiered last October 6, 2013 and ran until March 30, 2014. "Kuroko no Basket 3rd Season" is currently in production and is scheduled to air during 2015.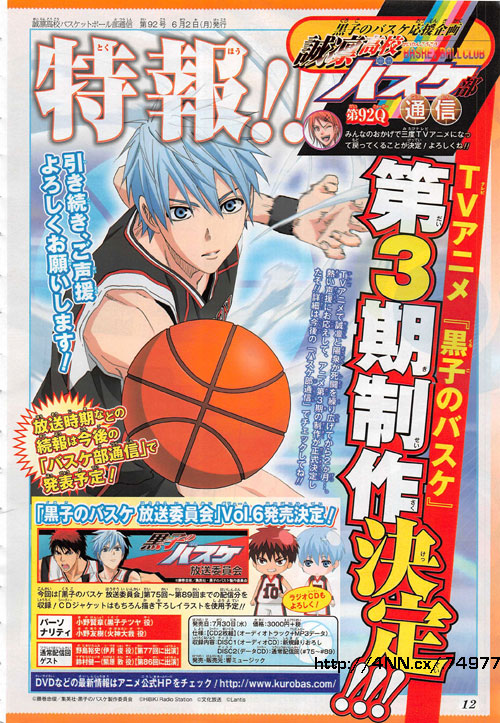 Kuroko no Basket synopsis from Haruhichan.
The Teiko Middle School Basketball Team. The class that produced three perfect seasons in a row, with five once-in-a generation players, called "The Generation of Miracles". There was another player who all of them respected… A legendary 6th player. An up-and-coming power player, Taiga Kagami, is just back from America. When he comes to Seirin High School, he meets the super-ordinary boy, Tetsuya Kuroko. Kagami is shocked to find that Kuroko isn't good at basketball, in fact, he's bad! And he's so plain that he's impossible to see. But Kuroko's plainness lets him pass the ball around without the other team noticing him, and he's none other than the sixth member of the Miracle Generation. Kuroko makes a pact with Kagami to defeat the other members of the Miracle Generation, who have all played basketball at other schools. A battle of light (Kagami) and shadow (Kuroko) begins!
Source: ANN