Kyoto Animation began streaming an English-subtitled commercial on Wednesday for the studios' upcoming event which is scheduled for October 31/November 1. The commercial features Tamako Kitashirakawa from Tamako Market, Kumiko Oumae from Sound! Euphonium, Rikka Takanashi from Chuunibyou demo Koi ga Shitai!, and Mirai Kuriyama from Kyoukai no Kanata, Hibike! Euphonium's Kumiko Oumae, Free!'s Haruka Nanase and more.
A 15-second commercial for the event was also subtitled:
A new visual was also revealed: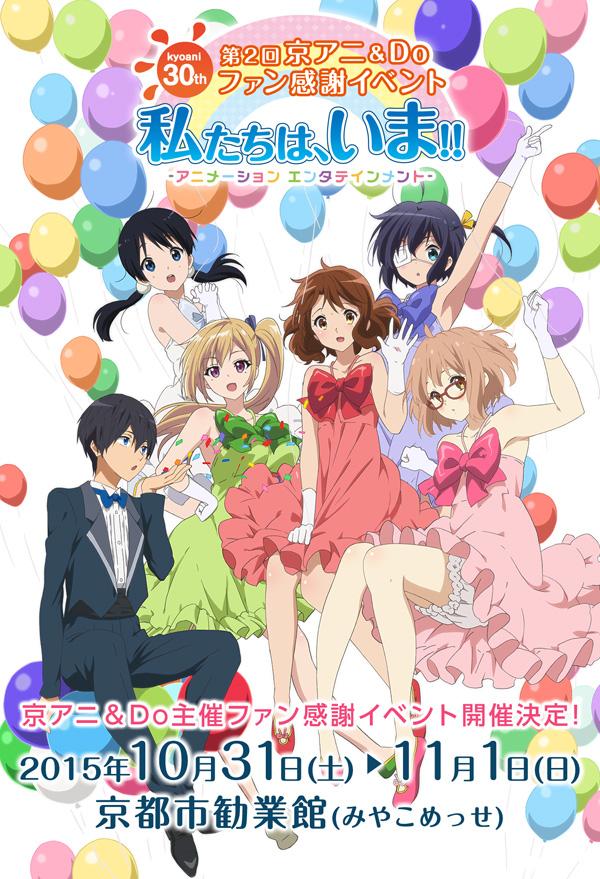 The official website of the event also updated, revealing the details of the KYOANI & DO FAN DAYS 2015 (This Is What We Are Now!!) event, and containing instructions and a form for those outside Japan who want to reserve a ticket to the event. The event will be held at Miyakomesse which is located in Kyoto-shi Kyoto in Japan. Each ticket costs 2,000 yen (around $16), and will admit one person for one day (two tickets must be purchased to attend both days). Children under 12 years old will be admitted for free.
New visuals were also revealed on the website:
An English language page for international fans was also launched and can be viewed here: http://kyoanido-event.com/en/
Source: Kyoto Animation event website