On the 20 August we reported that the Hunter x Hunter manga will go on hiatus until September 8. This was later delayed due to more back pains that Yoshihiro Togashi was suffering so the hiatus was delayed with another hiatus which we reported on 29 August. It was stated that he is still suffering from lower back pain and there is no exact return date given. I'm sad to announce that another hiatus has been announced. Let the Hiatus x Hiatus begin again.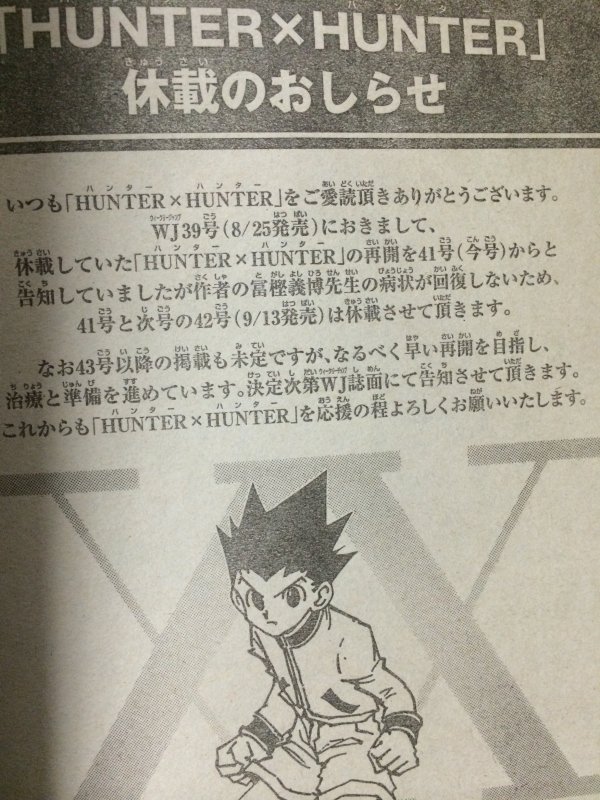 The magazine has stated that the reasons for more delays are due to his medical condition. Lets hope Yoshihiro Togashi will recover soon.
The manga went on a brief hiatus in July, and Yoshihiro Togashi resumed his manga in June after a hiatus of more than two years. The Hunter x Hunter 2011 anime series will also be ending this year on September 24.
Hunter x Hunter is a manga series by Yoshihiro Togashi. The series started in 1998 and is published in Shueisha's weekly Shonen Jump Magazine. To date the series has a total of 32 volumes. Yoshihiro Togashi placed the manga on hiatus in March 2012 after setting the record for longest run without breaks, without any news of when the manga will return. The series received an anime adaptation in 1999 from Nippon Animation that ended in 2001, followed by a series of OVAs. A new animated series relaunched in 2011 from Madhouse, retelling the series from the start. Madhouse also produced two animated films, which released in 2013. There has also been two musicals based on the series, and a slew of video games have been released from Konami and Bandai Namco.
Hunter x Hunter 2011 synopsis from Haruhichan:
Remake of the 1999 TV series of Hunter x Hunter based on the manga by Togashi Yoshihiro.
A Hunter is one who travels the world doing all sorts of dangerous tasks. From capturing criminals to searching deep within uncharted lands for any lost treasures. Gon is a young boy whose father disappeared long ago, being a Hunter. He believes if he could also follow his father's path, he could one day reunite with him.

After becoming 12, Gon leaves his home and takes on the task of entering the Hunter exam, notorious for its low success rate and high probability of death to become an official Hunter. He befriends the revenge-driven Kurapica, the doctor-to-be Leorio and the rebellious ex-assassin Killua in the exam, with their friendship prevailing throughout the many trials and threats they come upon taking on the dangerous career of a Hunter.