On Monday morning, the very notorious Japanese manga creator Shigeru Mizuki, best known for his shounen horror manga GeGeGe no Kitarou, passed away at a Tokyo hospital from heart failure at the age of 93.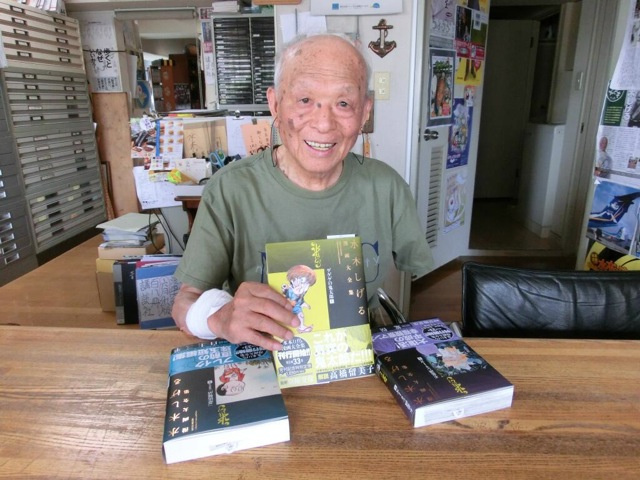 YTV, the Japanese TV channel, reported that Mr. Mizuki collapsed on Monday morning in his home and died of a heart failure at the hospital due to a heart attack.
The author and manga artist ended his autobiographical manga Watashi no Hibi (My Everyday) in May, even though Shogakukan announced that the reason behind the sudden end of this manga wasn't because of his health.
Shigeru Mizuki was mostly known for his manga NonNonBâ (or Nonnonba to Ore), a touching work about childhood and the topic of growing up, including supernatural and spiritual stories, inspired by the author's life. NonNonBâ was the first manga to ever win the Angouleme Prize for Best Album.
Mizuki also influenced a lot of the Japanese folklore with his manga GeGeGe no Kitarou, a manga series from the 60's about Youkai, a class of supernatural monsters and spirits in Japan.
Back in 2010, Shigeru Mizuki was honored as a "Person of Cultural Merit" by the Japanese government, for his influence on today's Japanese culture and popular folklore.
Shigeru Mizuki, born Shigeru Mura on March 8, 1922 in Sakaiminato in the Tottori prefecture, went living in Choufu, Tokyo later in life. Mizuki became known for his World War II memoirs and his work as a biographer, and then became a master and specialist in Horror stories involving Youkai, winning awards from all over the world.
In 1942, during World War II, Mizuki was drafted into the Imperial Japanese Army and was sent to Papua New Guinea, the horror of his wartime experiences affected him greatly, after contracting malaria, watching his friends die from wounds and diseases, he lost his left arm in an explosion. Upon arriving home, Mizuki worked as a movie theater operator until he became a well-known cartoonist in 1957 with his debut work, Rocketman.