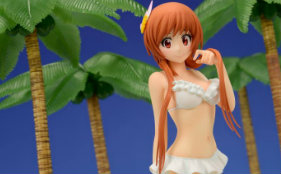 Just in time for summer, figure company WAVE has released a new addition to the popular Beach Queens figure line. This figure features a cute 1/10 scale figure of the popular character Marika Tachibana in her first scale figure and first ever Beach Queens in the line.
Nisekoi – Marika Tachibana 1/10 Complete Figure – Pre-orders are available on JList and is scheduled to be released in July 2015.
Marika Tachibana can be pre-ordered now.
Business Major at University and lover of all things cute. Ask me about my figure collection