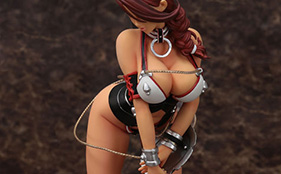 From the popular hit series Queen's Blade Rebellion comes this smoking hot figure of mature warrior Branwen. This figure is perfectly designed to display Branwen's generous assets, particularly her colossal breasts. She comes with ball-and-chain, shield, and sword. Top is cast-off capable for maximum sexiness. By A+. This is the black version.
Queen's Blade Rebellion – Branwen Shining Black Ver. 1/4.5 Figure – Pre-orders are currently available on JList and is scheduled to be released in June 2016.
Branwen can be pre-ordered here (get 5% off with coupon code MOE-N3Y-4YW0QK).