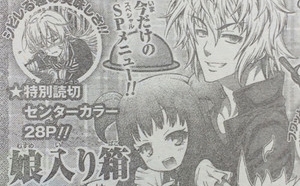 The authors of Medaka Box, NisiOisin (Monogatari Series, Katanagari) and Akira Akatsuki (Muri wo Shouchi de Koibito desu, Toshokan Kyuuseishu Club), will work together on a one-shot manga story called Musume Iri-Bako (Girl in a Box). It will run on Shueisha's Weekly Shonen Jump magazine's 49th issue with a colored opening page on November 1.
The one-shot manga is expected to have 28 pages and will revolve around a cardboard box on a certain rainy day.
Announcement on magazine: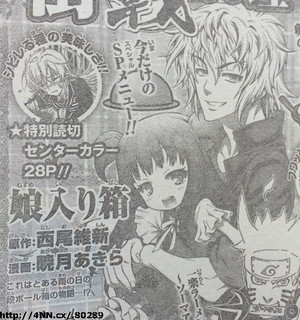 NisiOisin is currently writing three one-shots, one is Musume Iri-Bako. The other two will be RKD-EK9, in collaboration with manga artist Takeshi Obata (Death Note, Bakuman) and Nan Made Nara Koroseru? (Until What Will You Keep on Killing?) with Akihisa Ikeda (Rosario to Vampire, Kiruto). These two one-shots will be published on Jump Square magazine on November 4.
Source – ANN
sevenpocky | Anime and Manga Enthusiast. Slice-of-life and Sports genre fanatic. Shoujo manga lover.
Oh, and I'm short and I love writing manga news.