The official website of the upcoming anime adaptation of Mamo Williams' Military! (Miritari!) 4koma manga began streaming the first promotional video on Sunday. The anime is slated to air from January 7 next year.
The main cast of the Military! anime were revealed last month in the 4-koma Palette magazine. Additionally, the site has released character designs for the main characters of series. The anime's main cast and characters are:
Nao Touyama (Chitoge Kirisaki in Nisekoi) will voice Lieutenant Rutgalnikov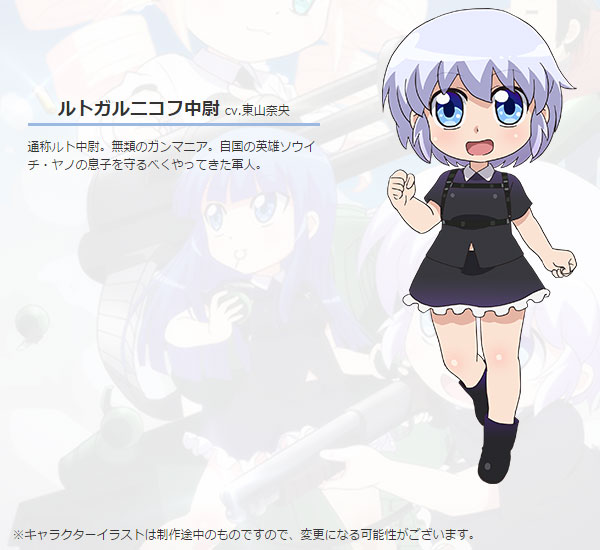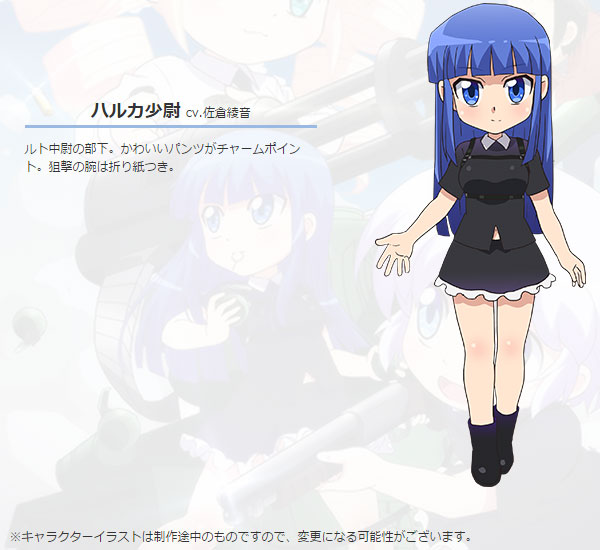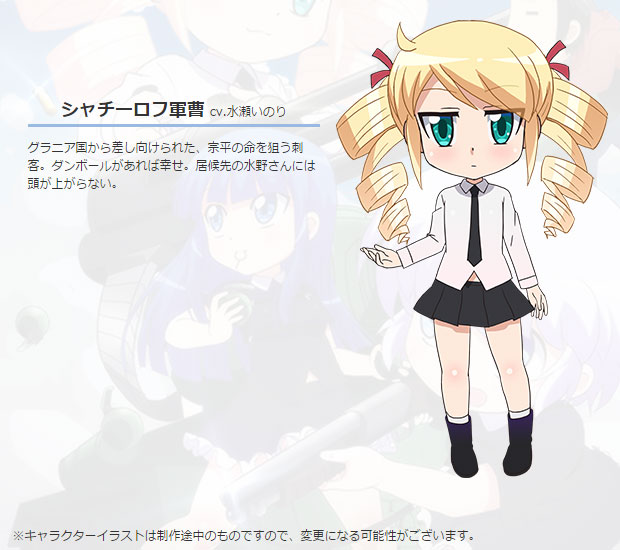 Misaki Suzuki (Chako Ishibashi from Shiba Inuko-san) will be voicing Captain Aria Grummans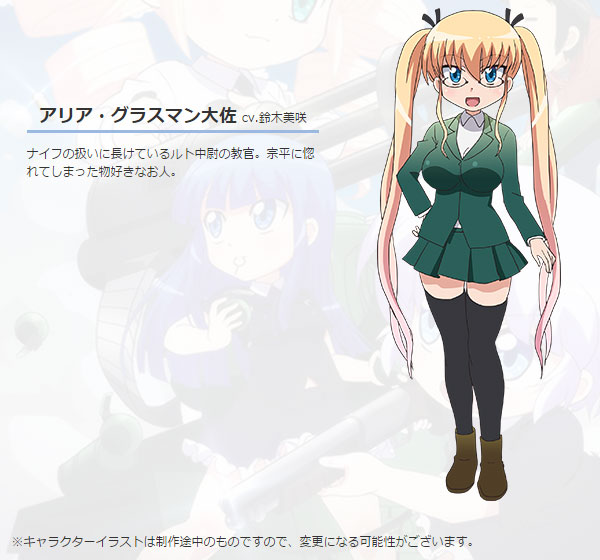 The remainder of the main cast, without any character designs, include:
Yoshitaka Yamaya (Yuuki Hase from Isshuukan Friends.) will voice Souhei Yano
Ayano Terasaki (Kiyoko from Strange+) as Yukari Mizuno
The anime's staff were also revealed on the website. They involve:
Director and Screenplay Writer: Hiroshi Kimura (Recorder to Randoseru Do♪, Re:_Hamatora)
Anime Character Design: Yoshihiro Nagamori (Beyblade: Metal Fury, Bakugan Battle Brawlers)
Sound Director: Masakatsu Oomuro (Inugami-san to Nekoyama-san, Sparrow's Hotel)
Music Composer: Fuga Hatori (Ai Mai Mi, Oneechan ga Kita)
Visual: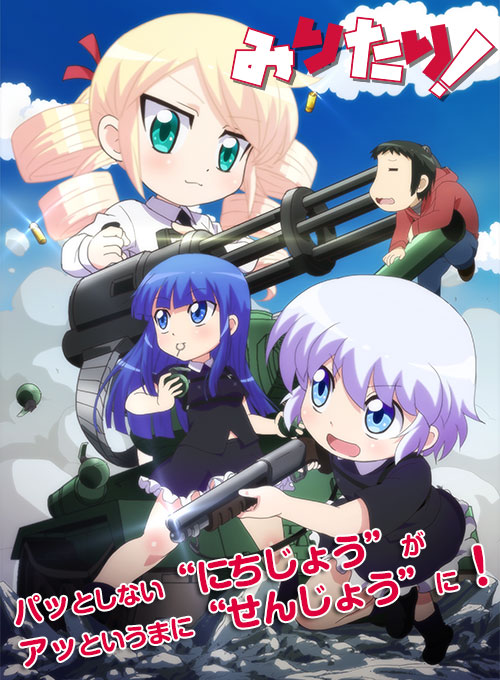 Military! (Miritari!) is a 4koma manga written and illustrated by Mamo Williams. The series first debuted in Ichijinsha's Manga Palette Lite magazine in 2011 and ended its original run in May last year. To date a total of 5 compiled volumes have been released. A sequel series titled Military! Otsugata (Miritari! Otsugata) began serialization in Manga Palette Lite's April issue this year.
Military! synopsis from Haruhichan:
The story takes place during a conflict between the Krakozhia Dukedom and the Grania Republic. In the midst of the fighting, a savior appears to the Krakozhia Dukedom, and it is a high school student named Yano Souhei. Two female soldiers, First Lieutenant Ruto and Second Lieutenant Haruka, appear in tanks to intrude on Souhei's everyday life, followed by the enemy soldier Shachirofu, all of whom use firearms without hesitation at his house.
Source: Military! official website