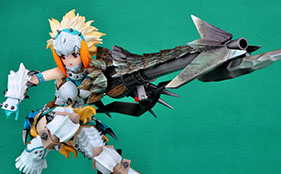 Monster Hunter is no stranger to in-game inspired figurines. Berio (Barioth) Armor is the new addition to E2046's totally radical Monster Hunter Gathering Collection. With this new addition, your typical cute female warrior is equipped from her head to her feet with the hides of this spooky Wyvern, making her look both cute and fierce.
Monster Hunter – Berio Armor – Pre-orders are currently available for the pre-painted version and the garage-kit version on E2046. This figurine is expected to be released Decemeber 22, 2014.
Hiya, I'm Yoonah @RizonIRC.
I'm a human being with some casual interests like: music, animations, and games.