The most recent issue of Animedia magazine has featured a brand new visual of Kyoto Animation's (K-ON!, Clannad) anime adaptation of Nagaru Tanigawa and Noizi Ito's The Melancholy of Haruhi Suzumiya (Suzumiya Haruhi no Yuuutsu) light novel series. The new visual includes Mikuru Asahina, Itsuki Koizumi, Kyon, Yuki Nagato and Haruhi Suzumiya.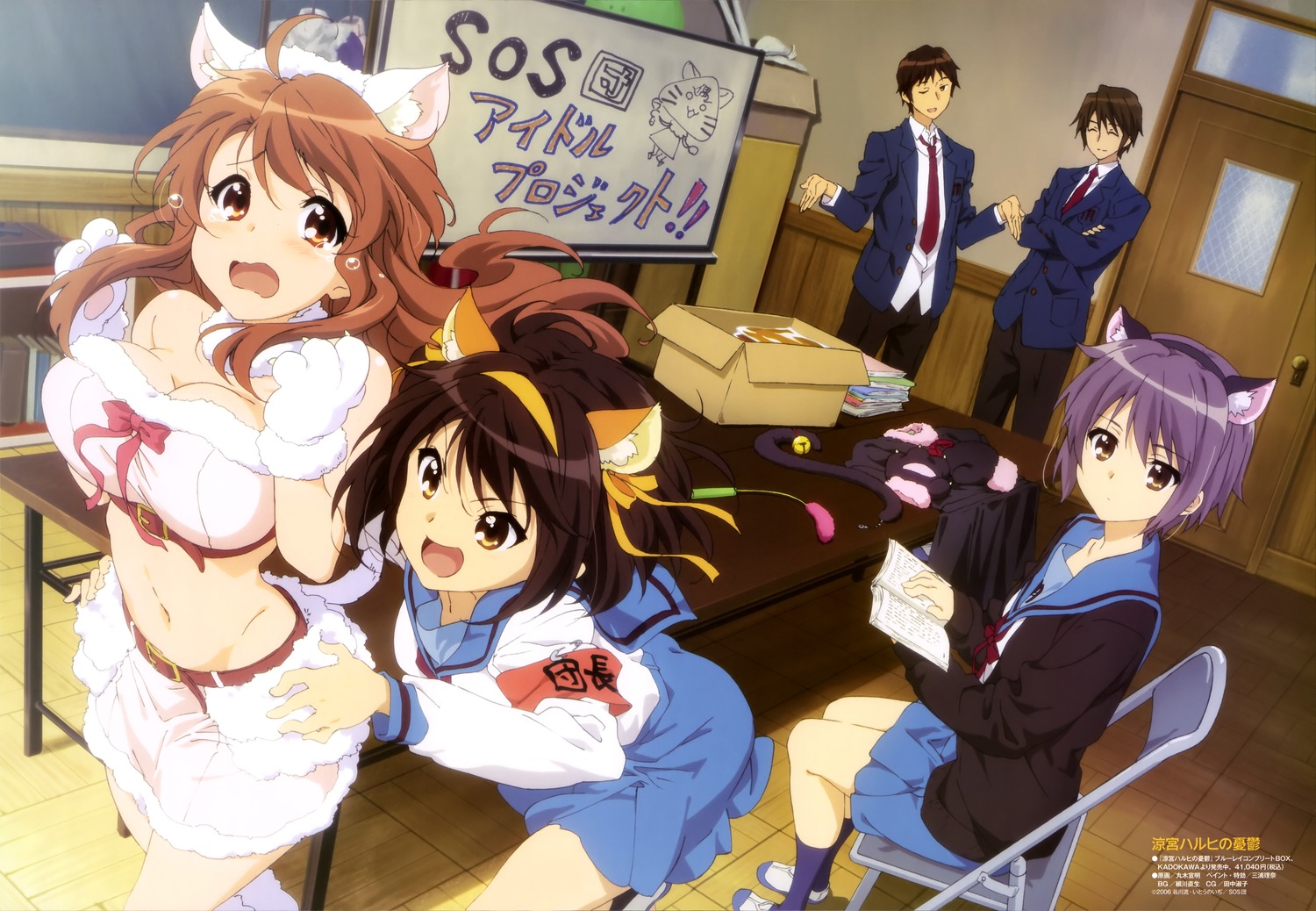 Furthermore, the visual attributes its appearance in the magazine to the recently announced 10th anniversary project. It states that the announced OST is only the first phase of the project. The issue also mentions the two iconic dates in the franchise, Tanabata (July 8th) and the day Haruhi Disappeared (December 18), and teases that something may occur on those dates this year.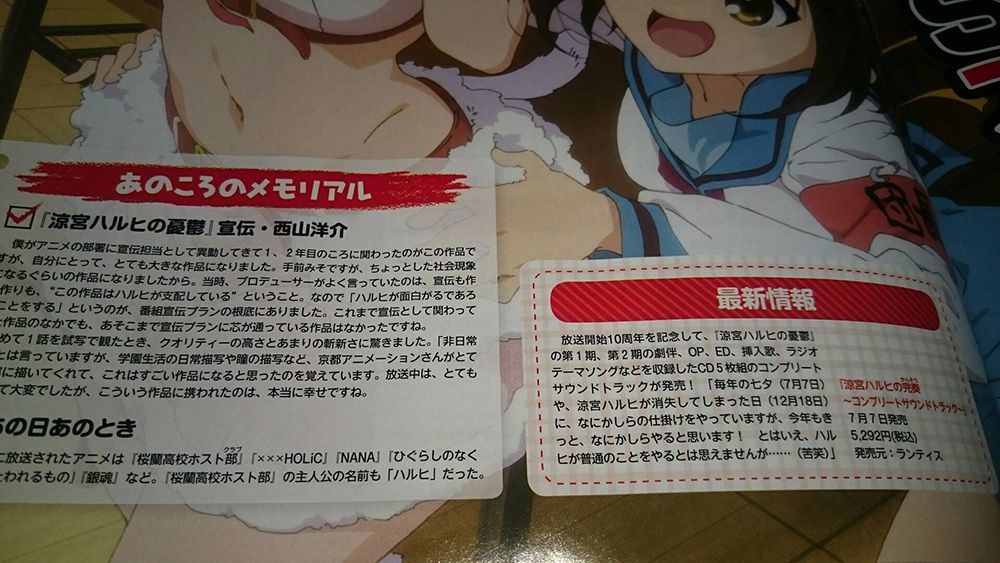 In addition to this, a brand new video has been released for the 10th anniversary project featuring the main cast of the anime as the SOS Brigade. The cast of the anime discuss about their debut on Youtube and that they have planned lots of new things for 2016.
Lantis will be releasing The Complete Soundtrack of Haruhi Suzumiya (Suzumiya Haruhi no Kansou) on July 7th that will contain the full OST of the anime's first (2006) and second (2009) seasons. The soundtrack will retail for ¥4,900 ($46.05). Various stores will be offering pre-order bonuses:
Gamers: B2 poster of Haruhi
Chara-ani: A 75mm figure or badge of Kyon
Sofmap: mini shitajiki board of Mikuru
Tower Records: A4 clear file of Koizumi
Animate: B5 artboard of Nagato
The main cast of the 2006 anime includes:
Aya Hirano (Lucy Heartfilia in Fairy Tail) voices Haruhi Suzumiya
Tomokazu Sugita (Gintoki Sakata from Gintama) voicing as Kyon
Minori Chihara (Chiaki Minami from Minami-ke) as Yuki Nagato
Yuko Goto (Hiro from Hidamari Sketch) voicing as Mikuru Asahina
Daisuke Ono (Sebastian Michaelis in Black Butler) who voices Itsuki Koizumi
Natsuko Kuwatani (Yue Ayase from Mahou Sensei Negima!) voiced Ryouko Asakura
Yuki Matsuoka (Orihime Inoue from Bleach) was the voice of Tsuruya
Minoru Shiraishi (Minoru Shiraishi [Himeself] from Lucky Star) as Taniguchi
Megumi Matsumoto (Haruka Nanase in Free!) voicing as Kunikida
The Melancholy of Haruhi Suzumiya is a light novel series written by Nagaru Tanigawa and illustrated by Noizi Ito. The novels began in 2003 and were originally published as short stories in Kadokawa Shoten's The Sneaker magazine. Since then the short stories have been compiled into 11 light novel volumes, with the latest releasing in May 2011 (which was translated in November 2013). The series was adapted into a TV anime in 2006 from Kyoto Animation (K-ON!, Clannad)  and directed by Tatsuya Ishihara (Clannad, Hibike! Euphonium). It was followed by a second season in 2009 and a film, The Disappearance of Haruhi Suzumiya,  in 2010. A spin-off manga titled The Disappearance of Nagato Yuki-chan (The Vanishing of Nagato Yuki-Chan) was produced since 2009 by Puyo and was adapted into a TV anime last year.
This year will be the 10th anniversary of the Haruhi anime. So far, an OST has been announced with many more surprises teased.
Visit the campaign website on Lantis: http://www.lantis.jp/haruhi_comp/