According to this year's Kodansha's Weekly Shounen Magazine's 10th issue, which will be released on February 4, 2015, Nakaba Suzuki's (Kongou Banchou, Rising Impact) Nanatsu no Taizai (The Seven Deadly Sins) manga will be having a one week break due to the manga artist's sudden illness. The magazine apologized for the unforeseen hiatus but they assured that the new chapter will be released and the manga will resume as usual in the next issue. The 11th issue of Weekly Shounen Magazine will be released on February 11, 2015.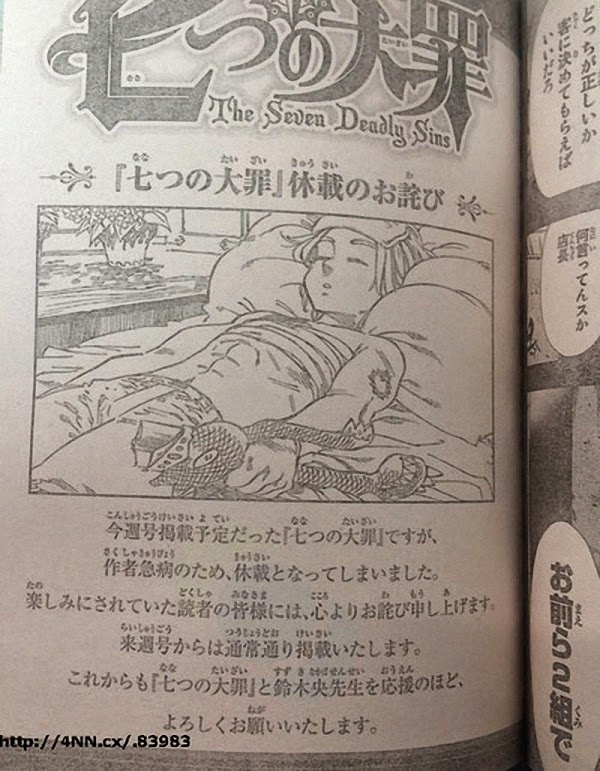 Suzuki began the adventure, supernatural, ecchi shounen series on October 10, 2012 in the 45th 2012 issue of the same magazine. The manga was based on a one-shot with the same title which was released in the magazine's 52nd 2011 issue on November 22, 2011.
There are currently 12 compiled manga volumes for the manga. The first volume was published on February 15, 2013 with its first five chapters. While the 12th volume was shipped on December 17, 2014 covering chapters 87-95 plus an extra chapter titled Partner. The 13th volume will be released on February 17, 2015 featuring Elizabeth Liones, Hawk and Hendrickson as the cover characters.
The manga was licensed in English by Kodansha Comics. There are currently six compiled English manga volumes. The first English volume was released on March 25, 2014 while the 6th volume was released on January 13, 2015. The 7th volume is planned to be out on March 17, 2015 while the 8th volume will be on May 12, 2015. Crunchyroll has also licensed the manga and they have been releasing new chapters as they appear in Japan.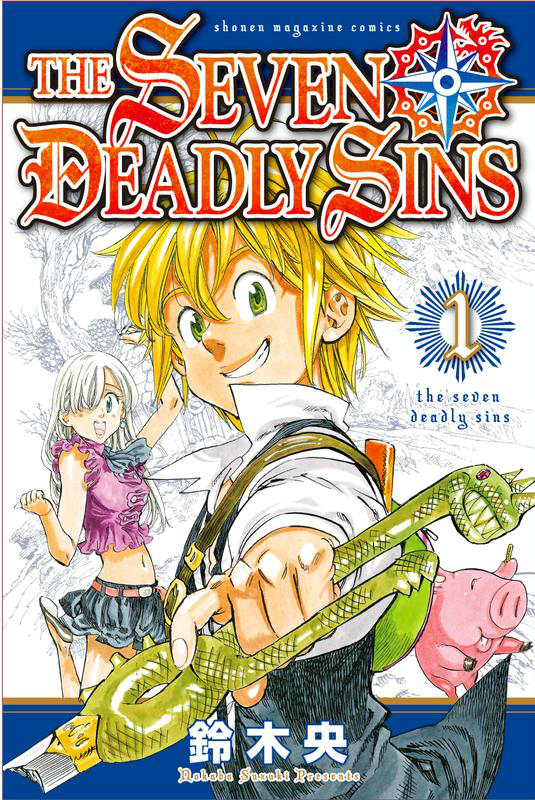 The one-shot pilot was compiled with five other short stories in a volume called Nanatsu no Tanpen. It was released on October 17, 2014. The compiled volume has a total of 8 chapters:
Nanatsu no Taizai (Oneshot), published in Weekly Shōnen Magazine 2011-52 Issue
Mayoe! Kohitsuji-tachi!, 2 chapters published in Ultra Jump 2010 January and 2011 February Issues
Cow Girl tai Soratobu Enban, published in Sunday GX 2010 October Issue
Memory of Moon (prequel chapter for a martial arts manga, Ultra Red), 2 chapters published in Weekly Young Jump 2004-14-15 Issue
Blizzard Axel (the original pilot one-shot for a sports manga, Blizzard Axel), published in Weekly Shōnen Sunday 2004-28 Issue
Mujihi na Country Girl, published in Big Comic Spirits 2014-30 Issue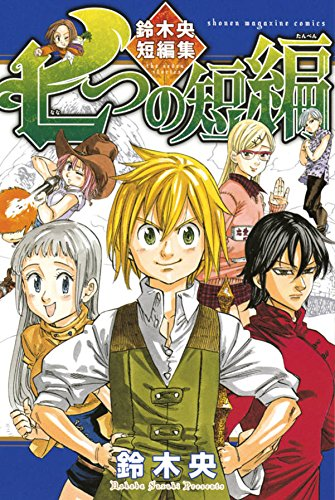 There is also another spin-off manga for the series titled Mayoe! Nanatsu no Taizai Gakuen! which was written and illustrated by Juuichi Kugi on August 9, 2014 in Kodansha's Bessatsu Shounen magazine. The first compiled manga volume for the spin-off will be released on February 17, 2015, the same day as the release of the main series' 13th volume.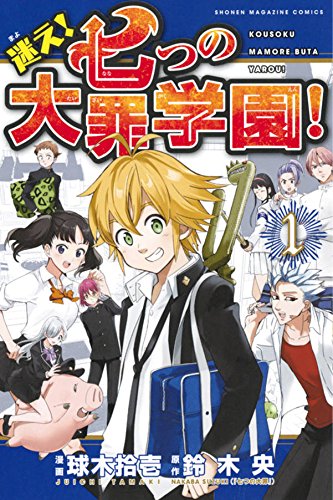 Synopsis of Mayoe! Nanatsu no Taizai Gakuen! from MAL:
This spin-off manga is a comedy which will re-imagine the sins from the original manga as high school students.
Nanatsu no Taizai also had a novel adaptation titled as Nanatsu no Taizai Gaiden which was written by Shuka Matsuda and illustrated by Nakaba Suzuki. The novel began its first volume release on December 17, 2014.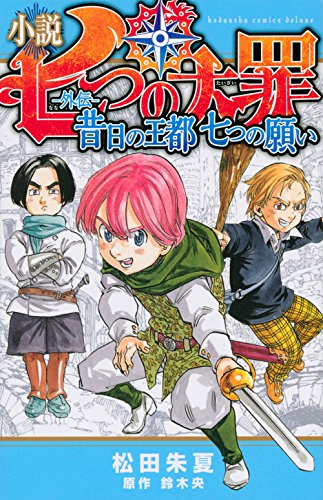 The series received an anime adaptation produced by A-1 Pictures (Aldnoah.Zero, Magi: The Labyrinth of Magic) and directed by Tensai Okamura (Ao no Exorcist, Sekai Seifuku: Bouryaku no Zvezda). It was announced to be a 24-episode series. It began airing since October 5, 2014 is planned to end on March 29, 2015.
Main Cast:
Yuki Kaji (Guilty Crown's Shu Ouma, Shingeki no Kyojin's Eren Yeager) as Melodias
Sora Amamiya (Akame ga Kill!'s Akame, Tokyo Ghoul's Touka Kirishima) as Liones Elizabeth
Aoi Yuuki (Mahou Shoujo Madoka★Magica's Madoka Kaname, Sword Art Online II's Yuuki Konno) as Diane
Suzuki Tatsuhisa (Kuroko no Basket's Kazunari Takao, Baka to Test to Shoukanjuu's Yuuji Sakamoto) as Ban
Jun Fukuyama (Code Geass' Lelouch Lamperouge, Durarara!!'s Shinra Kishitani) as King
Misaki Kuno (Sekai Seifuku: Bouryaku no Zvezda's Kate Hoshimiya, Selector Infected WIXOSS' Tama) as Hawk
Yuuhei Takagi (Naruto: Shippuuden's Shira) as Gowther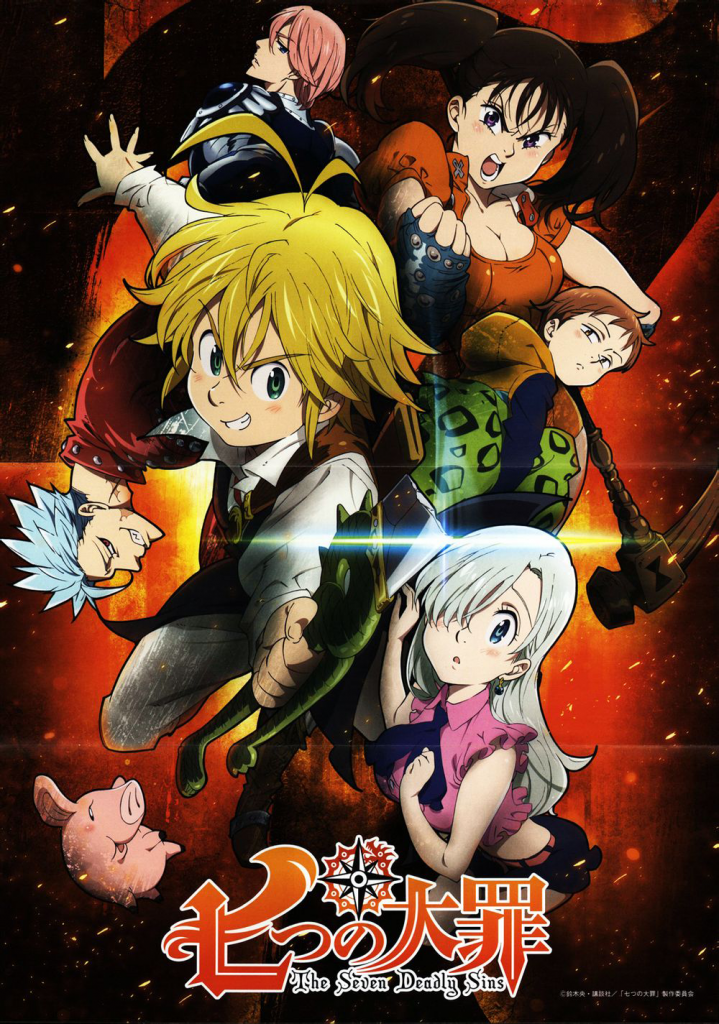 Synopsis of Nanatsu no Taizai from Haruhichan:
The "Seven Deadly Sins," a group of evil knights who conspired to overthrow the kingdom of Britannia, were said to have been eradicated by the Holy Knights, although some claim that they still live. Ten years later, the Holy Knights have staged a coup d'état and assassinated the king, becoming the new, tyrannical rulers of the kingdom. Elizabeth, the king's third daughter, sets out on a journey to find the "Seven Deadly Sins," and to enlist their help in taking back the kingdom.
Source – ANN