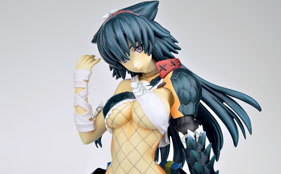 E2046 currently have listed the Naruga x Hunter figurine available for pre-order which has a limited stock. The figurine rendition was inspired by the original 'Narga x Armor' armor in the Monster Hunter franchise and looks fantastic.
Naruga x Hunter pre-painted and Naruga x Hunter garage kit are both available for pre-orders on E2046 and both are expected to be released on the 31st of October, 2014. There are only 30 pre-orders available for the pre-painted edition, so be quick and secure one for yourself if you're a die hard fan of the series!
Hiya, I'm Yoonah @RizonIRC.
I'm a human being with some casual interests like: music, animations, and games.