A new visual for the Kizumonogatari film trilogy has been revealed in the February 2016 issue of NewType. You can purchase this issue here (get 5% off with coupon code MOE-N3Y-4YW0QK).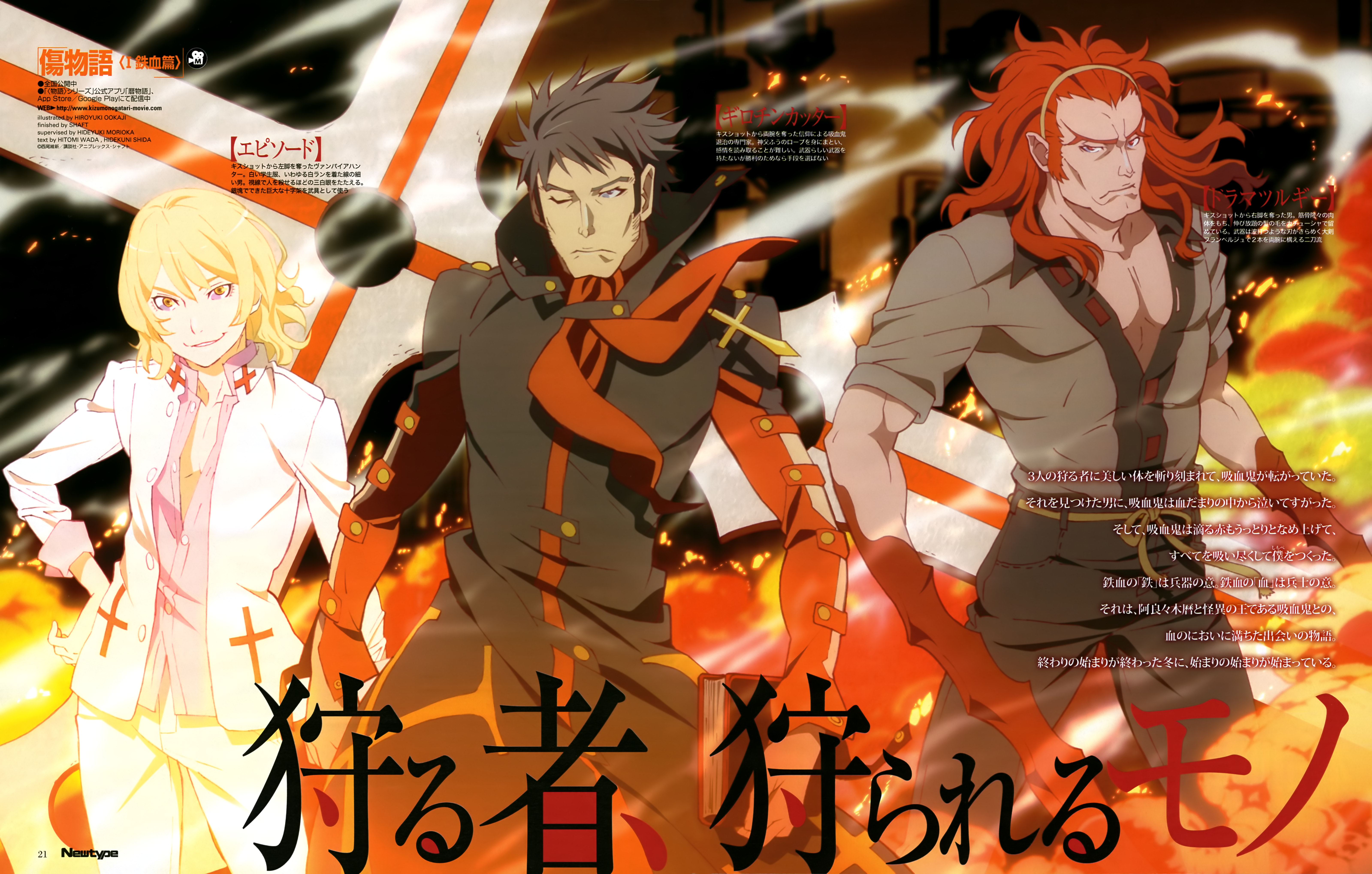 In addition to this, the title for the third film has been revealed, Kizumonogatari: Reiketsu-hen. Aniplex also began streaming a new commercial for the Kizumonogatari I: Tekketsu-hen anime film to commemorate the film's opening in Japanese theaters on Friday. The film is listed with a runtime of 60 minutes.
https://www.dailymotion.com/video/x3lc50p_
The first visual for the anime adaptation of Nisio Isin and Vofan's Kizumonogatari second film, Kizumonogatari Part 2: Nekketsu-hen, has been revealed. The second film is scheduled for release in summer 2016.
In addition to this, various new visuals for the first film has been revealed in the January 2016 issue of NewType as double page spreads.
In addition to this, a new commercial video for the first film featuring Tsubasa Hanekawa has been revealed.
There will be three films for the Kizumonogatari anime. The first film, Kizumonogatari I Tekketsu-hen, released in Japan on January 8 this year.
A new promotional video was also recently revealed. The promotional video teases with what's to come in the prequel, set before Bakemonogatari and featuring the story arc Koyomi Vamp.
https://www.dailymotion.com/video/x3h05mq
The site has also revealed the main cast of the anime films:
Hiroshi Kamiya (Izaya Orihara from Durarara!!) returns to voice Koyomi Araragi
Maaya Sakamoto (Motoko Kusanagi in Ghost in the Shell) voices Kiss-Shot Acerola-Orion Heart-Under-Blade
Yui Horie (Naru Narusegawa in Love Hina) as Tsubasa Hanekawa
Takahiro Sakurai (Shougo Makishima in Psycho-Pass) is voicing Meme Oshino
Miyu Irino (Akito Hyuuga from Code Geass: Boukoku no Akito ) will voice Episode
The production staff of the Monogatari anime adaptations will also return to produce the movies:
A new visual was also unveiled:
Here is the movie's visual:
You can visit the anime's website here: http://www.kizumonogatari-movie.com/
And don't forget to follow the anime on Twitter: @nisioisin_anime